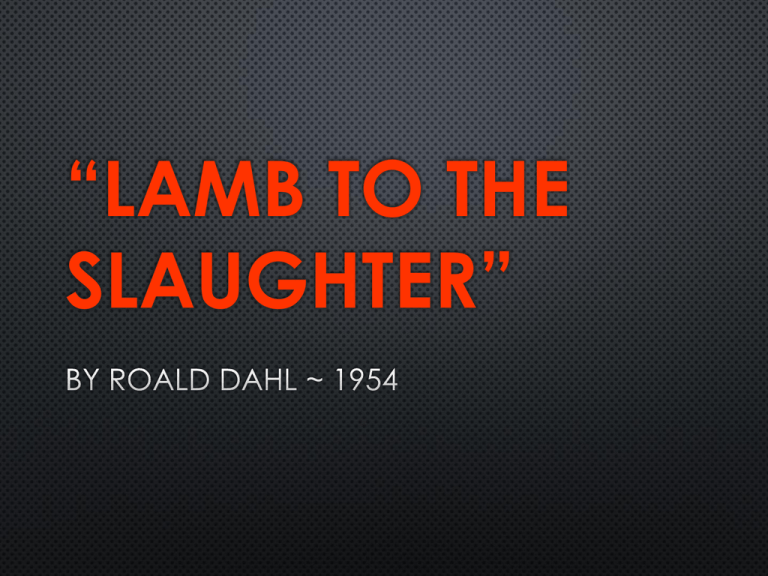 "LAMB TO THE
SLAUGHTER"
It is generally used to describe a situation into which a person
blindly enters without any knowledge of the inherent danger.
From the Bible (King James Version), Jeremiah 11:19: But I was like a gentle lamb led
to the slaughter; And I did not know that they had devised a plot against me…"Let us
destroy the tree with its fruit, And let us cut him off from the land of the living, That
his name be remembered no more!"
In the short story, "Lamb to the Slaughter," the story's title also
works as a dark double entendre, a word or phrase used in a
way that conveys two meanings, of its eventual outcome.
GENDER ROLES IN THE 1950'S
GENDER ROLES
•
THE IDEAL 1950S WOMAN MARRIED, COOKED AND
CARED FOR HER FAMILY, AND KEPT HERSELF BUSY BY
JOINING THE LOCAL PTA AND LEADING A TROOP OF
CAMPFIRE GIRLS. SHE ENTERTAINED GUESTS IN HER
FAMILY'S SUBURBAN HOUSE AND WORKED OUT ON THE
TRAMPOLINE TO KEEP HER SIZE 12 FIGURE.
-- LIFE MAGAZINE, 1956
•
THE IDEAL 1950S MAN WAS THE PROVIDER,
PROTECTOR, AND THE BOSS OF THE HOUSE.
-- LIFE MAGAZINE, 1955
How to be a good wife
EXCERPT FROM A 1950S HOME ECONOMICS
TEXTBOOK
•
HAVE DINNER READY PLAN AHEAD EVEN THE
•
LISTEN TO HIM YOU MAY HAVE A DOZEN
THINGS TO TELL HIM, BUT THE MOMENT OF HIS
ARRIVAL IS NOT THE TIME. LET HIM TALK FIRST.
•
MAKE THE EVENING HIS NEVER COMPLAIN IF
NIGHT BEFORE TO HAVE A DELICIOUS MEAL ON
TIME. THIS IS A WAY OF LETTING HIM KNOW
THAT YOU HAVE BEEN THINKING ABOUT HIM
AND ARE CONCERNED ABOUT HIS NEEDS.
MOST MEN ARE HUNGRY WHEN THEY COME
HOME AND THE PROSPECTS OF A GOOD MEAL
ARE PART OF THE WARM WELCOME NEEDED.
HE DOES NOT TAKE YOU OUT TO DINNER OR TO
OTHER PLACES OF ENTERTAINMENT. INSTEAD,
TRY TO UNDERSTAND HIS WORLD OF STRAIN
AND PRESSURE, HIS NEED TO BE HOME AND
RELAX.
•
•
•
•
•
PREPARE YOURSELF: TAKE 15 MINUTES TO REST SO YOU WILL BE REFRESHED
WHEN HE ARRIVES. TOUCH UP YOUR MAKEUP, PUT A RIBBON IN YOUR HAIR AND
BE FRESH LOOKING. HE HAS JUST BEEN WITH A LOT OF WORK-WARY PEOPLE. BE
A LITTLE GAY AND A LITTLE MORE INTERESTING. HIS BORING DAY MAY NEED A
LIFT.
MINIMIZE ALL NOISE AT THE TIME OF HIS ARRIVAL, ELIMINATE ALL NOISE OF
WASHER, DRYER, DISHWASHER, OR VACUUM. TRY TO ENCOURAGE THE
CHILDREN TO BE QUITE. BE HAPPY TO SEE HIM. GREET HIM WITH A WARM SMILE
AND BE GLAD TO SEE HIM.
SOME DON'TS DON'T GREET HIM WITH PROBLEMS OR COMPLAINTS. DON'T
COMPLAIN IF HE'S LATE FOR DINNER. COUNT THIS AS MINOR COMPARED WITH
WHAT HE MIGHT HAVE GONE THROUGH THAT DAY.
MAKE HIM COMFORTABLE HAVE HIM LEAN BACK IN A COMFORTABLE CHAIR
OR SUGGEST HE LIE DOWN IN THE BEDROOM. HAVE A COOL OR WARM DRINK
READY FOR HIM. ARRANGE HIS PILLOW AND OFFER TO TAKE OFF HIS SHOES.
SPEAK IN A LOW, SOFT SOOTHING AND PLEASANT VOICE. ALLOW HIM TO
RELAX-UNWIND.
THE GOAL: TRY TO MAKE YOUR HOME A PLACE OF PEACE AND ORDER WHERE
YOUR HUSBAND CAN RENEW HIMSELF IN BODY AND SPIRIT.
DARK HUMOR
DARK HUMOR IS THE USE OF THE GROTESQUE, MORBID,
OR ABSURD FOR DARKLY COMIC PURPOSES.
DARK HUMOR BECAME WIDESPREAD IN POPULAR
CULTURE, ESPECIALLY IN LITERATURE AND FILM,
BEGINNING IN THE 1950S; IT REMAINS POPULAR
TOWARD THE END OF THE TWENTIETH CENTURY.
SETTING
THE SETTING IS SYMBOLIC: ITS DOMESTIC PRIMNESS
IMPLIES MARY'S HAVING BOUGHT INTO A RATHER
BORING VERSION OF MIDDLE CLASS HAPPINESS
BETRAYAL
PATRICK MALONEY'S UNEXPLAINED DECISION TO LEAVE HIS
PREGNANT WIFE. THIS VIOLATION OF THE MARRIAGE-VOW IS
OBVIOUSLY NOT THE ONLY BETRAYAL IN THE STORY, HOWEVER.
MARY'S KILLING OF HER HUSBAND IS PERHAPS THE ULTIMATE
BETRAYAL.
HER ELABORATELY PLANNED ALIBI AND CONVINCING LIES TO THE
DETECTIVES ALSO CONSTITUTE BETRAYAL.
IDENTITY
MARY REPRESENTS THE IDEAL HOUSEWIFE OF THE 1950S.
ONCE SHE SHATTERS HER OWN IDENTITY, MARY MUST CAREFULLY
RECONSTRUCT IT FOR PROTECTIVE PURPOSES, AS WHEN SHE SETS UP
AN ALIBI BY FEIGNING A NORMAL CONVERSATION WITH THE GROCER.
THEN THERE ARE THE POLICE DETECTIVES, WHO PRIDE THEMSELVES ON
THEIR ABILITY TO SOLVE A CRIME, BUT WHOM MARY SWEETLY TRICKS
INTO CONSUMING THE MAIN EXHIBIT.
THEIR IDENTITY, OR AT LEAST THEIR COMPETENCY, IS THROWN INTO
DOUBT.
LOVE AND PASSION
AT THE BEGINNING OF "LAMB TO THE SLAUGHTER," MARY MALONEY
FEELS LOVE AND PHYSICAL PASSION FOR HER HUSBAND PATRICK.
EVEN FAR ALONG INTO HER PREGNANCY, SHE HURRIES TO GREET HIM,
AND WAITS ON HIM HAND AND FOOT — MUCH MORE ATTENTIVELY, IT
APPEARS FROM HIS REACTIONS, THAN HE WOULD LIKE.
PATRICK IS PRESUMABLY MOTIVATED TO LEAVE HIS WIFE BY AN
OVERRIDING PASSION FOR SOMETHING OR SOMEONE ELSE.
MARY'S MENTION OF HIS FAILURE TO ADVANCE AT WORK, AND HIS
OWN WISH THAT SHE NOT MAKE A "FUSS" ABOUT THEIR SEPARATION
BECAUSE "IT WOULDN'T BE VERY GOOD FOR MY JOB" INDICATE THAT
IT MAY BE PROFESSIONAL SUCCESS THAT HE DESIRES.
HIS TREATMENT OF HIS WIFE DOES NOT SUGGEST THAT HE LOVES HER.
"LAMB TO THE SLAUGHTER"
AMBIGUITY
A QUALITY THAT ALLOWS READERS TO
INTERPRET A STORY OR OTHER WORK IN
MORE THAN ONE WAY.
HOW DID YOU INTERPRET THE STORY?