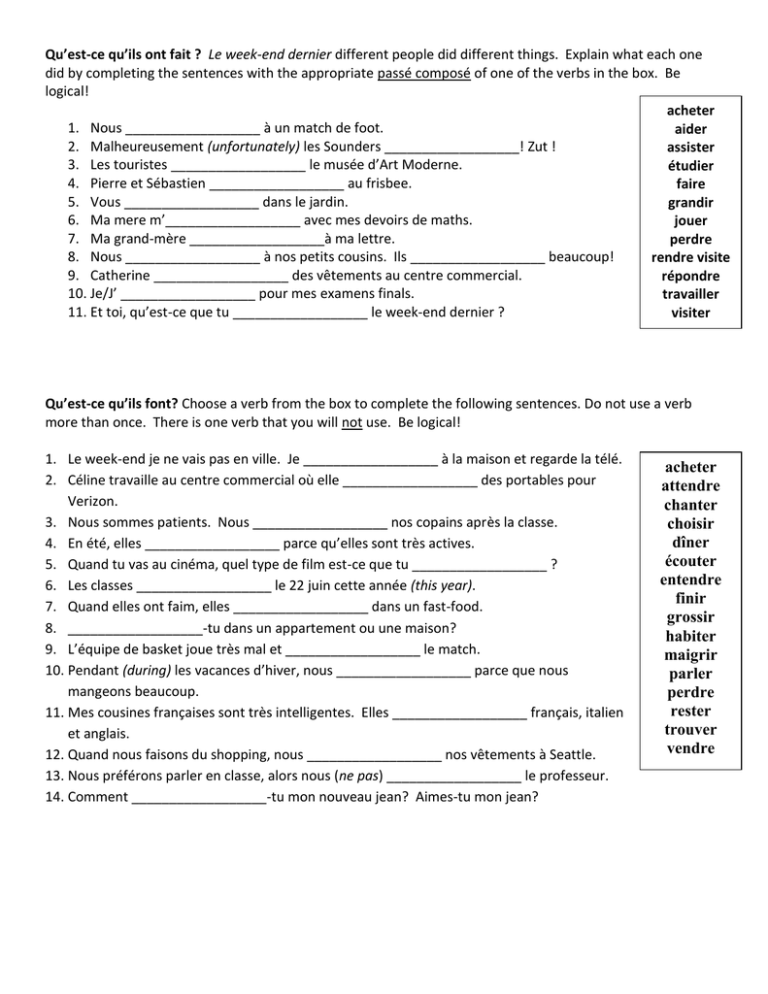 Qu'est-ce qu'ils ont fait ? Le week-end dernier different people did different things. Explain what each one
did by completing the sentences with the appropriate passé composé of one of the verbs in the box. Be
logical!
acheter
1. Nous __________________ à un match de foot.
aider
2. Malheureusement (unfortunately) les Sounders __________________! Zut !
assister
3. Les touristes __________________ le musée d'Art Moderne.
étudier
4. Pierre et Sébastien __________________ au frisbee.
faire
5. Vous __________________ dans le jardin.
grandir
6. Ma mere m'__________________ avec mes devoirs de maths.
jouer
7. Ma grand-mère __________________à ma lettre.
perdre
8. Nous __________________ à nos petits cousins. Ils __________________ beaucoup!
rendre visite
9. Catherine __________________ des vêtements au centre commercial.
répondre
10. Je/J' __________________ pour mes examens finals.
travailler
11. Et toi, qu'est-ce que tu __________________ le week-end dernier ?
visiter
Qu'est-ce qu'ils font? Choose a verb from the box to complete the following sentences. Do not use a verb
more than once. There is one verb that you will not use. Be logical!
1. Le week-end je ne vais pas en ville. Je __________________ à la maison et regarde la télé.
2. Céline travaille au centre commercial où elle __________________ des portables pour
Verizon.
3. Nous sommes patients. Nous __________________ nos copains après la classe.
4. En été, elles __________________ parce qu'elles sont très actives.
5. Quand tu vas au cinéma, quel type de film est-ce que tu __________________ ?
6. Les classes __________________ le 22 juin cette année (this year).
7. Quand elles ont faim, elles __________________ dans un fast-food.
8. __________________-tu dans un appartement ou une maison?
9. L'équipe de basket joue très mal et __________________ le match.
10. Pendant (during) les vacances d'hiver, nous __________________ parce que nous
mangeons beaucoup.
11. Mes cousines françaises sont très intelligentes. Elles __________________ français, italien
et anglais.
12. Quand nous faisons du shopping, nous __________________ nos vêtements à Seattle.
13. Nous préférons parler en classe, alors nous (ne pas) __________________ le professeur.
14. Comment __________________-tu mon nouveau jean? Aimes-tu mon jean?
acheter
attendre
chanter
choisir
dîner
écouter
entendre
finir
grossir
habiter
maigrir
parler
perdre
rester
trouver
vendre
Your goal: Practice the BIG four verbs of aller, faire, avoir and être.
 Write out the conjugations. (What pattern do you see with the ils/elles conjugations?)
 Brainstorm a list of expressions that use faire.
 Review BAGS and masculine/feminine and singular/plural forms of adjectives.
 Now, ask your group some questions out loud. (Each person should answer.)
o En général, qu'est-ce que tu fais le weekend? Avec tes copains? Avec ta famille?
o En été, où aimes-tu aller? En hiver? Pendant les vacances?
o Qu'est-ce que tu as dans ton sac à dos? Dans ta chambre?
o Comment es-tu? Et tes amis? Tes frères ou tes sœurs? (Describe personality & appearance.)
Your misson: Now practice using the BIG four verbs. Translate the following sentences! (Check your answers
on the back when you finish.)
1. We are making a pizza. (*faire la cuisine cannot be followed by a food item.)
2. My family and I are taking a trip this summer to France.
3. Do you have any sisters or any brothers?
4. Where are they going this weekend?
5. When we are in class, we always answer our French teacher. 
6. Are Luc and Isabelle taking a walk this evening?
7. When do classes end?
Your task:
 D'abord, describe what you do, like to do and don't like to do en général.
 Ensuite, describe what you did last weekend (le weekend dernier). Remember to use le passé composé
to talk about things that you did or have done.
 Finalement, write a few sentences about what you are going to do this summer. Remember to use
aller + infinitive to talk about things that are going to happen in the future. Include what you are going
to do alone, with your family, with your friends and what you are NOT going to do.