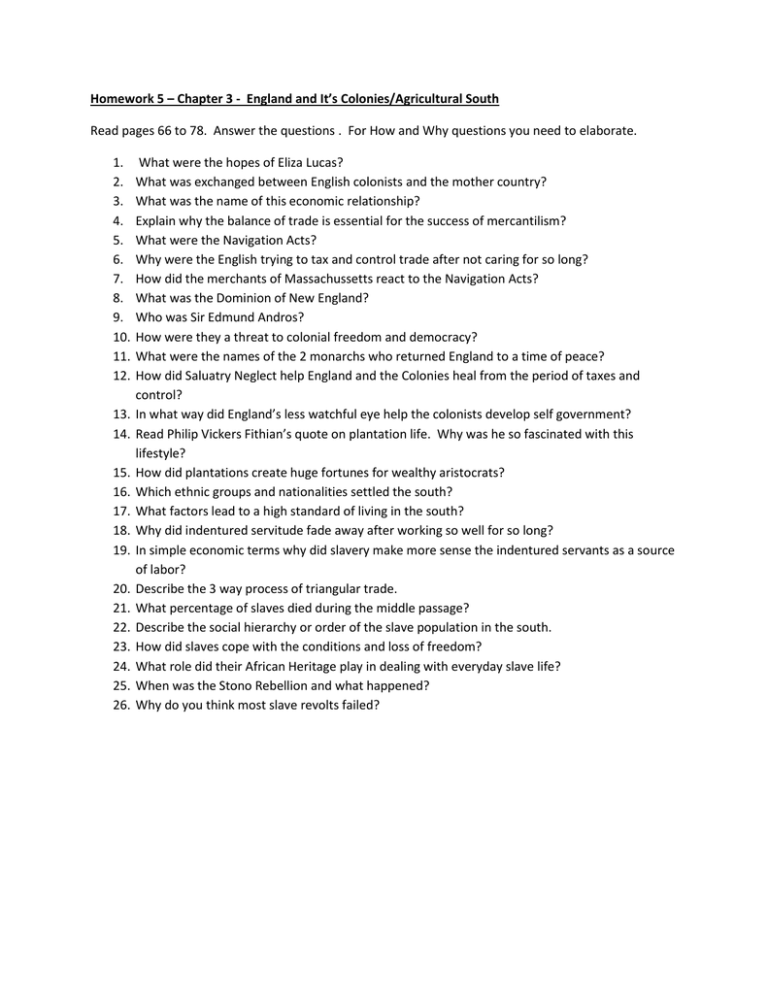 Homework 5 – Chapter 3 - England and It's Colonies/Agricultural South
Read pages 66 to 78. Answer the questions . For How and Why questions you need to elaborate.
1.
2.
3.
4.
5.
6.
7.
8.
9.
10.
11.
12.
13.
14.
15.
16.
17.
18.
19.
20.
21.
22.
23.
24.
25.
26.
What were the hopes of Eliza Lucas?
What was exchanged between English colonists and the mother country?
What was the name of this economic relationship?
Explain why the balance of trade is essential for the success of mercantilism?
What were the Navigation Acts?
Why were the English trying to tax and control trade after not caring for so long?
How did the merchants of Massachussetts react to the Navigation Acts?
What was the Dominion of New England?
Who was Sir Edmund Andros?
How were they a threat to colonial freedom and democracy?
What were the names of the 2 monarchs who returned England to a time of peace?
How did Saluatry Neglect help England and the Colonies heal from the period of taxes and
control?
In what way did England's less watchful eye help the colonists develop self government?
Read Philip Vickers Fithian's quote on plantation life. Why was he so fascinated with this
lifestyle?
How did plantations create huge fortunes for wealthy aristocrats?
Which ethnic groups and nationalities settled the south?
What factors lead to a high standard of living in the south?
Why did indentured servitude fade away after working so well for so long?
In simple economic terms why did slavery make more sense the indentured servants as a source
of labor?
Describe the 3 way process of triangular trade.
What percentage of slaves died during the middle passage?
Describe the social hierarchy or order of the slave population in the south.
How did slaves cope with the conditions and loss of freedom?
What role did their African Heritage play in dealing with everyday slave life?
When was the Stono Rebellion and what happened?
Why do you think most slave revolts failed?