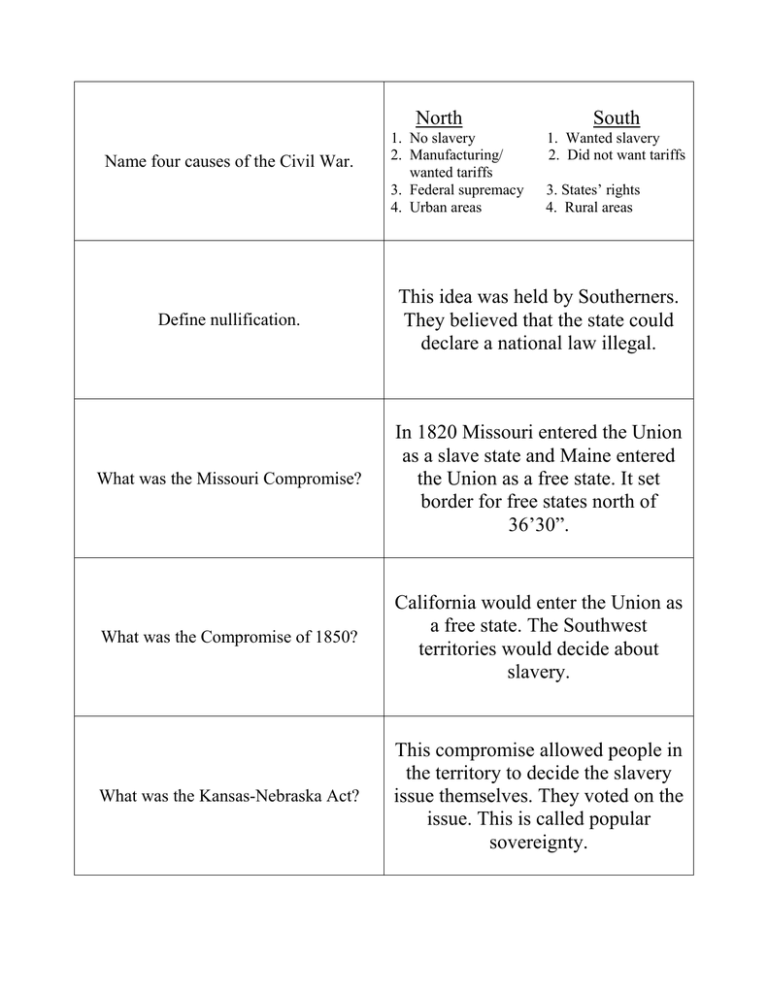 North
Name four causes of the Civil War.
1. No slavery
2. Manufacturing/
wanted tariffs
3. Federal supremacy
4. Urban areas
South
1. Wanted slavery
2. Did not want tariffs
3. States' rights
4. Rural areas
Define nullification.
This idea was held by Southerners.
They believed that the state could
declare a national law illegal.
What was the Missouri Compromise?
In 1820 Missouri entered the Union
as a slave state and Maine entered
the Union as a free state. It set
border for free states north of
36'30".
What was the Compromise of 1850?
California would enter the Union as
a free state. The Southwest
territories would decide about
slavery.
What was the Kansas-Nebraska Act?
This compromise allowed people in
the territory to decide the slavery
issue themselves. They voted on the
issue. This is called popular
sovereignty.
How did southern states react to
Lincoln's election?
They seceded from the Union.
What battle marked the beginning of the
Civil War?
Confederate forces attacked Fort
Sumter in South Carolina.
Explain the difference in views between
Northerners and Southerners in their
belief in secession.
Northerners felt that the Union
could not be divided. Southerners
felt that the states had entered the
Union voluntarily and could leave at
any time.
Name the 11 states that seceded from the
union.
Name the four slave states that stayed in
the Union.
1.
2.
3.
4.
5.
Virginia
North Carolina
South Carolina
Georgia
Florida
1.
2.
3.
4.
Delaware
Maryland
Kentucky
Missouri
6. Alabama
7. Mississippi
8. Louisiana
9. Texas
10. Arkansas
11. Tennessee
Which state split during this process?
The western counties of Virginia
refused to secede from the Union
and became the state of West
Virginia.