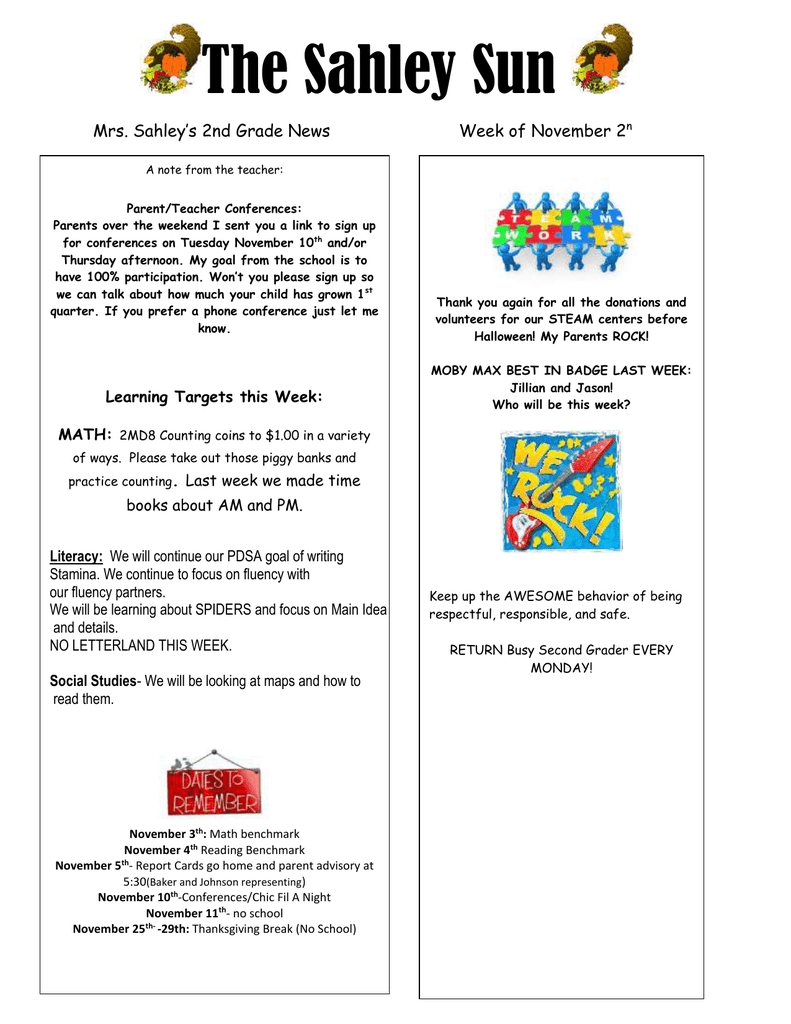 The Sahley Sun
Mrs. Sahley's 2nd Grade News
Week of November 2n
A note from the teacher:
Parent/Teacher Conferences:
Parents over the weekend I sent you a link to sign up
for conferences on Tuesday November 10th and/or
Thursday afternoon. My goal from the school is to
have 100% participation. Won't you please sign up so
we can talk about how much your child has grown 1 st
quarter. If you prefer a phone conference just let me
know.
Learning Targets this Week:
Thank you again for all the donations and
volunteers for our STEAM centers before
Halloween! My Parents ROCK!
MOBY MAX BEST IN BADGE LAST WEEK:
Jillian and Jason!
Who will be this week?
MATH: 2MD8 Counting coins to $1.00 in a variety
of ways. Please take out those piggy banks and
practice counting.
Last week we made time
books about AM and PM.
Literacy: We will continue our PDSA goal of writing
Stamina. We continue to focus on fluency with
our fluency partners.
We will be learning about SPIDERS and focus on Main Idea
and details.
NO LETTERLAND THIS WEEK.
Social Studies- We will be looking at maps and how to
read them.
November 3th: Math benchmark
November 4th Reading Benchmark
th
November 5 - Report Cards go home and parent advisory at
5:30(Baker and Johnson representing)
November 10th-Conferences/Chic Fil A Night
November 11th- no school
thNovember 25 -29th: Thanksgiving Break (No School)
Keep up the AWESOME behavior of being
respectful, responsible, and safe.
RETURN Busy Second Grader EVERY
MONDAY!