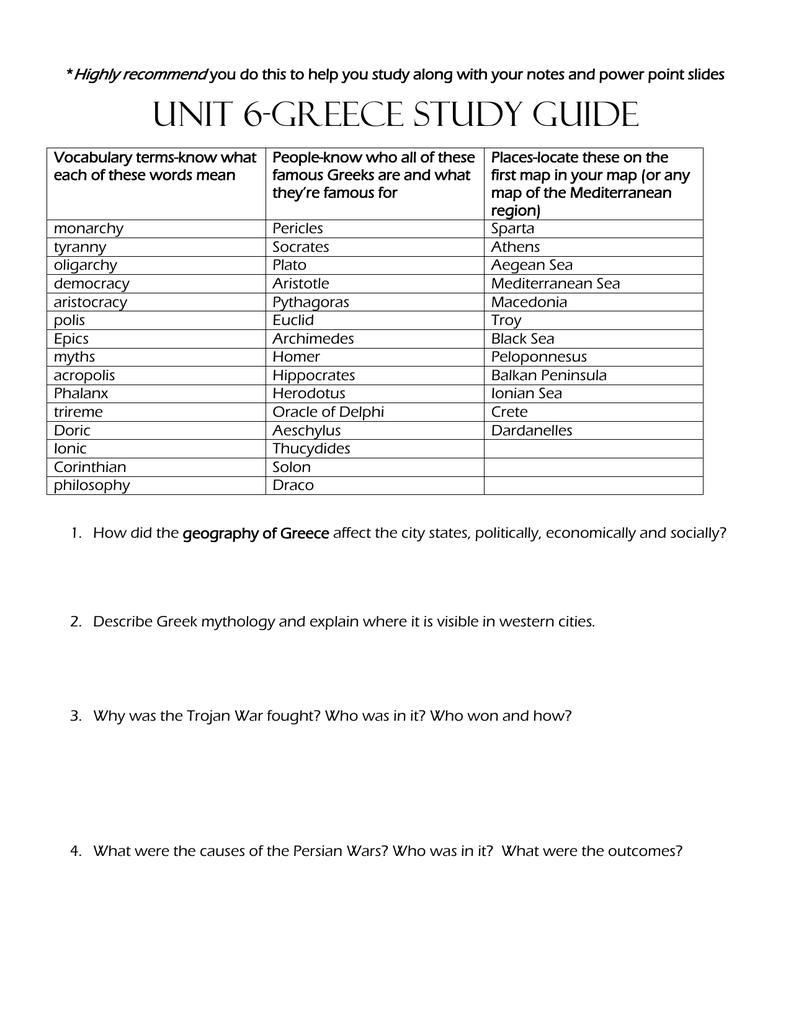 *Highly recommend you do this to help you study along with your notes and power point slides
Unit 6-Greece Study Guide
Vocabulary terms-know what
each of these words mean
People-know who all of these
famous Greeks are and what
they're famous for
monarchy
tyranny
oligarchy
democracy
aristocracy
polis
Epics
myths
acropolis
Phalanx
trireme
Doric
Ionic
Corinthian
philosophy
Pericles
Socrates
Plato
Aristotle
Pythagoras
Euclid
Archimedes
Homer
Hippocrates
Herodotus
Oracle of Delphi
Aeschylus
Thucydides
Solon
Draco
Places-locate these on the
first map in your map (or any
map of the Mediterranean
region)
Sparta
Athens
Aegean Sea
Mediterranean Sea
Macedonia
Troy
Black Sea
Peloponnesus
Balkan Peninsula
Ionian Sea
Crete
Dardanelles
1. How did the geography of Greece affect the city states, politically, economically and socially?
2. Describe Greek mythology and explain where it is visible in western cities.
3. Why was the Trojan War fought? Who was in it? Who won and how?
4. What were the causes of the Persian Wars? Who was in it? What were the outcomes?
5. How were Athens and Sparta different?
6. Why was Pericles important?
7. How did democracy develop in Athens?
8. What was the Delian League? Who was in it? What city-state was the leader?
9. Why did the Peloponnesian League form? Who was in it?
10. What caused the Peloponnesian War? Who was in it? Who won? What were the effects?
11. Who conquered most of the Greek city-states and was the father of Alexander the Great?
12. What was Hellenistic Culture?
13. Who helped spread Greek culture eastward where it blended into Hellenistic culture?
14. Where were the borders of Alexander the Great's empire-(stretched from where to where)?