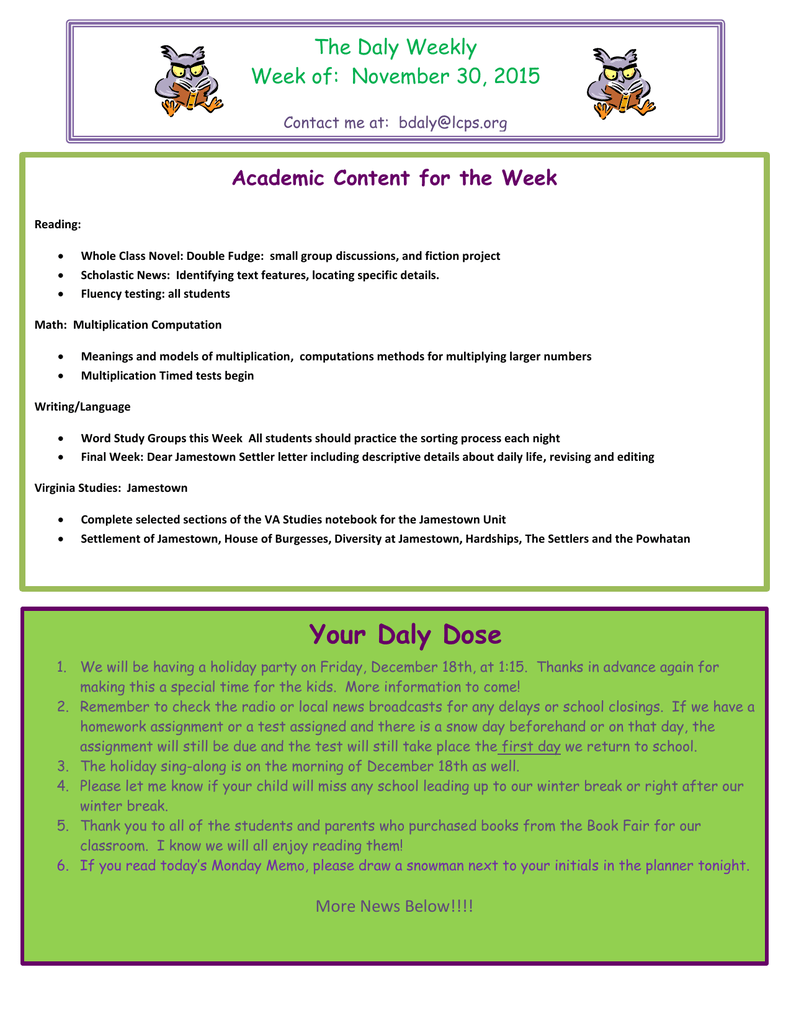 The Daly Weekly
Week of: November 30, 2015
Contact me at: [email protected]
Academic Content for the Week
Reading:



Whole Class Novel: Double Fudge: small group discussions, and fiction project
Scholastic News: Identifying text features, locating specific details.
Fluency testing: all students
Math: Multiplication Computation


Meanings and models of multiplication, computations methods for multiplying larger numbers
Multiplication Timed tests begin
Writing/Language


Word Study Groups this Week All students should practice the sorting process each night
Final Week: Dear Jamestown Settler letter including descriptive details about daily life, revising and editing
Virginia Studies: Jamestown


Complete selected sections of the VA Studies notebook for the Jamestown Unit
Settlement of Jamestown, House of Burgesses, Diversity at Jamestown, Hardships, The Settlers and the Powhatan
Science: (Our Space Unit will be next after we finish Native Americans and Jamestown)
Your Daly Dose
1. We will be having a holiday party on Friday, December 18th, at 1:15. Thanks in advance again for
making this a special time for the kids. More information to come!
2. Remember to check the radio or local news broadcasts for any delays or school closings. If we have a
homework assignment or a test assigned and there is a snow day beforehand or on that day, the
assignment will still be due and the test will still take place the first day we return to school.
3. The holiday sing-along is on the morning of December 18th as well.
4. Please let me know if your child will miss any school leading up to our winter break or right after our
winter break.
5. Thank you to all of the students and parents who purchased books from the Book Fair for our
classroom. I know we will all enjoy reading them!
6. If you read today's Monday Memo, please draw a snowman next to your initials in the planner tonight.
More News Below!!!!
Hi everyone,
Our own corner of YouTube has gone live and is linked from our homepage. Currently, the site features our
Librarian
and the fourth grade OTTW product. (4th Grade students sharing the Powerpoint Presentations for Virginia
Special Places…..which includes our own Sam Schulz and Charlotte Pei!!)
Here's the link: https://goo.gl/E06XnJ
Introducing our Star Student for the Week:
Brooke Simpson
Three Truths and a Fib:
1.
My Favorite State is Delaware
2.
I have been to three Caribbean Islands
3.
I like cats more than dogs
4.
My favorite D.C. comics character is
Harley Quinn.