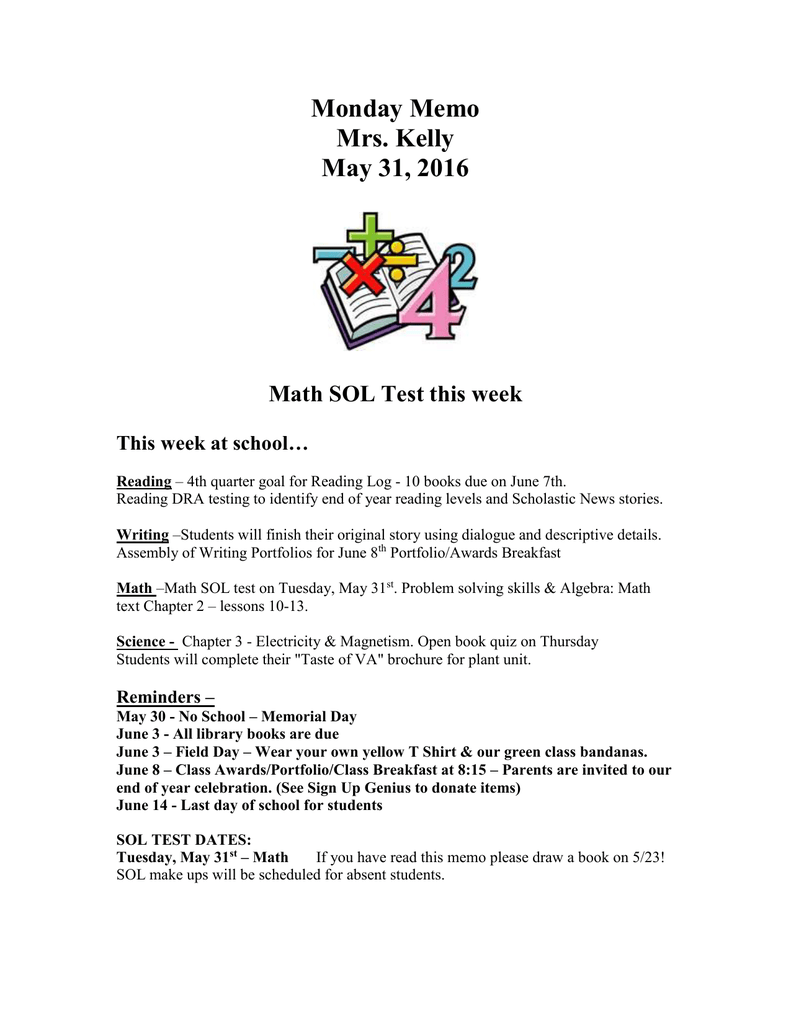 Monday Memo
Mrs. Kelly
May 31, 2016
Math SOL Test this week
This week at school…
Reading – 4th quarter goal for Reading Log - 10 books due on June 7th.
Reading DRA testing to identify end of year reading levels and Scholastic News stories.
Writing –Students will finish their original story using dialogue and descriptive details.
Assembly of Writing Portfolios for June 8th Portfolio/Awards Breakfast
Math –Math SOL test on Tuesday, May 31st. Problem solving skills & Algebra: Math
text Chapter 2 – lessons 10-13.
Science - Chapter 3 - Electricity & Magnetism. Open book quiz on Thursday
Students will complete their "Taste of VA" brochure for plant unit.
Reminders –
May 30 - No School – Memorial Day
June 3 - All library books are due
June 3 – Field Day – Wear your own yellow T Shirt & our green class bandanas.
June 8 – Class Awards/Portfolio/Class Breakfast at 8:15 – Parents are invited to our
end of year celebration. (See Sign Up Genius to donate items)
June 14 - Last day of school for students
SOL TEST DATES:
Tuesday, May 31st – Math
If you have read this memo please draw a book on 5/23!
SOL make ups will be scheduled for absent students.