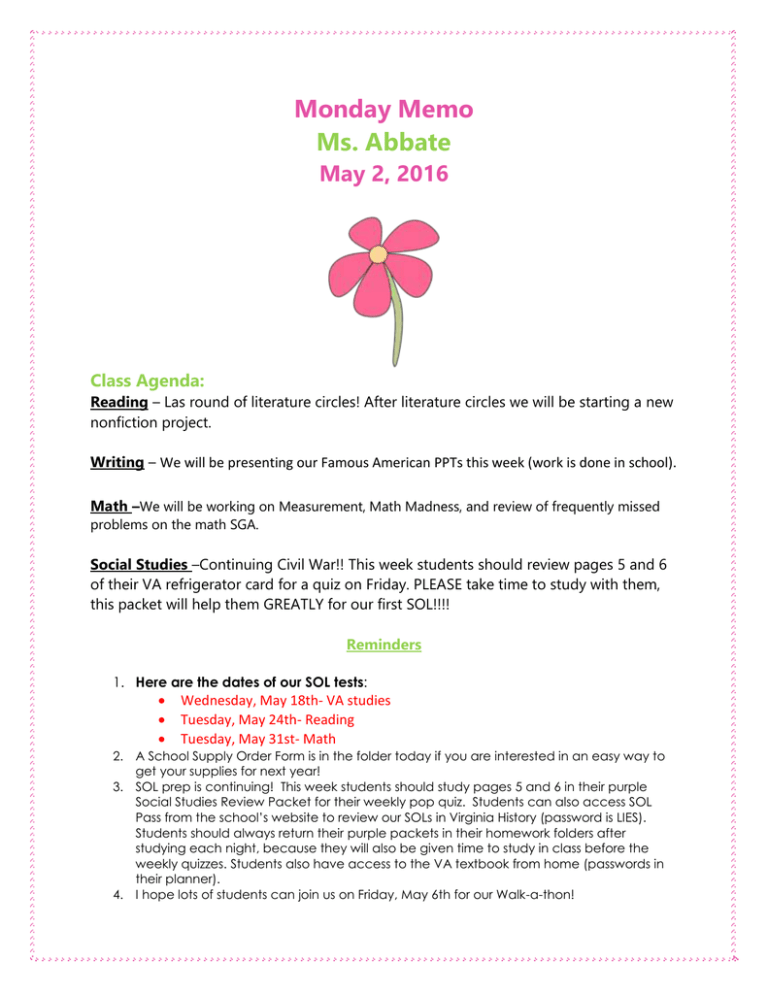 Monday Memo
Ms. Abbate
May 2, 2016
Class Agenda:
Reading – Las round of literature circles! After literature circles we will be starting a new
nonfiction project.
Writing – We will be presenting our Famous American PPTs this week (work is done in school).
Math –We will be working on Measurement, Math Madness, and review of frequently missed
problems on the math SGA.
Social Studies –Continuing Civil War!! This week students should review pages 5 and 6
of their VA refrigerator card for a quiz on Friday. PLEASE take time to study with them,
this packet will help them GREATLY for our first SOL!!!!
Reminders
1. Here are the dates of our SOL tests:



Wednesday, May 18th- VA studies
Tuesday, May 24th- Reading
Tuesday, May 31st- Math
2. A School Supply Order Form is in the folder today if you are interested in an easy way to
get your supplies for next year!
3. SOL prep is continuing! This week students should study pages 5 and 6 in their purple
Social Studies Review Packet for their weekly pop quiz. Students can also access SOL
Pass from the school's website to review our SOLs in Virginia History (password is LIES).
Students should always return their purple packets in their homework folders after
studying each night, because they will also be given time to study in class before the
weekly quizzes. Students also have access to the VA textbook from home (passwords in
their planner).
4. I hope lots of students can join us on Friday, May 6th for our Walk-a-thon!
5. It's going to be a busy quarter! I hope you will continue to encourage your child's best
behavior and work habits as we finish up content and start to review for our testing.
Thank you for your continued support!!
6. If you read the Monday Memo please ask your student which side VA was on in the Civil
War (hint, NOT north/south, but a better vocabulary word!) and write it in your child's
planner!