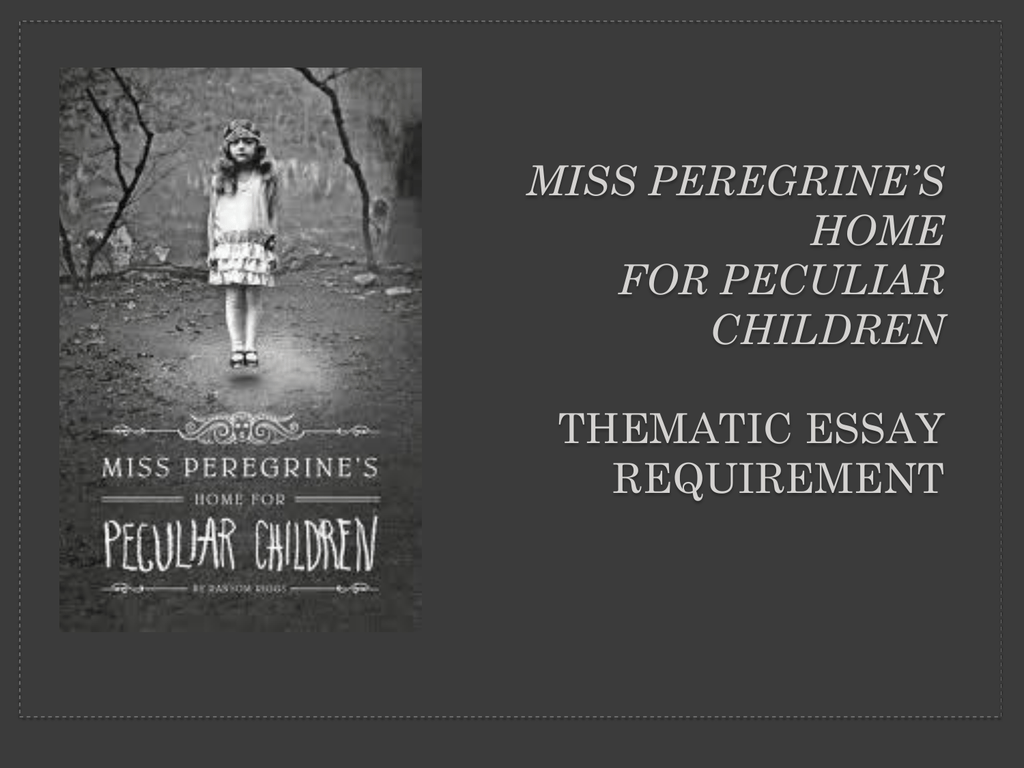 MISS PEREGRINE'S
HOME
FOR PECULIAR
CHILDREN
THEMATIC ESSAY
REQUIREMENT
Pictures play a role in
the novel. Your
thematic essay
requirement will be a
photo essay. Here is
how it will work:
FOR THE PURPOSE OF
THIS EXAMPLE
PRESENTATION, THE
CURIOUS INCIDENT OF
THE DOG IN THE
NIGHTTIME WILL BE
THE FOCUS NOVEL.
PHOTO ESSAY:
FEAR OF THE UNKNOWN
As compared to
The Curious Incident of the Dog in the Nighttime
Begin by introducing your theme and defining it.
Your thematic statement should share how you
are going to focus on your topic and then how it
was portrayed in the novel Miss Peregrine's Home
for Peculiar Children.
Fear of the unknown is
both powerful and
crippling because while it
controls a person's outlook
on life and ability to take
on new tasks it also keeps
that same person from
making decisions that
could put them in danger .
Fear of the unknown keeps
Christopher under his
father's thumb, and fear
keeps him isolated when
he tries new activities.
FOR THE NEXT FIVE
SLIDES, SHARE A
PICTURE THAT
REPRESENTS YOUR
THEME
AND THEN EXPLAIN
HOW THAT PICTURE
REPRESENTS YOUR
THEME AS WELL AS
HOW THAT FITS THE
NOVEL
ONCE YOU HAVE
SHARED FIVE
PICTURES, INCLUDE
THREE ADDITIONAL
SOURCES (SONGS,
BOOKS, MOVIES
ETC.)
Jumping from a perfectly good airplane into the wide open, blue
abyss is halted by fear of the unknown. Skills are meant to be
practiced and perfected before trying it for the first time. Sky diving
doesn't allow for such a pattern. Sky diving is literally jumping in
with both feet. Christopher's father doesn't have a chance to practice
being a father; he gets one shot at it and he doesn't know what he is
doing so he makes some mistakes, mistakes that cost him his
relationship with his son.
There are so many decisions to be made in life, and those decisions often
have to be made quickly. Although we want all the facts and the possible
outcomes beforehand, we often have to make our best effort. Fear of the
unknown possible outcomes cannot stop us or slow us down. Decisions are
made with all the information we have at the time and we often just hope
for the best. Judy Boone leaves her family thinking she is making the best
decision for her son and her husband. She thinks she is leaving
Christopher in better hands. Her fear of the parent she is becoming and
the unknown factors of raising a special needs child are too much for her.
Fear of the unknown changes as we grow up. What starts out as that fear of
the dark evolves into that fear of the future. But like our youth, we turned
on the light and headed down to the basement Christopher fears taking the
A Level Math exam but fears missing it even more. Christopher has future
plans that are still hazy and out of focus; he fears what the future holds for
him, but he knows he has to keep moving forward into the dark unknown.
Fear of the unknown is also our brain's alert system. Fear is our
body's way of alerting us to upcoming dangers. If the danger isn't
great enough we can power through, but if the danger is too much,
fear is what keeps our head on straight. Christopher is scared of
many things, but he encourages himself to keep pushing and moving
forward. But fear alerts him of the possible danger Mr. Shears
possesses; a fear that is real.
Fear of the unknown is represented in death because it is the ultimate
equalizer and the biggest unknown factor in our lives. Wealth, race, power,
family, love, nor intelligence can ultimately save you from death. Soldiers come
back from war and tell stories, mothers can regale the pain of childbirth, and
survivors of violent crime can all paint a picture of what life changing moments
can feel like, but no one can share with the world what to expect after death.
Death is a finality that, unless you are a Winchester, you cannot come back
from. Death brings out our greatest fear of the unknown. Christopher does not
understand death. When faced with the quick end of his mother he has no way
of processing the emotion. Adding to his confused and limited state is the fact
that she is not dead. Chris's greatest fear is mocked by his father because it
isn't a real event.
For the next three slides you will compare a book, movie, TV show, painting,
poem, etc. that shares the same thematic topic that you chose. How is the
theme represented in your source compared to how it is represented in Miss
Peregrine's Home for Peculiar Children? This is just like what we did for the
mini presentations for Animal Farm.
In The Breakfast Club fear of the unknown controls the decision to become
part of the larger group. Each character has a place that they hold in the
group and each is unwilling to show the need to become part of something
larger and find acceptance. Each high school student feels that they are
simply representing a "kind" of person rather than being seen for who they
truly are in the world. They each fear what it will be like for them in the
halls of high school if they are willing to just be themselves. Mrs. Gascoyne
fears the door she will open if she allows a special needs student to take an
advanced math test. As an administrator she wants what is best for the
student but also what is best for the school. Having a student break down
barriers is an exciting step in a school but fear of what will come next can
lead to quick decisions.
Breaking down barriers isn't always a conscience decision. In Norman Rockwell's
painting "New Kid in the Neighborhood" fear of the unknown is in the form of racial
tension. With the changing times of the late 1960's families of all races were moving
into their deserved slice of the American dream. Children were often the lightening
rod for racial tension but in many cases they were also the bridge of peace.
Christopher's dad tries to simply kill off the memory of Christopher's mother
because of the tension she causes in his own life, but with some understanding and
an open mind she becomes the peace maker between Chris and his father. Chris's
father has nothing to fear.
The blue police box from the
Doctor Who series represents
fear of the unknown because
with each new companion the
adventures to be had, although
exciting and heroic, could
never be planned for.
Adventure for Christopher is
well thought out events that he
prepares himself for, like going
to the train station to see his
mother. Fear of the unknown
is what caused him to stand in
the middle of the station for
eight hours desperately trying
to work up the courage to get
on the next train, or the next,
or the next.
Requirements:
• A thematic statement.
• Analytical explanation of how the theme is represented in Peregrine.
• Five slides (five pictures) that represent the theme, analyzed and related to
the novel.
• Three additional slides using books, movies, TV shows, music, etc. that
share the same theme, analyzed and related back to the novel.
• YOU MAY WORK WITH A PARTNER…... BUT
• YOU WILL HAVE THE REQUIREMENT OF
TEN PICTURE SLIDES. (THAT IS AN INCREASE
OF FIVE SLIDES)
A rubric has been provided.