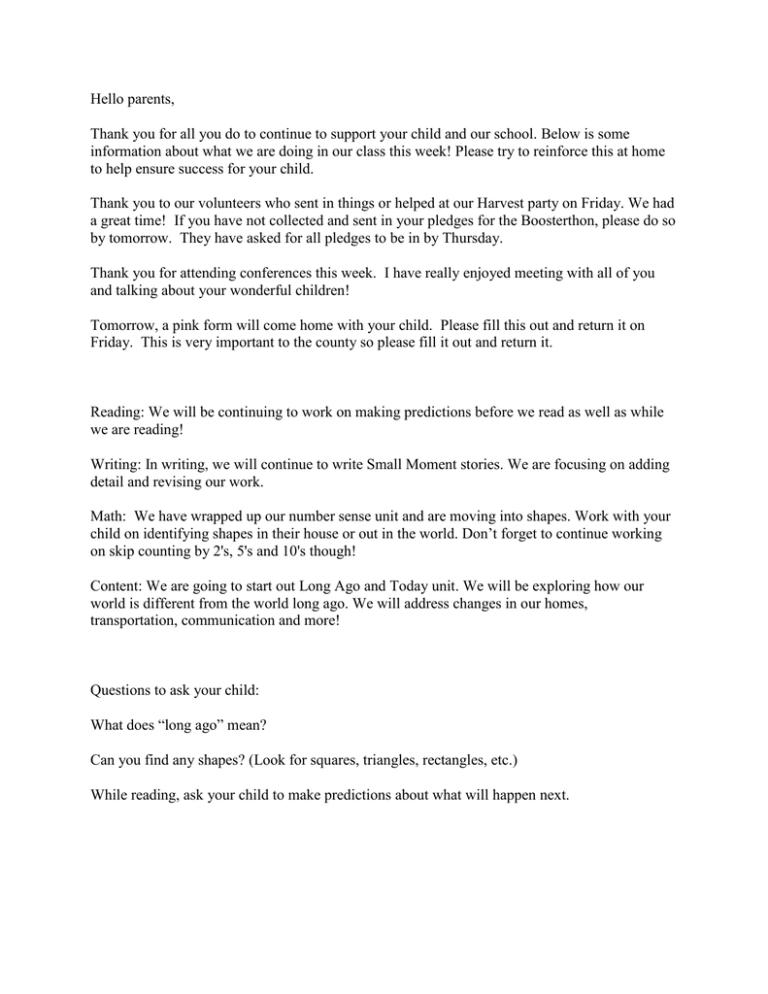 Hello parents,
Thank you for all you do to continue to support your child and our school. Below is some
information about what we are doing in our class this week! Please try to reinforce this at home
to help ensure success for your child.
Thank you to our volunteers who sent in things or helped at our Harvest party on Friday. We had
a great time! If you have not collected and sent in your pledges for the Boosterthon, please do so
by tomorrow. They have asked for all pledges to be in by Thursday.
Thank you for attending conferences this week. I have really enjoyed meeting with all of you
and talking about your wonderful children!
Tomorrow, a pink form will come home with your child. Please fill this out and return it on
Friday. This is very important to the county so please fill it out and return it.
Reading: We will be continuing to work on making predictions before we read as well as while
we are reading!
Writing: In writing, we will continue to write Small Moment stories. We are focusing on adding
detail and revising our work.
Math: We have wrapped up our number sense unit and are moving into shapes. Work with your
child on identifying shapes in their house or out in the world. Don't forget to continue working
on skip counting by 2's, 5's and 10's though!
Content: We are going to start out Long Ago and Today unit. We will be exploring how our
world is different from the world long ago. We will address changes in our homes,
transportation, communication and more!
Questions to ask your child:
What does "long ago" mean?
Can you find any shapes? (Look for squares, triangles, rectangles, etc.)
While reading, ask your child to make predictions about what will happen next.