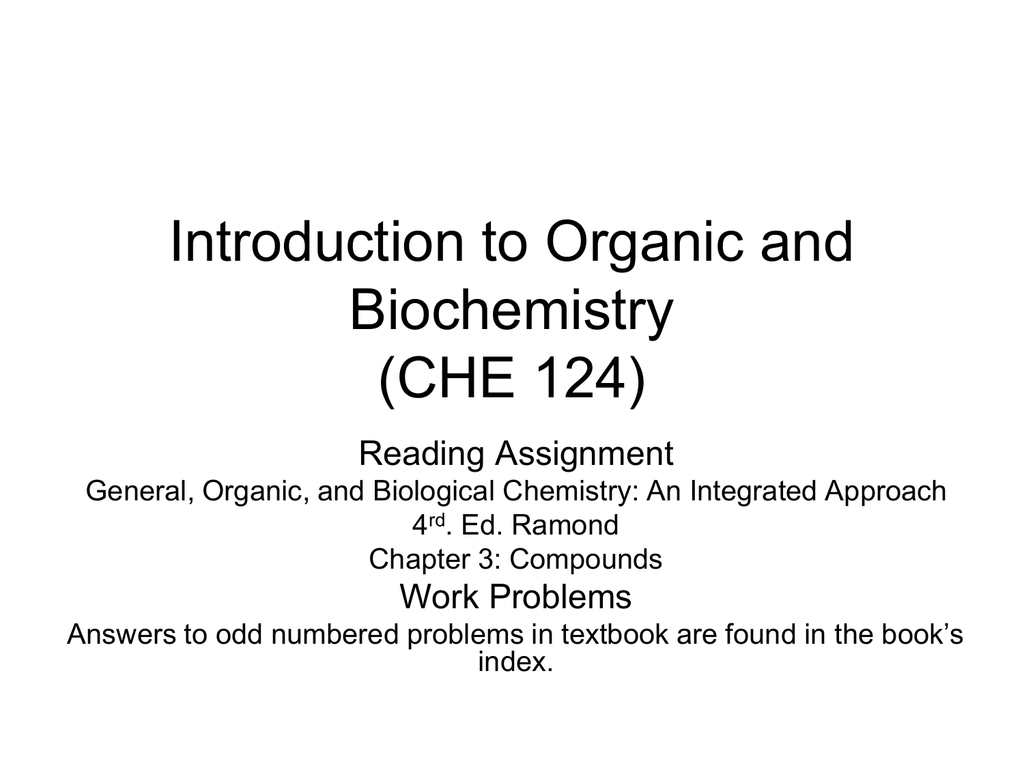 Introduction to Organic and
Biochemistry
(CHE 124)
Reading Assignment
General, Organic, and Biological Chemistry: An Integrated Approach
4rd. Ed. Ramond
Chapter 3: Compounds
Work Problems
Answers to odd numbered problems in textbook are found in the book's
index.
Compounds / Ions
• Matter (Ch. 1)
– anything that has mass and occupies space.
• Atoms (Ch. 2)
– The building block of matter.
• Element (Ch.2)
– Substance that contains only on type of atom.
– cannot be broken down into substances with different
properties by chemical means.
• Compound
– Matter constructed of two of more chemically combined
elements.
• Ion
– A charged atom or group of atoms produced due to the
loss or gain of electrons.
• + ions are called cations
• - ions are called anions
Ions
• How many protons, neutrons and electrons does
(uncharged) Na (sodium) contain.
• What information do we need? Where is this
information? --- Period table.
• Na number 11 means 11 protons and 11 electrons.
Symbol Protons Electrons Charge Name
Na
Na+
11
11
11
10
0
1+
Sodium
Sodium ion
Ca
Ca2+
20
20
20
18
0
2+
Calcium
Calcium ion
Polyatomic Ions
• Polyatomic ions
– Ions composed of two or more atoms. These
atoms behave as a single unit.
• NH4+ Ammonium ion
• OHHydroxide
– See Sheet with monatomic and polyatomic ions.
Octet Rule
• Octet Rule
– Atoms gain or loss or share valence electrons in
order to end up with 8 valence electrons.
– 8 electrons in the valence shell is a stable
electron arrangement.
• Helps to explain ions and covalent bonds.
– Nonmetals gain electrons.
– Metals loss electrons.
• See table 3.3 p 80
– The noble (inert) gases are unreactive because
they contain 8 electrons in their valence shell.
• Draw Figure 3.2 p. 79 on the board.
Ionic Compounds
• Compound
– Matter composed of two or more elements in a fixed proportion.
• Ionic Compound
– A compound composed of a cation and an anion.
– Ionic compounds form ionic bonds.
– Sodium Chloride
Na+ ClNaCl
• Table salt
– Magnesium Chloride
Mg2+ Cl-
MgCl2
• Used as magnesium supplement (Slo-Mag)
• Some ionic compounds contain polyatomic ions
– Sodium Sulfite
Na+
SO3 2-
Na2SO3
Mg2+
OH-
Mg(OH)2
• Food preservative
– Magnesium hydroxide
• Milk of Magnesia - laxative
– Charge must balance.
Physical vs Chemical
• Physical Properties
– A characteristic of matter that does not involve varying its
chemical composition.
• Chemical Properties
– Chemical changes that an element or a compound
undergo.
• Physical Change
– A change in matter that does not involve varying its
chemical composition.
• Chemical Change
– A change in matter that involves changing its chemical
composition.
Nomenclature of Ionic Compounds
• Name cation followed by name for anion
– Do not specify number of times the cation or anion appears
in formula.
•
•
•
•
BaSO4
CaCO4
AgNO3
Sodium hydroxide
Barium Sulfate
Calcium Carbonate
Silver Nitrate
NaOH
• For Transition Metals (more than one oxidation
state).
– Designate the oxidation state using a Roman numeral.
• CuCl
• CuCl2
Copper (I) chloride
Copper (II) chloride
Cuprous chloride
Cupric chloride
– See table 3.4 p. 84
• YOU MUST KNOW THE INFORMATION ON THE HANDOUT OF
ELEMENTS, MONOATOMIC IONS, AND POLYATOMIC IONS
Covalent Bonds
• Covalent Bonds – a bond formed by two atoms sharing a pair
of valence electrons (one electron from each atom).
– Nonmetals form covalent bonds.
• Draw the Lewis dot structure for two Fluorine
– Covalent bond symbolized by a line (represents a pair of shared
electrons.)
– See figure 3.9 p. 85
ELEMENT
# Covalent DRAW
Bonds
Hydrogen
1
Oxygen
2
Nitrogen
3
Carbon
4
Phosphorus
5
Covalent Bonds (Cont)
• Some elements form double or triple covalent bonds
by sharing two pairs or three pairs of electrons.
– Draw Lewis dot structure and line structure for molecular
oxygen (O2), which forms double bonds.
– Draw Lewis dot structure and line structure for acetylene
(C2H2), which contains a triple bond.
Molecules
• Molecules
– Uncharged group of atoms connected to one
another by covalent bonds.
• Draw electron dot and line-bond method for the
compounds water (H2O), Hydrogen fluoride (HF),
ammonia (NH3), Methane (CH4)
– Some molecules are elements because they
contain just one type of atom
• Diatomic elements H2, N2, O2, F2, Cl2, and I2
• Triatomic elements O3
Nomenclature of Binary Molecules
• Binary Molecules
– Molecules contain two different elements.
• 1. Name elements in order of appearance.
• 2. Drop the ending from the second element and
add ide.
• 3. Add prefix to denote # of atoms of an element
1
Mono
6
Hexa
2
Di
7
Hepta
3
Tri
8
Octa
4
Tetra
9
Nana
5
penta
10
deca
Try naming these HF, CaCl2, CO, CO2, SO2, SO3
Calculating Formula Weight
• Formula Weight
– Sum of the atomic weights of the elements in the formula.
– Units are amu OR g / mol
• Molecular Weight
– Sum of the atomic weights of the elements in the molecular
formula.
– Units amu OR g / mol
• What are the Formula / Molecular Weight of the
species below?
–
–
–
–
NaCl
H2O
Cu(NO3)2
C6H12O6 (Glucose)
• Demonstrate the systematic approach.
Typical Problem
• What is the mass of 1.5 moles of glucose
(C6H12O6)?
• What is the mass of 2.50 mol of
chloroform (CHCl3)
Nitric Oxide (aka Nitrogen Monoxide)
• Nitric Oxide (NO)
– Nitrogen bonded to Oxygen through a double bond.
– Colorless gas that has minimum effect on health.
– Unusual because it does not contain an octet.
• Atmospheric Pollutant
– Colorless gas produced by engines during combustion.
– Reacts with water (along with NO2) to produce acid rain.
• Nitrogen dioxide is a brown gas that increases risk of asthma and
other lung problems
• Second Messenger in cellular signaling.
– Nitric oxide is a powerful vasodilator.
• Regulates blood pressure, controls muscles that dilate arteries
and blood vessels.
• Nitric oxide is produced when nitroglycerin is placed under the
tongue.