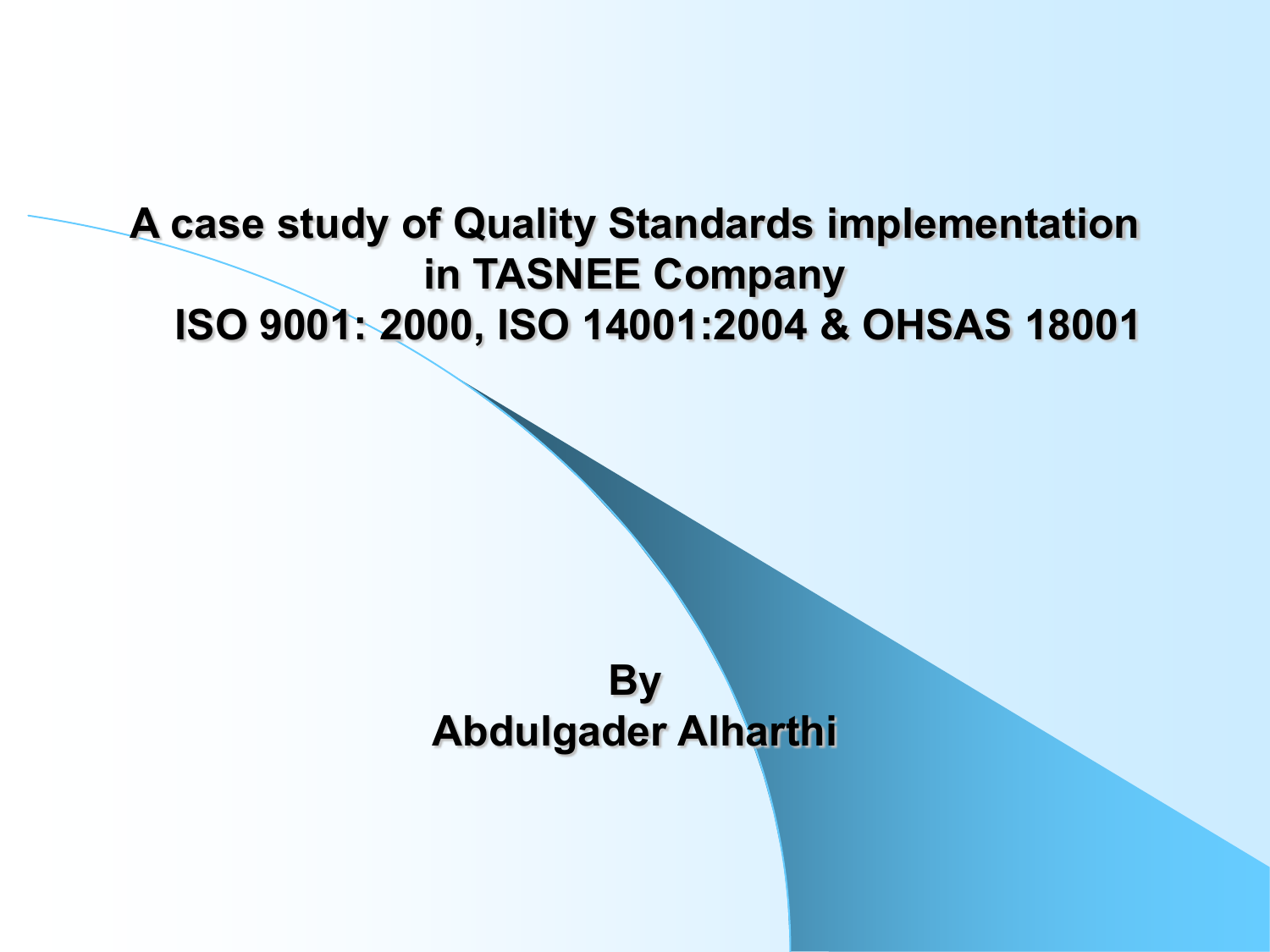 A case study of Quality Standards implementation
in TASNEE Company
ISO 9001: 2000, ISO 14001:2004 & OHSAS 18001
By
Abdulgader Alharthi
Outline
 Introduction
 Literature
Review
 Methodology
 Case Analysis and Discussion
 Conclusion
Introduction
ISO 9001:2000

Provide guidance in the development and
implementation of an effective quality
management system
 Demonstrate organization ability to
consistently provide product that meets
customer and applicable regulatory
requirements
ISO 14001 : 2004

Requirements for an environmental
management system
 Enable an organization to develop and
implement a policy and objectives which
take into account legal requirements about
significant environmental aspects
OHSAS 18001 : 1999

Occupational Health & Safety Management
Systems
 Superseded the BS8800:1996 Guide
 Enable an organization to control its OH&S risks
and improve its performance.
 It requires an organization to conduct a risk
assessment, and manage those risks that must
include objectives to demonstrate continuous
improvement
Literature Review 1/2

Adopting an international standard is a concrete
strategy for increasing competitiveness (Ritter,
1998)
 Firms that have successfully adopted ISO 9000 are
likely to exhibit higher levels of quality
improvement, business excellence, international
competitiveness, cost reduction, human resource
development, and customer orientation (Huarng, F
,1999)
Literature Review 2/2

Different research shows that companies who adapted ISO
14001 reports significant improvements in their operating
and manufacturing procedures after adopting ISO 14001
(Darnall, 2001)
–
–
–
–
–
–
Increased employee involvement
Increased document control
Improved operational control
Improved calibration and retooling
Increased process automation
Increased reuse of chemicals and water in production cycles
Methodology

A case study approach was used to write
this paper
 The information was gathered through
review of available documentation and
observations/interviews of personnel
involved in the implementation of the
quality management system
Case Analysis and Discussion

The Integrated Quality Management System
in TASNEE/SPC was developed to meet the
mission statement of the organization and to
comply to the three international standards
Integrated Quality Management
System Model in Tasnee
Satisfaction
P
Requirements
CUSTOMERS, STAKEHOLDERS
Management
Responsibility
Resource
Management
A
QM
S
D
Input
Measurements
Analysis and
Improvement
C
Product
Product
realization
Realization
Suppliers, Contractors,
Partners
Output
C
U
S
T
O
M
E
R
S,
S
T
A
K
E
H
O
L
D
E
R
S
Continual
Improvement
Steps to develop the system

Identified the processes needed for the quality,
safety, health & environment management system
and their application throughout the organization
 Determined the sequence and interaction of these
processes
 Determined the criteria and methods needed to
ensure that both the operation and control of these
processes are effective
Steps to develop the system
(cont.)

Ensured the availability of resources and
information necessary to support the operation and
monitoring of the processes
 Monitored, measured and analyzed these
processes
 Implementing actions necessary to achieve
planned results and continual improvement of all
of these QSHE and business processes
Conclusion

Great system that took a lot of effort and resources
to develop
 Need to be used on daily activities by all members
of the organizations
 The system needs to be communicated properly to
all employees
 The critical success factor is full commitment
from management team to the system practice in
all organization levels
Thank you !!!