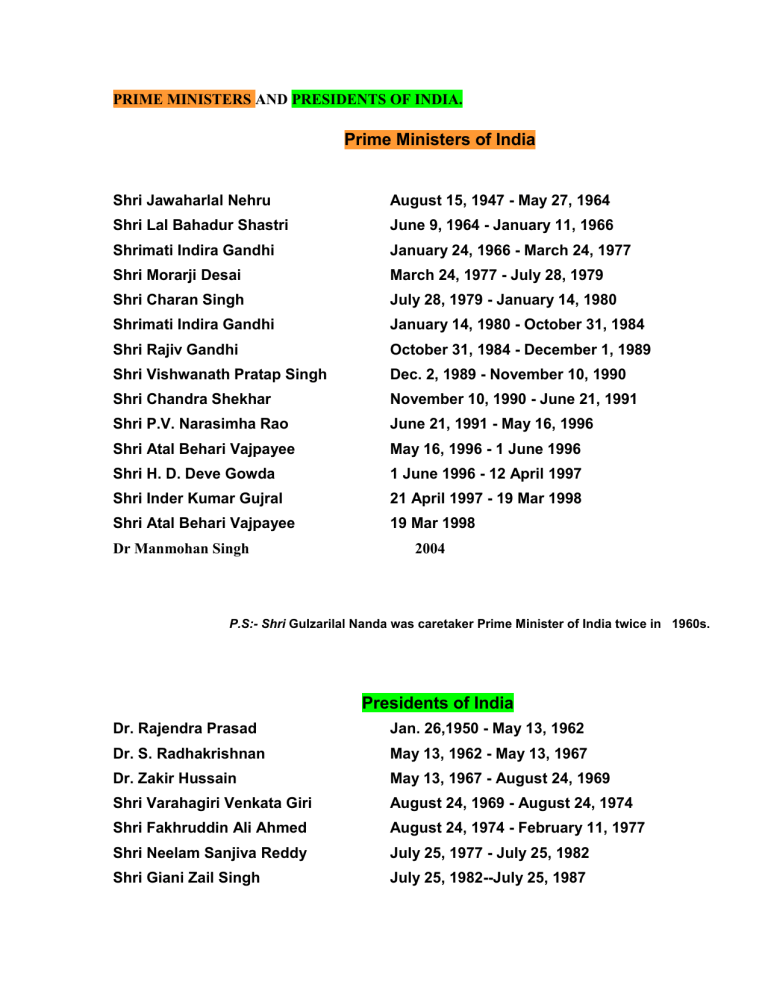 PRIME MINISTERS AND PRESIDENTS OF INDIA.
Prime Ministers of India
Shri Jawaharlal Nehru
August 15, 1947 - May 27, 1964
Shri Lal Bahadur Shastri
June 9, 1964 - January 11, 1966
Shrimati Indira Gandhi
January 24, 1966 - March 24, 1977
Shri Morarji Desai
March 24, 1977 - July 28, 1979
Shri Charan Singh
July 28, 1979 - January 14, 1980
Shrimati Indira Gandhi
January 14, 1980 - October 31, 1984
Shri Rajiv Gandhi
October 31, 1984 - December 1, 1989
Shri Vishwanath Pratap Singh
Dec. 2, 1989 - November 10, 1990
Shri Chandra Shekhar
November 10, 1990 - June 21, 1991
Shri P.V. Narasimha Rao
June 21, 1991 - May 16, 1996
Shri Atal Behari Vajpayee
May 16, 1996 - 1 June 1996
Shri H. D. Deve Gowda
1 June 1996 - 12 April 1997
Shri Inder Kumar Gujral
21 April 1997 - 19 Mar 1998
Shri Atal Behari Vajpayee
19 Mar 1998
Dr Manmohan Singh
2004
P.S:- Shri Gulzarilal Nanda was caretaker Prime Minister of India twice in 1960s.
Presidents of India
Dr. Rajendra Prasad
Jan. 26,1950 - May 13, 1962
Dr. S. Radhakrishnan
May 13, 1962 - May 13, 1967
Dr. Zakir Hussain
May 13, 1967 - August 24, 1969
Shri Varahagiri Venkata Giri
August 24, 1969 - August 24, 1974
Shri Fakhruddin Ali Ahmed
August 24, 1974 - February 11, 1977
Shri Neelam Sanjiva Reddy
July 25, 1977 - July 25, 1982
Shri Giani Zail Singh
July 25, 1982--July 25, 1987
Shri R. Venkataraman
July 25, 1987- July 25, 1992
Dr.S.D. Sharma
July 25, 1992 - July 25, 1997
Shri K R Narayanan
July 25, 1997 - 2002
Description
Period
ANCIENT
EMPIRES
ca. 2500-1600 B.C. Indus Valley culture.
ca. 1500-500 B.C.
Migrations of Aryan-speaking tribes; the Vedic Age.
ca. 1000 B.C.
Settlement of Bengal by Dravidian-speaking peoples.
ca. 563-ca. 483 B.C.
Life of Siddartha Gautama--the Buddha; founding of
Buddhism.
ca. 326-184 B.C.
Mauryan Empire; reign of Ashoka (269-232 B.C.); spread of
Buddhism.
ca. 180 B.C.-A.D.
150
Shaka dynasties in Indus Valley.
ca. A.D. 320-550
Gupta Empire; classical age in North India.
606-47
North Indian empire of Harsha.
711
Arab invaders conquer Sindh, establish Islamic presence in
India.
750-1150
Pala Dynasty.
1150-1202
Sena Dynasty.
GROWTH OF
ISLAM
997-1027
Mahmud of Ghazni raids Indian subcontinent from
Afghanistan.
1202
Turkish conquerors defeat Sena Dynasty and overrun
Bengal.
1206-1398
Delhi Sultanate.
1398
Timur sacks Delhi.
1414-50
Sayyid Dynasty; renewal of Delhi Sultanate.
1451-1526
Lodi Dynasty.
THE MUGHAL
PERIOD
1526
Babur lays foundation of Mughal Empire; wins First Battle of
Panipat.
1556-1605
Akbar expands and reforms the empire; Mughals win Second
Battle of Panipat.
1605-27
Reign of Jahangir; in 1612 East India Company opens first
trading post (factory).
1628-58
Reign of Shah Jahan.
1658-1707
Reign of Aurangzeb, last great Mughal ruler.
1707-1858
Lesser emperors; decline of the Mughal Empire.
BRITISH PERIOD
1757
Battle of Plassey--British victory over Mughal forces in
Bengal; British rule in India begins.
1835
Institution of British education and other reform measures.
1857-58
Revolt of Indian sepoys (soldiers) against East India
Company.
1858
East India Company dissolved; rule of India under the British
crown--the British Raj--begins with Government of India Act;
formal end of Mughal Empire.
1885
Indian National Congress (Congress) formed.
1905
Partition of Bengal into separate provinces of Eastern Bengal
and Assam, West Bengal.
1906
All-India Muslim League (Muslim League) founded.
1909
Morley-Minto Reforms; separate electorates for Muslims.
1912
Partition of Bengal annulled; new province of Bihar and
Orissa formed; plans to move capital from Calcutta to Delhi
announced.
1916
Congress-League Scheme of Reforms (often referred to as
Lucknow Pact) signed.
1919
Montagu-Chelmsford Reforms; Government of India Act.
1935
Government of India Act of 1935.
1940
Muslim League adopts Lahore Resolution; "Two Nations"
theory articulated by Muslim League leader Mohammad Ali
Jinnah and others.
August 16, 1946
"Direct Action Day" of Muslim League.
INDEPENDENT
INDIA
August 15, 1947
Partition of British India; India achieves independence and
incorporates West Bengal and Assam; Jawaharlal Nehru
becomes prime minister of India. Pakistan is created and
incorporates East Bengal (the East Wing, or East Pakistan)
and territory in the northwest (the West Wing, or West
Pakistan); Jinnah becomes governor general of Pakistan.
August 15, 1947May 27, 1964
Jawaharlal Nehru serves as prime minister and leader of
Congress-controlled government.
October 22, 1947January 1, 1949
Undeclared war with Pakistan; ends with United Nationsarranged ceasefire.
January 30, 1948
Mahatma Gandhi assassinated in New Delhi.
October 20Border war with China.
November 21, 1962
June 9, 1964January 11, 1966
Lal Bhadur Shastri serves as prime minister of Congress-led
government.
August 5-September
Second war with Pakistan.
23, 1965
January 24, 1966March 24, 1977
Indira Gandhi serves as prime minister for first time, head of
government initially led by Congress, later Congress (R).
December 3-16,
1971
Third war with Pakistan; Bangladesh becomes independent
following Indian invasion of East Pakistan.
June 25, 1975January 18, 1977
State of Emergency proclaimed by Indira Gandhi.
March 24, 1977July 28, 1979
Morarji Desai serves as prime minister as head of a
multiparty front, Janata Party, India's first non-Congress
government.
July 28, 1979January 14, 1980
Chaudhury Charan Singh serves as prime minister as head
of a Janata-led coalition government.
January 14, 1980October 31, 1984
Indira Ganhdi serves as prime minister for second time, head
of Congress (I) government.
October 31, 1984
Indira Gandhi assassinated in New Delhi.
October 31, 1984December 2, 1989
Rajiv Gandhi serves as prime minister of Congress (I)-led
government.
December 2, 1989November 7, 1990
Vishwanath Pratap Singh serves as prime minister of
National Front-led coalition government.
November 10, 1990- Chandra Shekhar serves as prime minister, heading
June 20, 1991
Samajwadi Janata Party government.
May 21, 1991
Rajiv Gandhi assassinated near Madras.
June 20, 1991-May P.V. Narasimha Rao serves as prime minister of Congress
15, 1996
(I)-led government.
December 6, 1992
Babri Masjid in Ayodhya, Uttar Pradesh, destroyed by Hindu
activists.
Communal violence in wake of Babri Masjid destruction
January-March 1993 wracks Indian cities, especially Bombay, which suffered from
a series of bomb blasts in March.
May 1995
Unpopular Terrorist and Disruptive Activities (Prevention) Act
of 1985 allowed to lapse
April 27-May 7,
1996
General elections for Lok Sabha oust Congress (I)
government of P.V. Narasimha Rao.
May 15-28, 1996
Minority Bharatiya Janata Party (BJP) government led by
Prime Minister Atal Bihari Vajpayee resigns after thirteen
days.
June 1, 1996
Haradanahalli (H.D.) Deve Gowda, head of thirteen-party
United Front, sworn in as India's eleventh prime minister.
Rabindranath Tagore (1861 - 1941)
Nobel Prize for Literature (1913)
Sir C.V. Raman (Chandrasekhara Venkata Raman)(1888 - 1970)
Nobel Prize for Physics (1930)
RAMAN" effect which fetched him the Noble Prize in 1930. He was the first Asian scientist to win the
Nobel Prize. The Raman effect occurs when a ray of incident light excites a molecule in the sample,
which subsequently scatters the light. While most of this scattered light is of the same wavelength
as the incident light, state (i.e. getting the molecule to vibrate). The Raman effect is useful in the
study of molecular energy levels, structure development, and multi component qualitative analysis.
Dr. Hargobind Khorana
Nobel Prize for Medicine and Physiology (1968)
Mother Teresa (1910 - 1997)
Nobel Prize for peace (1979)
Dr. Amartya Sen
Nobel Prize for Economics (1998)
Rudyard Kipling (1865-1936)
V.S. Naipaul (1932- )
States, U.T and Capitals of India
States and Union Territory
Capital
Andaman & Nicobar Islands
Port Blair
Andhra Pradesh
Hyderabad
Arunachal Pradesh
Itanagar
Assam
Dispur
Bihar
Patna
Chandigarh
Chandigarh
Chhatisgarh
Raipur
Dadra & Nagar Haveli
Silvasa
Daman & Diu
Daman
Delhi
Delhi
Goa
Panaji
Gujarat
Gandhinagar
Haryana
Chandigarh
Himachal Pradesh
Shimla
Jammu & Kashmir
Srinagar (Summer), Jammu (Winter)
Jharkhand
Ranchi
Karnataka
Bangalore
Kerala
Thiruvananthapuram
Lakshadweep
Kavaratti
Madhya Pradesh
Bhopal
Maharashtra
Mumbai
Manipur
Imphal
Meghalaya
Shillong
Mizoram
Aizawl
Nagaland
Kohima
Orissa
Bhubaneswar
Pondicherry
Pondicherry
Punjab
Chandigarh
Rajasthan
Jaipur
Sikkim
Gangtok
Tamil Nadu
Chennai
Tripura
Agartala
Uttar Pradesh
Lucknow
Uttaranchal
Dehradun
West Bengal
Kolkata
FREEDOM FIGHTERS
Gandhiji
Gandhiji's life was dedicated
to the ideals of Truth, Nonviolence and Love. He was
the architect of India's
freedomand one of the
greatest men of this century
Sardar Patel
India's Man of Steel. He gave up his practise in order to
fight for the freedom of the country. He was sent to
prision. As the Deputy Prime Minister of free India, he
became the architect of the integrity of India by merging of hundreds of princely states with the Indian Union.
Bal Gangadhar Tilak
Ramaprasad Bismil
"Swaraj is our brithright"
thundered Tilak, the Lion of
A Brave revolutionary who up his life smilingly for the
India. He founded schools
sake of the Motherland. He was hunted by the police
and published newspapers all
and betrayed by fellow workers. He was the brave leader
for his motherland. He wore
of Kakori Rail Dacoity Episode.
him- self out till his last breath,
to awaken his countrymen.
Bhagath Singh
Khudiram Bose
He is the symbol of the
heroism of the youth of India.
A revolutionary. He threw a It was this hero who threw te first bomb on the Bristish
bomb when the Legislature
who were crushing India. The boy of sixteen defied the
was in session, to warn the
police. At the age of nineteen,hebecame a martyr, wiht
British Government. He was the holy book the Bhagavadgita ( The Divine Song) in
put to death but lives in the
his hand and with the slogan ' Vande Mataram' on his
hearts of his countrymen.
lips.
Tatia Tope
Ashfaqulla Khan
A hero of the fight for freedom
in 1857. His very name made The pathan patriot who kissed the hangman's noose
the mighty English generals wiht the name of Allah on his lips. A youth endowed with
tremble. Deceived by his
a body of iron and will of steel, he dedicated everything
friend, he faced death like a to the service of India and of freedom and challenged
hero, for the sake of his
the cunning and the strength of an empire.
country.
Madame Cama
The fiery patriot who first
unfurled India's flag at an
international assembly. She
turned away from a life of
luxury and lived an exile - to
serve her country. And the
mighty British Government
grew afraid of her.
Great Scientists
Dr.C.V.Raman
The Genius who won the Nobel prize for Physics, with simple equipment
barely worth Rs.300. He was the first Asian scientist to win the Nobel Prize.
He won honour as a scientist and affection as a teacher and a man
Homi Bhabha
The architect of Nuclear Science in Modern India. He was a painterand
worshipped the beauty of Nature.Science and art both enriched his mind an
life. He was the ideal personality India needs today
Vikrama Sarabhai
One of the greatest scientists of India. As
Chairman of the Atomic Energy Commission, he
guided research of the greatest improtance to
the country. A born scientist and a beloved
teacher.
Dr.J.C.Bose
The great biologist who showed that plants, too
can 'feel' in their own way. He saved money ;he
bought a small laboratory and build his
equipment; and scientists in Euorpe and
Sathyendranath Bose
A renowned Indian scientist. He developed a new branch of physics. He
worked with Albert Einstein, Madame Curie and other scientists of world
renown.
America wondered at his discoveries.
Dr.P.C.Ray
An Indian Scientist who won fame in many
countries. Eighty years ago he began the
manufacture of medicines in India. A Great
teacher, he gave his salary to students
interested in science.
Birbal Sahani
A Great scientist who lived only for knowledge. He declined high posts. He
was a genius who shone in several spheres. He was a great teacher and a
great man.
Great Poets
Tulasidas
Kalidas
The great poet who
composed the 'Ramacharita- One of the greatise poets and dramatists in sanskrit. His chronicle of the
manasa' His boyhood was in kings of the Raghy clan ( Rughuvamsha) the greatplay 'shakuntala' and
poverty and suffering;but yet other works .
he became a great scholar.
Bankim Chandra
Namadeva
One of the greatest novelists
of India who gave the poeple Namadeva who lived during the end of the 13th century is one of the best
the scared mantra - Vande
known saint poets. Namadeva lived in Constant communion with lord
Mataram' The begal Novel
Panduranga.
practically began with him.
Tenali Ramakrishna
Maharshi Valmiki
A Poor orphan in his boyhood,
he rose to be the favourite
The Adikavi, the Poet of Poets, of India, who gave the world the immortal
adviser of powerful king. A
epic, the 'Ramayana'. By Profession a highway robber, he came under the
Scholar and a poet, he
spell of Maharshi Narada and became a 'Brahmarshi'.
exposed superstition and
stupid pride ot ridicule
Great Leaders
Lal Bahadur Shastri
Lal Bahadur proved to be one of the heroes of the
history of India. A Great general in Gandhiji's Army
of peaceful soldiers of freedom. He became the
symbol of India'svalour and self-respect
Motilal Nehru
A boyhood of poverty. In later life wealth, luzury and
pomp as that princes could not match. And then in
later life, a great leader of India's fight for freedom.
Motilal went to prison too. His son was Jawaharlal
Nehru.
Rajaji
A leader gifted with amazing intellectual brilliance.
He gave up his lucrative law practice for the sake of
Lala Lajpat Rai
A Great national leader who came to be called the
'Lion of punjab.' Worked tirelessly to improve
education, to promote unity among Hindus and to
reform society.
Dr. B.R. Ambedkar
Born in a class considered low and outcaste, he
fought untiringly for the down trodden.The boy who
suffered bitter humiliation became the first Minister
for Law in free India, and shaped the country's
Constitution.
M.S. Golwalkar
He was well known as ' Guruji' throughout Bharat,
and was the second Sarsanghchalak of Rashtriya
the country. He was at once a child of Indian culture Swayamsevak Sangh. His life was wholly dedicated
and a citizen of the world.
tot he service of the motherland.
GREAT PERSONALITIES
Savithri
Draupadi
She chose a noble young man for her husband. She The wife of the great Pandavas. renowned alike for
knew he had only a year to live, but yet she married her loveliness and her granite will. Volcanic, she
him. Even the God of Death bowed to her love and reduced her enemies to the ashes. But her story is a
devotion and restored her husband to life.
saga of suffering.
Ekalavya
Sister Nivedita
A Student's distinction lies in his devout pursuit of
know- ledge, and not merely in his heritage. This
Young Margaret Noble came under the spell of
manifests in a splendid manner in Ekalavya's life. He Swami Vivekananda. She came from distant Ireland
worshipped an idol of his 'Guru' mastered archery. to India to serve the people of this land. She was
when his master desired his right thumb as fee,he give the name of ' Nivedita' as one dedicated to God.
smilingly sacrificed it.
Raja Rammohan Roy
Rammanohar Lohia
Raja Rammohan Roy has come to be called the '
The Socialist leader of a fearless and dynamic
Maker of Modern India'. With out giving up what was
personality. Both before independence and in free
good and noble in the past he laid the foundations
India he went to prison several times for the sake of
for a great future. HE was a great scholar and a
the people.
independent thinker.
Madhanlal Dhingra
Veer Abhimanyu
The matchless youth who won immortality by his
Dhingra died young but his life was one of the
shining heroism in the great Mahabharatha war.
heroism and glory. In London, the heart of the British
Pitted against the mightiest of the mighty in the
Empire, he killed an enemy of India. He died gladly
enemies' ranks, this warrior barely sixteen became
for his country.
sheet anchor of the Pandavas.
Lakshmana
Karna
Younger brother of Sri Rama, Lakshmana
A Great Hero of hte 'Mahabharata'. Karna lived such
personifies brotherly love and self - effacement.
a life that he became another name for generosity
When Sri Rama had to wage war against Ravana to and loyalty. It was his misfortune to be shunned as a
rescue Sita, he whole heartedly collaborated in hte person of low caste. He sacrifice his life for his
venture.
master.
Dr.Ananda K.Coomaraswamy
Madana Mohana Malaviya
Ananda K. Coomaraswamy who was born in Ceylon The founder of Benaras Hindu University. His
( Sri Lanka ) and grew up in England, taught the
boyhood was spent in utter poverty. By his
west the way to approach and understand the arts of scholarship, pure life and selflessness he won such
India. His whole life was dedicated to the study and respect that he collected more that thirteen million
exposition of Indian culture.
rupees for the university.
Dr.M.Visvesvaraya
Bhishma
One of the most honoured figures of the Indian epic,
One of the makers of modern India. 'MV" was a
the Mhabharata. He gave up marriage and throne
genius. Perfectly honest and devoted to his work,
for his father's sake. To the people of India he is the
he set new standards of efficiency.
symbol of mature wisdom.
Dadheechi
Bhargiratha
Dadheechi after acquiring spiritual knowledge, led a Thegreat hero who brought down the Ganga from
pious life. When prayed for by Indra and other gods, the heaven to the earth. Bhagiratha has become
he readily sacrificed his life as well as body, in order another name for a will of steel that never accepts
that the gods might win in their war against demons. defeat.
Vidura
Dhondo Keshava Karve
A Great man who shines even in the galaxy of the Maharshi Karve lived for a hundred and four years.
mighty characters of the ' Mahabharata'. Affection
After he completed his education he pledged his life
did not dim his wisdom. Fearlessly he walked the
to the service to others. He chose poverty and
path of righteousness. He showed the same pathe to walked the pathe strewn wiht criticism and
others.
opposition.
Bahubali
Nandalal Bose
Bahubali defeated his elder brother who was puffed
A Celebrated painter of modern India. A genius who
up with pride, but at that very moment understood
was admired in many countries. His was an
his life's aim. He gave back the kingdom to his
attractive personaity, which combined boundless
defeated brother and went away to meditate the
learning and a unique genius with unaffected
God. He enriched the lives of his fellowmen with the
modesty and gentle humour.
light he received.
Lava-Kusha
Keshava Baliram Hedgewar
Sons of Rama and Sita. After Rama sent away sita
Founder of Rashtriya Swayamsevak Sangh. His
who was pregnant, to the forest the twin children
strong desire was that all the people should dedicate
were born to her in the hermitage of sage Valmiki.
themselves for the service of the Motherland
Lava and kusha ties the horse of Rama and
forgetting the differences of caste creed. etc He
successfully fought Bharata, Lakshmana and Rama
shone simple and loving personality.
himself. At last are finally reunited with Rama.
Jijabai
Chanakya
The mother of Shivaji who was the protector of the He vowed to dethrone the haughty king who was
country as well religion. She was the embodiment of harassing the people of the land. His 'Arthashastra'
self - respect. That great mother suffered in silence is a classic of statecraft and is reverently studied in
and became a source of inspiration to her heroic son Europe and else where.