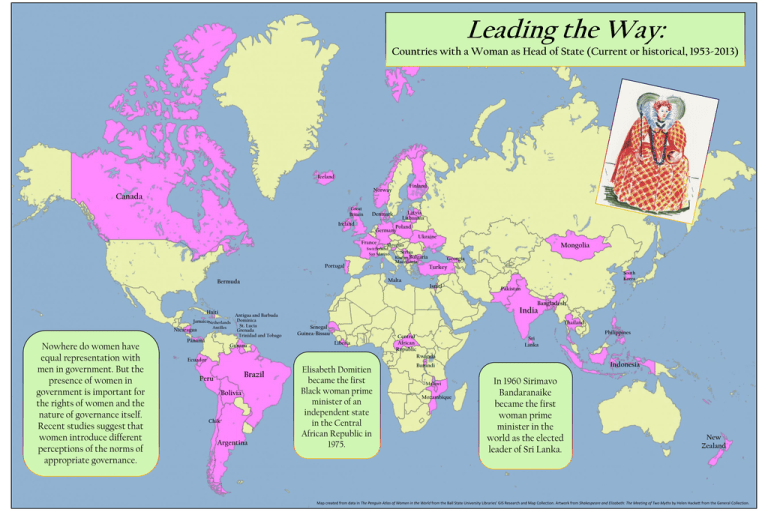 Leading the Way:
Countries with a Woman as Head of State (Current or historical, 1953-2013)
Iceland
Finland
Norway
Canada
Great
Britain
Latvia
Lithuania
Denmark
Ireland
Poland
Germany
Ukraine
France
Switzerland
San Marino
Portugal
Mongolia
Slovenia
Serbia
Kosovo Bulgaria
Georgia
Macedonia
Turkey
South
Korea
Malta
Bermuda
Israel
Pakistan
Bangladesh
India
Haiti
Antigua and Barbuda
JamaicaNetherlands Dominica
St. Lucia
Antilles
Nicaragua
Grenada
Trinidad and Tobago
Nowhere do women have
equal representation with
men in government. But the
presence of women in
government is important for
the rights of women and the
nature of governance itself.
Recent studies suggest that
women introduce different
perceptions of the norms of
appropriate governance.
Panama
Guyana
Thailand
Senegal
Guinea-Bissau
Liberia
Ecuador
Brazil
Peru
Bolivia
Chile'
Argentina
Elisabeth Domitien
became the first
Black woman prime
minister of an
independent state
in the Central
African Republic in
1975.
Central
African
Republic
Rwanda
Philippines
Sri
Lanka
Indonesia
Burundi
Malawi
Mozambique
In 1960 Sirimavo
Bandaranaike
became the first
woman prime
minister in the
world as the elected
leader of Sri Lanka.
New
Zealand
Map created from data in The Penguin Atlas of Women in the World from the Ball State University Libraries' GIS Research and Map Collection. Artwork from Shakespeare and Elizabeth: The Meeting of Two Myths by Helen Hackett from the General Collection.