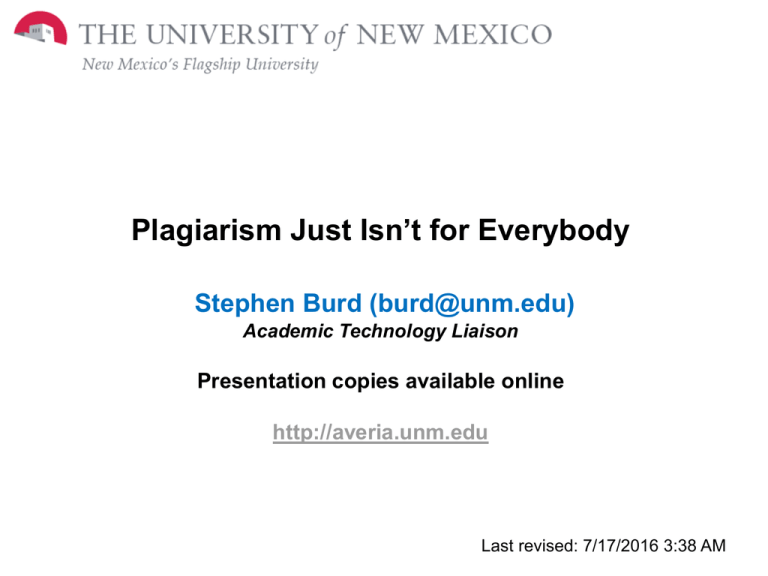 Plagiarism Just Isn't for Everybody
Stephen Burd (burd@unm.edu)
Academic Technology Liaison
Presentation copies available online
http://averia.unm.edu
Last revised: 7/17/2016 3:38 AM
Plagiarism

Dictionary definition: the act of
 using another person's words or ideas
 without giving credit to that person

A humorous musical perspective:
 "… in one word he told secret of success in
mathematics: PLAGIARIZE, plagiarize, let no one
else's work evade your eyes, remember why the good
Lord made your eyes, so don't shade your eyes, but
plagiarize, plagiarize, plagiarize, … only be sure always
to please call it … RESEARCH"
 Tom Lehrer – Lobachevsky – Songs and More Songs
by Tom Lehrer – Rhino Records
Plagiarism - Perspectives and Implications

Ideas, words, images, and data are the "product"
of researchers' labor
 Who owns them – author, funder, publisher, public
domain?

Giving credit where credit is due
 It isn't plagiarism if you do this
 Enable readers of your work to find related work

Honesty about your contribution
 Show how your work builds on others' work
 Compare and contrast your ideas/work to others' work
 Definitively show your unique contribution
Editor and Funding Agency Perspectives

Is this original work?
 What's the balance of original and un-original content?
 Has any portion been published elsewhere?
 If so, where and how much?

Is included material properly cited?
 Is everything that should be cited actually cited?
 Do the citations reference the proper sources?

Has the work been funded before?




By other funding agencies?
By other PIs doing similar things?
By the same PI(s) in the past?
If yes, are the earlier projects cited in this proposal?
What is a Plagiarism Detection Tool?

Modern plagiarism detection software/services
perform the following functions:
 Search for similar or identical text on the web, in publication
databases, and in other document repositories
 Annotate the document to identify matched text
 Enable viewing of matched text sources
 Optionally report an originality or plagiarism "score"

Best to think of the tools as:
 Match detection or originality tools
 NOT – plagiarism detection tools

The distinction implies that plagiarism is a judgment
based in part on evidence of matching and originality
Available Tools

Roll-your-own
 Anyone can search for matches using the search engine of
their choice (e.g., Google or Bing)
 Though workable, using search engines directly has
disadvantages that include:




Lots of cutting, pasting, and typing
Inability to easily get behind "pay walls"
Inefficient for large amounts of suspect material or large numbers of
documents
Turnitin/iThenticate
 The clear market leader
 Turnitin – optimized for class-related use
 iThenticate – optimized for research-oriented use
Capabilities and Limitations

The good:
 Works very well with text, including simple paraphrasing
 Searches documents in multiple languages

The bad:
 Type I (false negative) and Type II (false positive) errors
 Images and sounds aren't matched
 Not easily applied to larger bodies of work including
document collections, web sites, and blogs

The ugly:
 As with any tool, automated plagiarism detection:
Can be well-used or misused
 Training helps to achieve desired outcomes

iThenticate at UNM

iThenticate currently licensed UNM-wide





Current license expires August 2015
Renewal currently being negotiated
Free use by UNM users
Authorized users – all faculty, staff, and students
Register for an account
 Visit ithenticate.unm.edu



Click the big red button on the right
Access training materials
Access iThenticate
 Accessed as an online application (i.e., a Web application or
software as a service)

http://www.ithenticate.com
About iThenticate Originality Reports

Originality reports contain information about
matches between submission content and various
source databases including:
 Internet-accessible content
 Publication databases and repositories

Originality reports contain a similarity index
 A percentage of matched or unoriginal content
 Lower score is better – but what's a good score?
Sample Turnitin Originality Report
Drilling Down to Sources
Using Originality Reports - Advice

iThenticate is a tool for identifying some instances of potential
plagiarism
 The tool will generate false positives and negatives
 The author or reviewer needs to:




Examine the matches and decide whether they constitutes plagiarism
Watch for missed matches (e.g., passages that sound too sophisticated/polished,
style mismatches, …)
Determine how similarity (proper or improper) impacts the publication or funding
decision
iThenticate streamlines the process of identifying potential
plagiarism and follow-up investigation
 Similarity indices can be used to identify targets for investigation (e.g.,
above a certain percentage or the top few percentage values)
 Matches are visually summarized and paired to sources
 Source material can be viewed with a single click in most cases

Summary – the tool is simply that – a tool – not a substitute for
human judgment or follow-up effort
 "Every (or any?) tool is a weapon - if you hold it right" – Ani diFranco
Summary

Editors and funding agencies use originality
checking tools to detect plagiarism

You have access to the same tools that they use
 Free to you
 Easy use

Don't you want to see what they're going to see
BEFORE they see it?