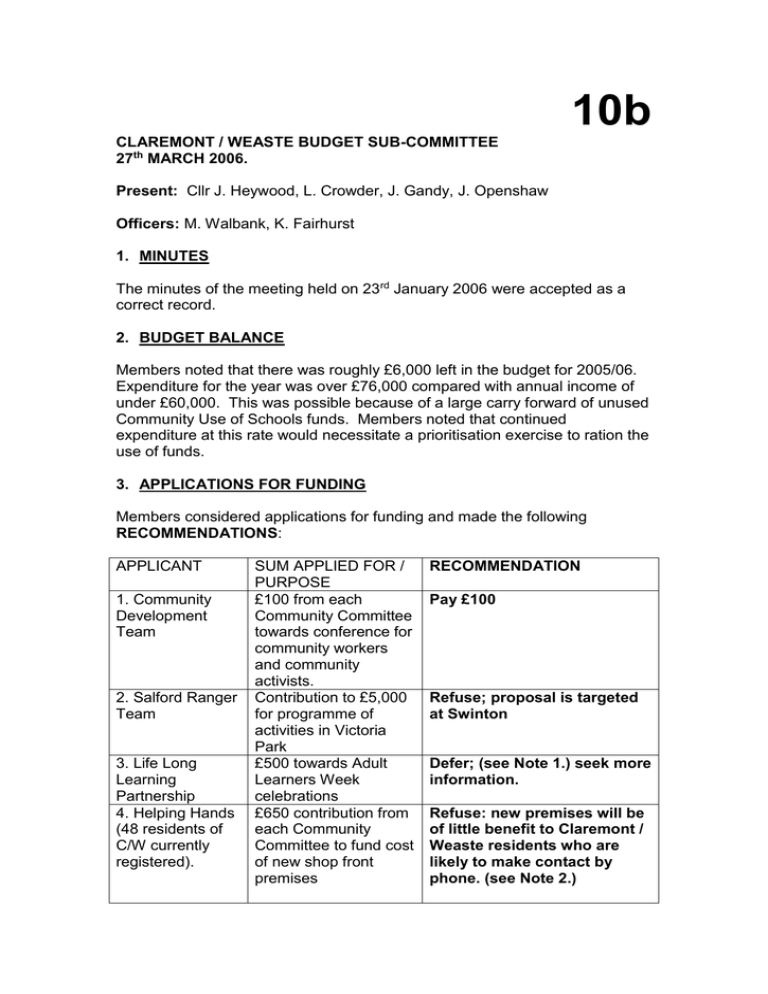 10b
CLAREMONT / WEASTE BUDGET SUB-COMMITTEE
27th MARCH 2006.
Present: Cllr J. Heywood, L. Crowder, J. Gandy, J. Openshaw
Officers: M. Walbank, K. Fairhurst
1. MINUTES
The minutes of the meeting held on 23rd January 2006 were accepted as a
correct record.
2. BUDGET BALANCE
Members noted that there was roughly £6,000 left in the budget for 2005/06.
Expenditure for the year was over £76,000 compared with annual income of
under £60,000. This was possible because of a large carry forward of unused
Community Use of Schools funds. Members noted that continued
expenditure at this rate would necessitate a prioritisation exercise to ration the
use of funds.
3. APPLICATIONS FOR FUNDING
Members considered applications for funding and made the following
RECOMMENDATIONS:
APPLICANT
1. Community
Development
Team
2. Salford Ranger
Team
3. Life Long
Learning
Partnership
4. Helping Hands
(48 residents of
C/W currently
registered).
SUM APPLIED FOR /
PURPOSE
£100 from each
Community Committee
towards conference for
community workers
and community
activists.
Contribution to £5,000
for programme of
activities in Victoria
Park
£500 towards Adult
Learners Week
celebrations
£650 contribution from
each Community
Committee to fund cost
of new shop front
premises
RECOMMENDATION
Pay £100
Refuse; proposal is targeted
at Swinton
Defer; (see Note 1.) seek more
information.
Refuse: new premises will be
of little benefit to Claremont /
Weaste residents who are
likely to make contact by
phone. (see Note 2.)
5. My Street
Management
Company Ltd (24
households)
6. Dominion
Morris Dancers
(approx 70
members; approx
30 from C/W)
£3055 (50%
contribution) towards
cost of CCTV at block
of flats
£5,000 for transport to
competitions and costs
of end-of-season
championships.
Refuse: police do not support
this as an effective means of
reducing crime / nuisance in
residential flats.
Pay £1500 : based on C/W
residents being 30% of total
membership. (Pass
application to Ordsall /
Langworthy for their
consideration).
Note 1. The exact nature of the celebrations was not stated in the application
and therefore detailed costings were not presented. Members also noted
that there was a new college emphasis on 16 – 19 year olds and basic skills
as required by government. They were unsure what the overall implications
of this were for wider adult learning. Members also noted that colleges were
only making contributions of £250.
Note 2. Helping Hands has recently won a substantial contract to provide a
handyperson service citywide. Other providers have now ceased their
handyperson services. Some 48 residents of Claremont / Weaste have
registered with Helping Hands since a recent advertisement of their wider
service. Some Community Committees have supported this application;
others have not.
4. CONTRACT MONITORING
Members noted that two organisations had provided the required 6-monthly
contract report including a financial statement (Weaste Community Watch and
Metro Residents); two had provided reports, which did not include financial
statements (Buddies Childcare and Child Action Northwest); and one had not
yet submitted a report (Fairbridge). All the available reports were received
along with the service specifications, which are included in the contracts.
Members were aware of the work being carried out by all the organisations
and agreed to:
Recommend: that all contracts be continued unaltered but that no payments
be made to any organisation until a satisfactory report including financial
statement had been submitted.
5. SPORTS DEVELOPMENT HOLIDAY SCHEMES
Members received the report of the February half term sport and activity
programme. The numbers attending in Claremont / Weaste had been
negligible except for a dance provision and school-supported basketball in two
high schools. This was the second short holiday provision in the area which
had been poorly attended.
Sports Development intended to concentrate on the summer programme and
not to provide further programmes in shorter holidays unless clear demand
could be identified. Members supported this decision.
6. MONITORING FORMS
Members noted that monitoring forms had been received from:


All Hallows RC Business & Enterprise College;
Buddies Childcare.
7. DEVOLVED BUDGET 2006/07
Members noted that the budget for 06/07 was £59,598 compared with
£58,964 for 05/06. This increase was because of an allowance for inflation.
Claremont / Weaste has also been allocated £1,186 as its share of a £12,000
underspend of another budget.
Furthermore, Salford PCT had applied successfully for Neighbourhood
Renewal Funds for a Community Health and Wellbeing Fund to be devolved
to Community Committees. Claremont / Weaste will receive £14,000 to
encourage innovative ideas from community and voluntary groups and
community enterprises that will improve the health of the population by
- increasing opportunities for physical exercise;
- helping people achieve a healthy diet;
- helping people stop smoking.
The fund will not be used for general running costs.
8. NEXT MEETING
Monday 22nd May
4.30pm
Meadows Resource Centre.