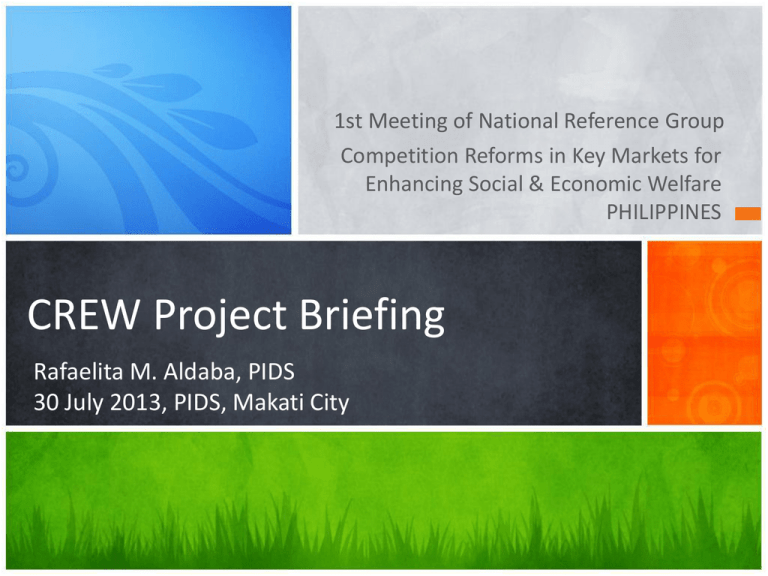 1st Meeting of National Reference Group
Competition Reforms in Key Markets for
Enhancing Social & Economic Welfare
PHILIPPINES
CREW Project Briefing
Rafaelita M. Aldaba, PIDS
30 July 2013, PIDS, Makati City
Presentation Outline
• Background: Competition, parameters used in analysis of
impact of competition reforms on consumer welfare,
producer welfare
• Project Description
 CREW Project: Goal, objectives, outputs & outcome
 Scope & Implementation: 3 Phases
 Structure & Organization
 Competition Analysis: Rice, Passenger transport
• Project Status & Planned Activities till Oct-Nov 2013
• Role of NRG Members
1. Background & some definitions
• Competition: rivalry as firms independently strive for buyers'
patronage to achieve a particular business objective (profit,
sales, market share)
– Forces firms to become efficient & offer a wider selection of goods &
services at lower prices
• Competition can be lessened by
– Behavioral restraints such as collusive agreements to restrict prices or
outputs & other anticompetitive business practices that negatively affect
welfare
– Government policies & regulations: barriers to entry such as permits,
licenses; restrictions that are not equally applied to new entrants &
incumbents; tariffs, quotas & other NTBs
• Competition Analysis
– Consumer welfare, producer welfare (benefits)
Consumer Welfare Analysis
Indicator
Access
Analytical Question
Has reach of goods and services widened to include
consumers in areas where they were not available
earlier (efficiency of distribution system)?
Quality/P Are better quality goods and services available for
rice
consumers? Have prices changed substantially for
such good/services
Choice
Are new products available to consumers? Are new
firms offering wider variety of products?
Price
Have prices change?
Time
savings
Do offered goods & services help save time for
consumers?
Producer Welfare (Benefit) Analysis
Indicator
Analytical Question
Access to
essential
services
Is there easy access for firms to public service &
infrastructure networks such as power, water,
internet, telephone etc?
Free movement
of goods and
services
Is mobility affected by policies & practices (inputs &
outputs), infrastructure constraints?
Predictability of
regulatory
actions
Are legislations enforced by autonomous yet
accountable institutions?
Cost savings
Have new innovation activities led to reduction in
costs?
Indicators of Producer Welfare (Benefits)
Indicator
Fair market
processes
Analytical Question
Are new firms able to enter market easily (low
cost) & existing firms able to exit or close
businesses effectively?
Level-playing Is the principle of competitive neutrality
field
observed between private and public
enterprises?
Transparency Do market regulators have well laid out policies
in market
& predictable implementation processes?
2. CREW Project Goal & Objectives
• Goal
– To better demonstrate measurable benefits from effective
competition reforms in DCs for ensuring long-term
support for competition
• Objectives
– Enhance understanding of benefits from competition
reforms in DCs (consumers & producers)
– Develop & test a methodology to assess effectiveness of
competition reforms in benefitting consumers &
producers in specific markets
– Advocate to key actors (national & international) for
greater support to competition reforms in key markets
– Sustain momentum on competition reforms & take it
forward
Outputs & Outcome
• OUTPUTS
– Documented evidence of benefits from competition reforms in
key markets
– Dialogues involving multiple stakeholders on benefits of
competition reforms in DCs
– Strategy for capacity building of DC competition agencies and
sector regulators
– Framework (Tool) for monitoring and evaluating the process of
competition reforms in DCs
– Demand from elsewhere (other sectors and/or countries) for
similar exercise
• OUTCOME
– Greater attention and impetus for competition reforms in key DC
markets resulting in consumer and producer benefits
Project Implementation: 3 Phases
Validation
Design
Diagnostic
-diagnostic
country
report
-framework
for
competition
promotion
-validate
FCP
-advocacy,
public
education
PHASE
MAJOR ACTIVITIES
Diagnostic
Phase
Assess implications of competition reforms in specific markets;
identify benefits and causes of existing consumer & producer
concerns
Design
Phase
Design a composite methodology to quantify (actual & potential)
benefits of competition reforms
Validation
Phase
Test the veracity of this methodology in micro-locations in
project countries; and use results for advocacy
Sector-specific Consumer & Producer Welfare
CONSUMER WELFARE
STAPLE FOOD
Availability of good
quality staple food.
- Change in prices of
staple food for ordinary
consumers
PRODUCER WELFARE
-
PASSENGER TRANSPORT
Availability of good quality
transport services to ordinary
consumers within city (intra-city) to
get to workplace, markets,
college/university on a daily basis
& also on busy inter-city routes
- Change in prices
Participation of private - Access to road networks for a new
entities in procurement,
player (operator) in a specific
storage and distribution
geographic market for providing
of staple food
such services
- Change in prices of
inputs and outputs
- Change in bus fares
Project Structure & Organization
CUTS International
• Implementation Team: CUTS International
• Project Advisory Committee (PAC):
Country Level
• Country Partner Organizations (PH: PIDS & AER)
• National Reference Group (NRG)
• National Entities
– Competition Agency
– Sector Regulators
– Private sector groups
– Research Institutes & Think Tanks
– Academe
– Civil Society groups
– Media
3. Project Status & Planned Activities
• Inception Meeting: Countries & Sector selection
• Review of literature & Fact Finding in project countries
• Opening Meeting in project countries: April to May, 2013 (PH:
May 7, 2013)
• Outline of Diagnostic Country Report (DCR)
• DCR Research Methodology- Nathan Associates
• Review of DCR Methodology by PAC members
Sectors
Ghana
Zambia
India
PH
Staple food
Maize/Rice
Maize
Wheat
Rice
Passenger
transport
Bus (inter,
intra city)
Bus (inter,
intra city)
Bus (inter,
intra city)
Bus (inter,
intra city)
DCR Activities
• Finalize the DCR Methodology (in countries)
• Research /Fieldwork to identify the following
–
–
–
–
competition reforms undertaken in markets
relevant stakeholders/respondents
benefits of reforms on consumers and producers
existing concerns, reform possibilities and estimated benefits from
them
 Research Methodologies: Perception/Feedback Survey, Case
Studies, Quantitative Analysis, Qualitative Analysis
• Conduct in-depth interview, perception surveys of relevant
stakeholders/respondents
• Data Collation & Analysis
• Preparation of the draft DCR: impact of competition reform on
consumer & producer welfare indicators; benefits from specific
elements of competition reforms
• Presentation of the draft DCR in NRG-2 meeting to get
feedback
4. National Reference Group: Role
NRG
• Multi-stakeholder group: experts & practitioners, competition
scholars, sectoral stakeholders
• 15 members in each country
• Meet periodically to discuss project progress & issues
Role of Members
• Guidance & support in project implementation
• Inputs in designing components of research
• Review important project documents - Diagnostic Country Report,
Framework for Competition Promotion (FCP), etc.
• Access to country-specific network of institutions for data (literature,
statistics, market environment, etc.) & project application tools
• Participate in project meetings
 CREW findings would help them in their own work agenda
NRG Meetings & Timelines
Phase NRG
Tentative
Date
Main Agenda
I
NRG
1
July, 2013 • Provide project orientation & update
• Discuss Conceptual Framework (Phase-I)
• Inputs on DCR Methodology (country-specific)
I
NRG
2
October,
2013
• Discuss Draft DCR
• Discuss DCR findings & refinements
II
NRG
3
January,
2014
• Orientation on common findings of final DCR
• Discussion on development of Framework for
Competition Promotion (FCP)
• Duration: May 2013-October 2015
• Diagnostic Country Report (DCR) will gather evidence to
understand the impact of competition reforms on consumers
& producers; indicators of these impacts
NRG Meetings & Timelines
Phase
NRG
Tentative
Schedule
Main Agenda
II
NRG 4 July, 2014 • Presentation of the sector specific FCPs
• Discussion on the FCP for fine tuning &
refinement
III
NRG 5
Nov, 2014 • Presentation of the final FCP
• Planning of country-specific
implementation of FCPs
III
NRG 6
May, 2015 • Discussion on the findings of the FCP
after implementation (Impact Analysis)
• FCP: Framework for Competition (to be developed by CUTS) to
guide the process of competition reforms in key markets &
measure the impacts of such reforms
www.pids.gov.ph www.aer.org www.cuts-ccier.org/CREW
Thank you for your
attention.