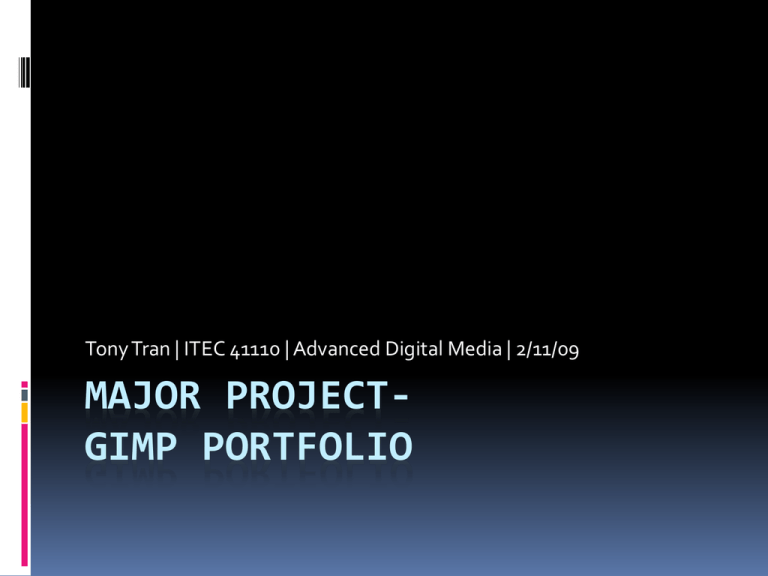 Tony Tran | ITEC 41110 | Advanced Digital Media | 2/11/09
MAJOR PROJECTGIMP PORTFOLIO
Outline
 Recap of Goals From Last Week
 Glamour Shot Businesses
 Methods They Use
 What I Have to Substitute Using Gimp
Goals from previous week
 Major Project- shifted gears, no longer doing a
test prep project using java or programming,
moved to Gimp Portfolio and expanding my
experiences with Gimp.
 Gimp- create Wiki Page outline/format.
Completed bitmap version, need to complete
the vector version.
Glamour Shot Businesses
 Walk-in Stores & Online Stores
 Walk-in Stores they take your pictures and can
create different scenarios, backgrounds, and
clothing.
 Online Stores you have to send them your pictures
which have to be in high quality and editing
capabilities is limited.
Methods they use
 Backgrounds- typically a clean solid color.
 Makeup enhancements- better for touchup
photos than normal photos.
 Actual lighting effects- to help with skin tones.
 Have multiple pictures to work with- typically
take 20 pictures to get 1 final picture.
What I have to substitute
using Gimp
 Change hue/saturation settings.
 Add multiple layers to enhance color.
 Add motion blur to create wind effect.
 Add artificial lighting to enhance images.
 Add solid color layers to enhance skin tones.
For upcoming weeks.
 Find professionally taken before/after shots
and see if I can do the same work.
 Find portfolio worthy pictures such as
weddings, family portraits, etc.
 Work on Vector Image Gimp Project for 2110
students.