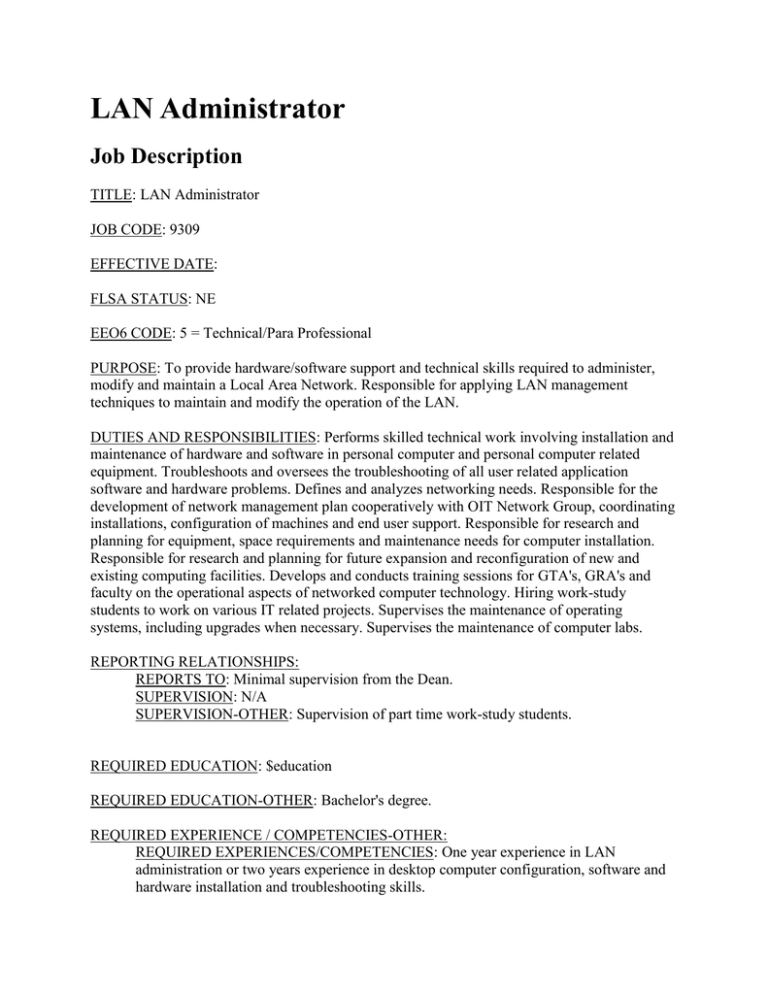 LAN Administrator
Job Description
TITLE: LAN Administrator
JOB CODE: 9309
EFFECTIVE DATE:
FLSA STATUS: NE
EEO6 CODE: 5 = Technical/Para Professional
PURPOSE: To provide hardware/software support and technical skills required to administer,
modify and maintain a Local Area Network. Responsible for applying LAN management
techniques to maintain and modify the operation of the LAN.
DUTIES AND RESPONSIBILITIES: Performs skilled technical work involving installation and
maintenance of hardware and software in personal computer and personal computer related
equipment. Troubleshoots and oversees the troubleshooting of all user related application
software and hardware problems. Defines and analyzes networking needs. Responsible for the
development of network management plan cooperatively with OIT Network Group, coordinating
installations, configuration of machines and end user support. Responsible for research and
planning for equipment, space requirements and maintenance needs for computer installation.
Responsible for research and planning for future expansion and reconfiguration of new and
existing computing facilities. Develops and conducts training sessions for GTA's, GRA's and
faculty on the operational aspects of networked computer technology. Hiring work-study
students to work on various IT related projects. Supervises the maintenance of operating
systems, including upgrades when necessary. Supervises the maintenance of computer labs.
REPORTING RELATIONSHIPS:
REPORTS TO: Minimal supervision from the Dean.
SUPERVISION: N/A
SUPERVISION-OTHER: Supervision of part time work-study students.
REQUIRED EDUCATION: $education
REQUIRED EDUCATION-OTHER: Bachelor's degree.
REQUIRED EXPERIENCE / COMPETENCIES-OTHER:
REQUIRED EXPERIENCES/COMPETENCIES: One year experience in LAN
administration or two years experience in desktop computer configuration, software and
hardware installation and troubleshooting skills.
OTHER REQUIREMENTS: Personal computers and computer related equipments. Conditions
associated with installing and configuring computer. May require working for extended periods
or at times other than normal working hours. Exacting accuracy is required in all phases of work
performed. Specific job requirements or physical location of positions allocated to this
classification render the position security sensitive and thereby subject to the provisions of
Section 51.215 Texas Education Code.