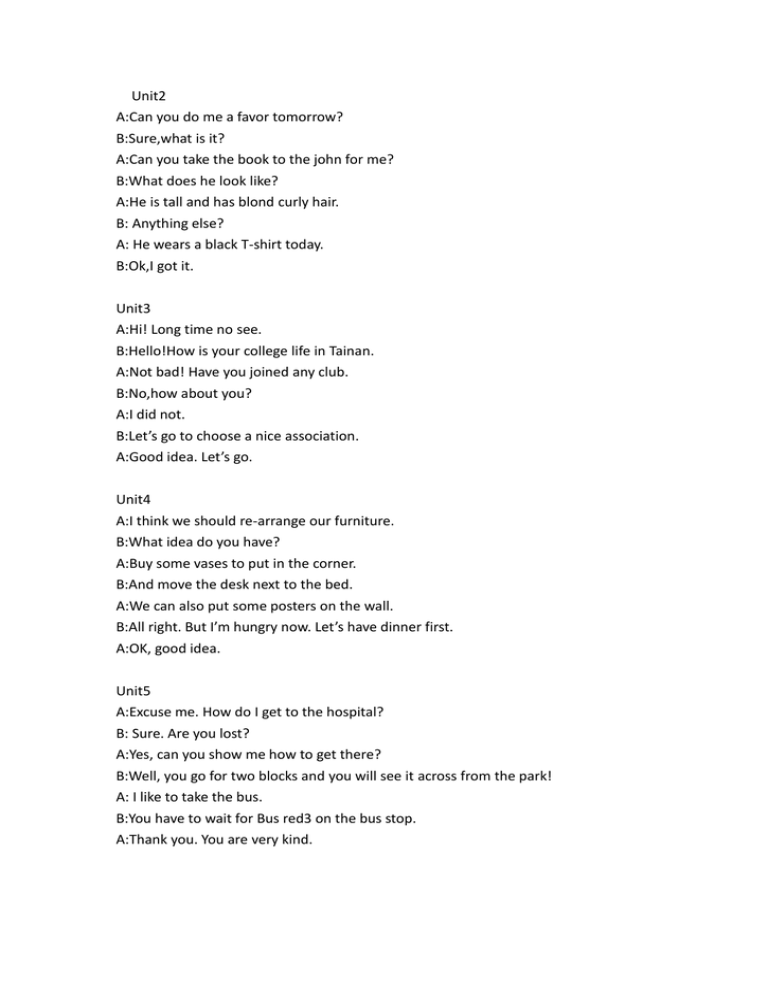 Unit2
A:Can you do me a favor tomorrow?
B:Sure,what is it?
A:Can you take the book to the john for me?
B:What does he look like?
A:He is tall and has blond curly hair.
B: Anything else?
A: He wears a black T-shirt today.
B:Ok,I got it.
Unit3
A:Hi! Long time no see.
B:Hello!How is your college life in Tainan.
A:Not bad! Have you joined any club.
B:No,how about you?
A:I did not.
B:Let's go to choose a nice association.
A:Good idea. Let's go.
Unit4
A:I think we should re-arrange our furniture.
B:What idea do you have?
A:Buy some vases to put in the corner.
B:And move the desk next to the bed.
A:We can also put some posters on the wall.
B:All right. But I'm hungry now. Let's have dinner first.
A:OK, good idea.
Unit5
A:Excuse me. How do I get to the hospital?
B: Sure. Are you lost?
A:Yes, can you show me how to get there?
B:Well, you go for two blocks and you will see it across from the park!
A: I like to take the bus.
B:You have to wait for Bus red3 on the bus stop.
A:Thank you. You are very kind.