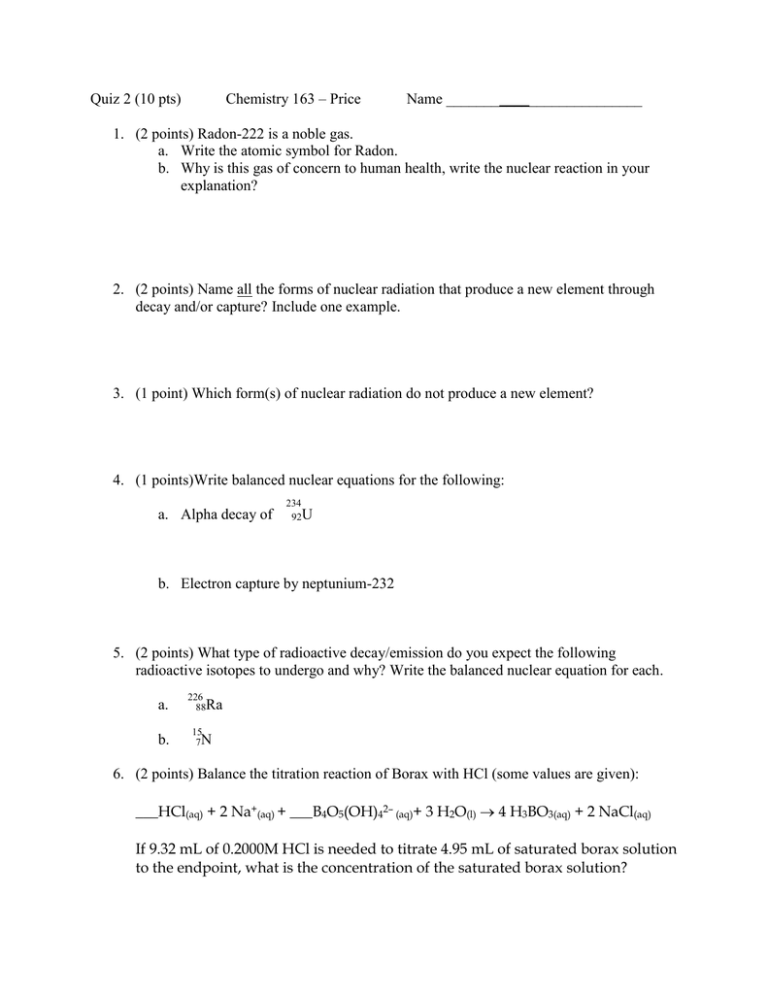 Chemistry 163 – Price
Quiz 2 (10 pts)
Name __________________________
1. (2 points) Radon-222 is a noble gas.
a. Write the atomic symbol for Radon.
b. Why is this gas of concern to human health, write the nuclear reaction in your
explanation?
2. (2 points) Name all the forms of nuclear radiation that produce a new element through
decay and/or capture? Include one example.
3. (1 point) Which form(s) of nuclear radiation do not produce a new element?
4. (1 points)Write balanced nuclear equations for the following:
a. Alpha decay of
234
92U
b. Electron capture by neptunium-232
5. (2 points) What type of radioactive decay/emission do you expect the following
radioactive isotopes to undergo and why? Write the balanced nuclear equation for each.
a.
b.
226
88Ra
15
7N
6. (2 points) Balance the titration reaction of Borax with HCl (some values are given):
___HCl(aq) + 2 Na+(aq) + ___B4O5(OH)42– (aq)+ 3 H2O(l)  4 H3BO3(aq) + 2 NaCl(aq)
If 9.32 mL of 0.2000M HCl is needed to titrate 4.95 mL of saturated borax solution
to the endpoint, what is the concentration of the saturated borax solution?