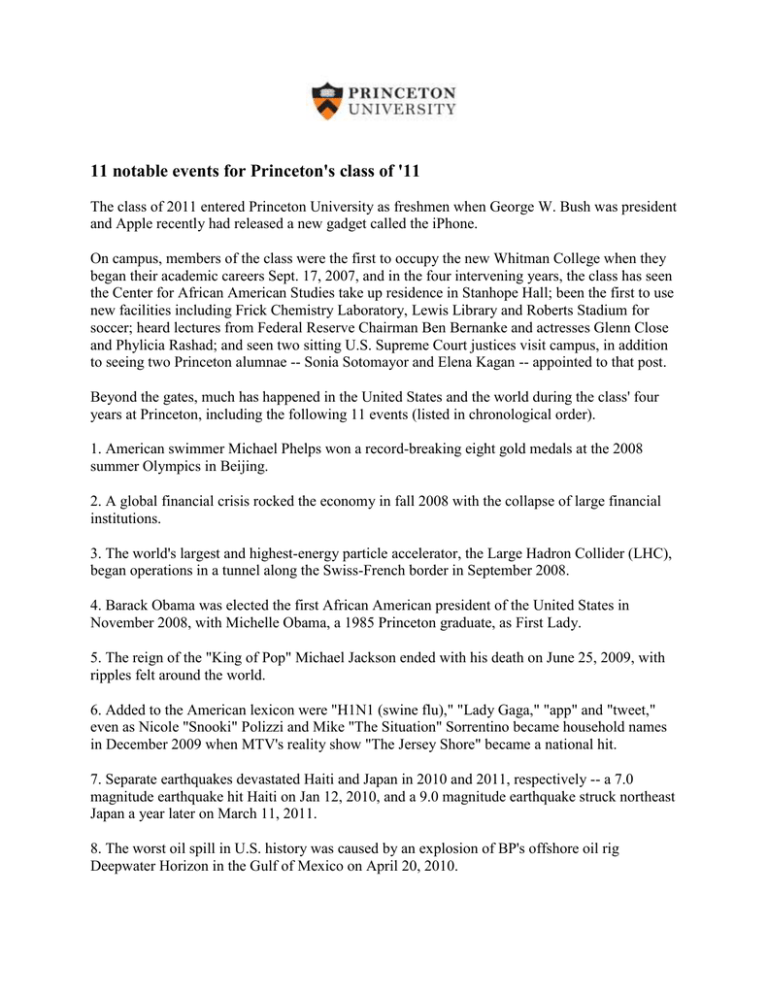 11 notable events for Princeton's class of '11
The class of 2011 entered Princeton University as freshmen when George W. Bush was president
and Apple recently had released a new gadget called the iPhone.
On campus, members of the class were the first to occupy the new Whitman College when they
began their academic careers Sept. 17, 2007, and in the four intervening years, the class has seen
the Center for African American Studies take up residence in Stanhope Hall; been the first to use
new facilities including Frick Chemistry Laboratory, Lewis Library and Roberts Stadium for
soccer; heard lectures from Federal Reserve Chairman Ben Bernanke and actresses Glenn Close
and Phylicia Rashad; and seen two sitting U.S. Supreme Court justices visit campus, in addition
to seeing two Princeton alumnae -- Sonia Sotomayor and Elena Kagan -- appointed to that post.
Beyond the gates, much has happened in the United States and the world during the class' four
years at Princeton, including the following 11 events (listed in chronological order).
1. American swimmer Michael Phelps won a record-breaking eight gold medals at the 2008
summer Olympics in Beijing.
2. A global financial crisis rocked the economy in fall 2008 with the collapse of large financial
institutions.
3. The world's largest and highest-energy particle accelerator, the Large Hadron Collider (LHC),
began operations in a tunnel along the Swiss-French border in September 2008.
4. Barack Obama was elected the first African American president of the United States in
November 2008, with Michelle Obama, a 1985 Princeton graduate, as First Lady.
5. The reign of the "King of Pop" Michael Jackson ended with his death on June 25, 2009, with
ripples felt around the world.
6. Added to the American lexicon were "H1N1 (swine flu)," "Lady Gaga," "app" and "tweet,"
even as Nicole "Snooki" Polizzi and Mike "The Situation" Sorrentino became household names
in December 2009 when MTV's reality show "The Jersey Shore" became a national hit.
7. Separate earthquakes devastated Haiti and Japan in 2010 and 2011, respectively -- a 7.0
magnitude earthquake hit Haiti on Jan 12, 2010, and a 9.0 magnitude earthquake struck northeast
Japan a year later on March 11, 2011.
8. The worst oil spill in U.S. history was caused by an explosion of BP's offshore oil rig
Deepwater Horizon in the Gulf of Mexico on April 20, 2010.
2
9. A mining accident on Aug. 5, 2010, at the Copiapo cave in Chile left 33 miners trapped
underground for 69 days, and with the world watching and cheering, all 33 men were safely
rescued on Oct. 13, 2010.
10. Time magazine named Facebook founder Mark Zuckerberg its 2010 person of the year,
recognizing the social networking service's boom since it was created in 2004.
11. Osama bin Laden, head of the international terrorist organization al-Qaida, was killed on
May 2, 2011, in Pakistan, ending the 10-year manhunt that followed the Sept. 11 terrorist attacks.