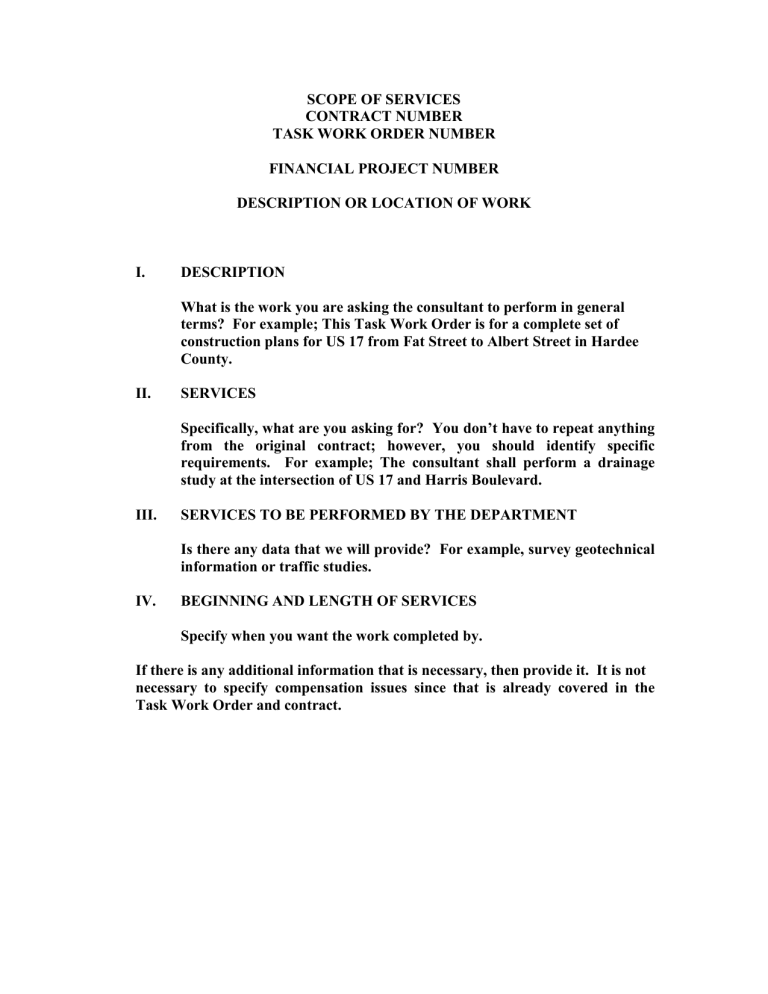 SCOPE OF SERVICES
CONTRACT NUMBER
TASK WORK ORDER NUMBER
FINANCIAL PROJECT NUMBER
DESCRIPTION OR LOCATION OF WORK
DESCRIPTION I.
What is the work you are asking the consultant to perform in general terms? For example; This Task Work Order is for a complete set of construction plans for US 17 from Fat Street to Albert Street in Hardee
County.
II.
SERVICES
Specifically, what are you asking for? You don't have to repeat anything from the original contract; however, you should identify specific requirements. For example; The consultant shall perform a drainage study at the intersection of US 17 and Harris Boulevard.
III.
SERVICES TO BE PERFORMED BY THE DEPARTMENT
Is there any data that we will provide? For example, survey geotechnical information or traffic studies.
IV.
BEGINNING AND LENGTH OF SERVICES
Specify when you want the work completed by.
If there is any additional information that is necessary, then provide it. It is not necessary to specify compensation issues since that is already covered in the
Task Work Order and contract.