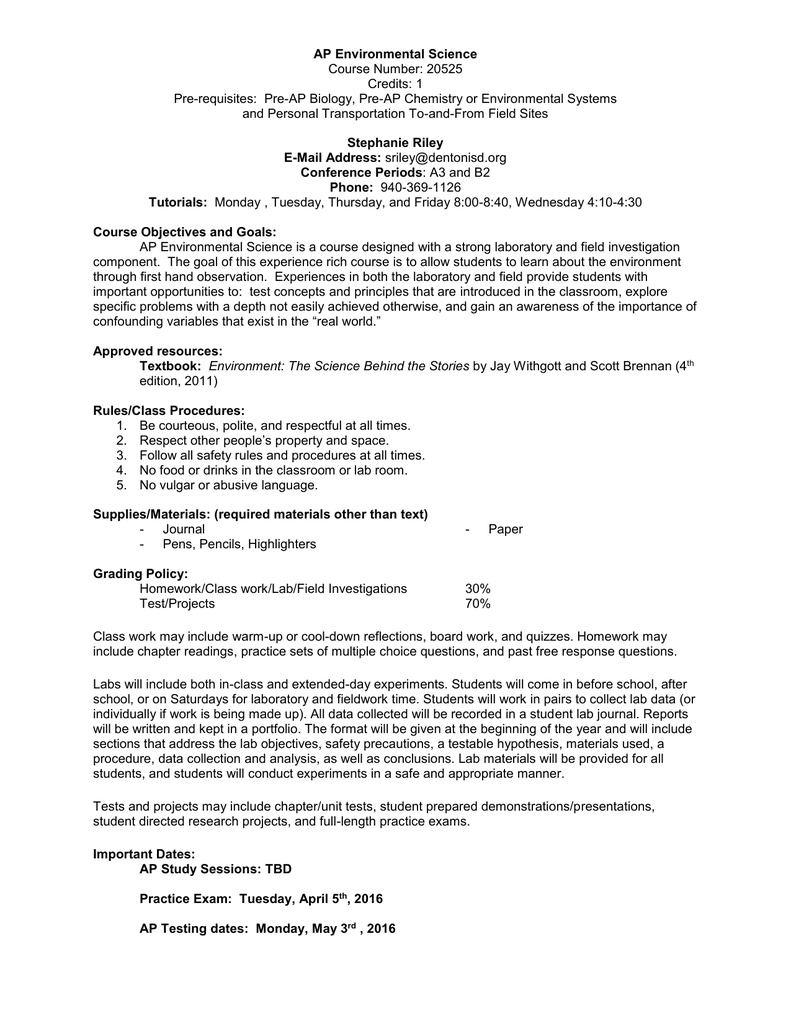 AP Environmental Science
Course Number: 20525
Credits: 1
Pre-requisites: Pre-AP Biology, Pre-AP Chemistry or Environmental Systems
and Personal Transportation To-and-From Field Sites
Stephanie Riley
E-Mail Address: [email protected]
Conference Periods: A3 and B2
Phone: 940-369-1126
Tutorials: Monday , Tuesday, Thursday, and Friday 8:00-8:40, Wednesday 4:10-4:30
Course Objectives and Goals:
AP Environmental Science is a course designed with a strong laboratory and field investigation
component. The goal of this experience rich course is to allow students to learn about the environment
through first hand observation. Experiences in both the laboratory and field provide students with
important opportunities to: test concepts and principles that are introduced in the classroom, explore
specific problems with a depth not easily achieved otherwise, and gain an awareness of the importance of
confounding variables that exist in the "real world."
Approved resources:
Textbook: Environment: The Science Behind the Stories by Jay Withgott and Scott Brennan (4th
edition, 2011)
Rules/Class Procedures:
1. Be courteous, polite, and respectful at all times.
2. Respect other people's property and space.
3. Follow all safety rules and procedures at all times.
4. No food or drinks in the classroom or lab room.
5. No vulgar or abusive language.
Supplies/Materials: (required materials other than text)
- Journal
- Pens, Pencils, Highlighters
Grading Policy:
Homework/Class work/Lab/Field Investigations
Test/Projects
-
Paper
30%
70%
Class work may include warm-up or cool-down reflections, board work, and quizzes. Homework may
include chapter readings, practice sets of multiple choice questions, and past free response questions.
Labs will include both in-class and extended-day experiments. Students will come in before school, after
school, or on Saturdays for laboratory and fieldwork time. Students will work in pairs to collect lab data (or
individually if work is being made up). All data collected will be recorded in a student lab journal. Reports
will be written and kept in a portfolio. The format will be given at the beginning of the year and will include
sections that address the lab objectives, safety precautions, a testable hypothesis, materials used, a
procedure, data collection and analysis, as well as conclusions. Lab materials will be provided for all
students, and students will conduct experiments in a safe and appropriate manner.
Tests and projects may include chapter/unit tests, student prepared demonstrations/presentations,
student directed research projects, and full-length practice exams.
Important Dates:
AP Study Sessions: TBD
Practice Exam: Tuesday, April 5th, 2016
AP Testing dates: Monday, May 3rd , 2016
Scope and Sequence:
Unit
Introduction to APES
-
Scientific Method
Chemistry Review
Thermodynamics
Tragedy of the Commons
Ecological Footprint
Expectations
Terrestrial Ecology
IIA Ecosystem Structure
IIB Energy Flow
IIC Ecosystem Diversity
IID Natural Ecosystem Change
IIE Natural Biogeochemical
Aquatic Ecology
IC Global Water Resources and Use
IIA Ecosystem Structure
IIC Ecosystem Diversity
IE Natural Biogeochemical
IVF Fishing
VIA3 Pollution: Water
VIIC Loss of Biodiversity
Human Populations
IIIA Population Biology
IIIB Human Population
IVG Global Economics
VIIC Loss of Biodiversity
Soil
IA Earth Science Concepts
ID Soil and Soil Dynamics
IVA Agriculture
IF Fishing
VII C Loss of Biodiversity
Biodiversity
II The Living World
III Populations
VII Loss of Biodiversity
Pesticides and Toxicology
IVA2 Controlling Pests
VIB Impacts on Human Health
VIA Pollution
Resources
I Earth's Systems and Resources
IVB Forestry
IVE Mining
VIB Impacts on the Environment and Human Health
VIC Economic Impacts
Energy
V Energy
IVG Global Politics
Air
IB The Atmosphere
VIA1 Air Pollution
VIIA Global Change: Stratospheric Ozone
VIIB Global Change: Global Warming
Urban Planning
IVD Land Use
VIA4 Solid Waste
Duration
2 weeks
4 weeks
3.5 weeks
3.5 weeks
2 weeks
Winter Break
1 week
3 weeks
2 weeks
4 weeks
4 weeks
3 weeks
The Denton Independent School District does not discriminate on the basis of sex, handicap, race, color, and or
national origins in its educational programs. Admission to career programs is based on age, grade, interest, aptitude
and ability. Lack of English language skills will not be a barrier to admissions and participation in any educational
programs.