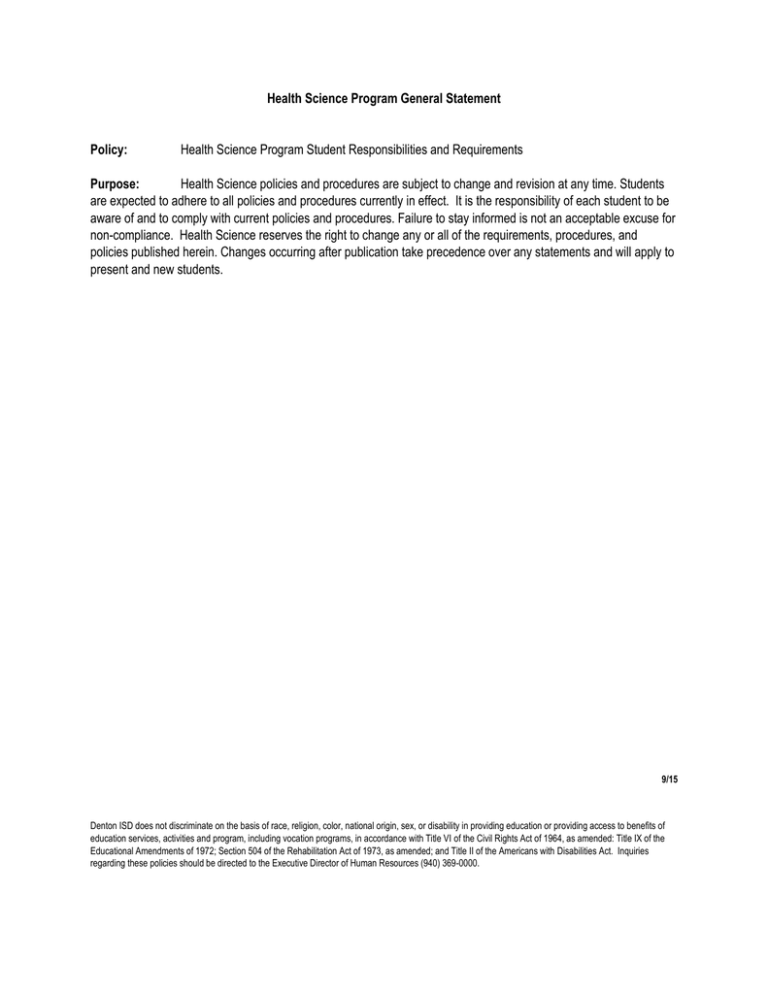 Health Science Program General Statement
Policy:
Health Science Program Student Responsibilities and Requirements
Purpose:
Health Science policies and procedures are subject to change and revision at any time. Students
are expected to adhere to all policies and procedures currently in effect. It is the responsibility of each student to be
aware of and to comply with current policies and procedures. Failure to stay informed is not an acceptable excuse for
non-compliance. Health Science reserves the right to change any or all of the requirements, procedures, and
policies published herein. Changes occurring after publication take precedence over any statements and will apply to
present and new students.
9/15
Denton ISD does not discriminate on the basis of race, religion, color, national origin, sex, or disability in providing education or providing access to benefits of
education services, activities and program, including vocation programs, in accordance with Title VI of the Civil Rights Act of 1964, as amended: Title IX of the
Educational Amendments of 1972; Section 504 of the Rehabilitation Act of 1973, as amended; and Title II of the Americans with Disabilities Act. Inquiries
regarding these policies should be directed to the Executive Director of Human Resources (940) 369-0000.