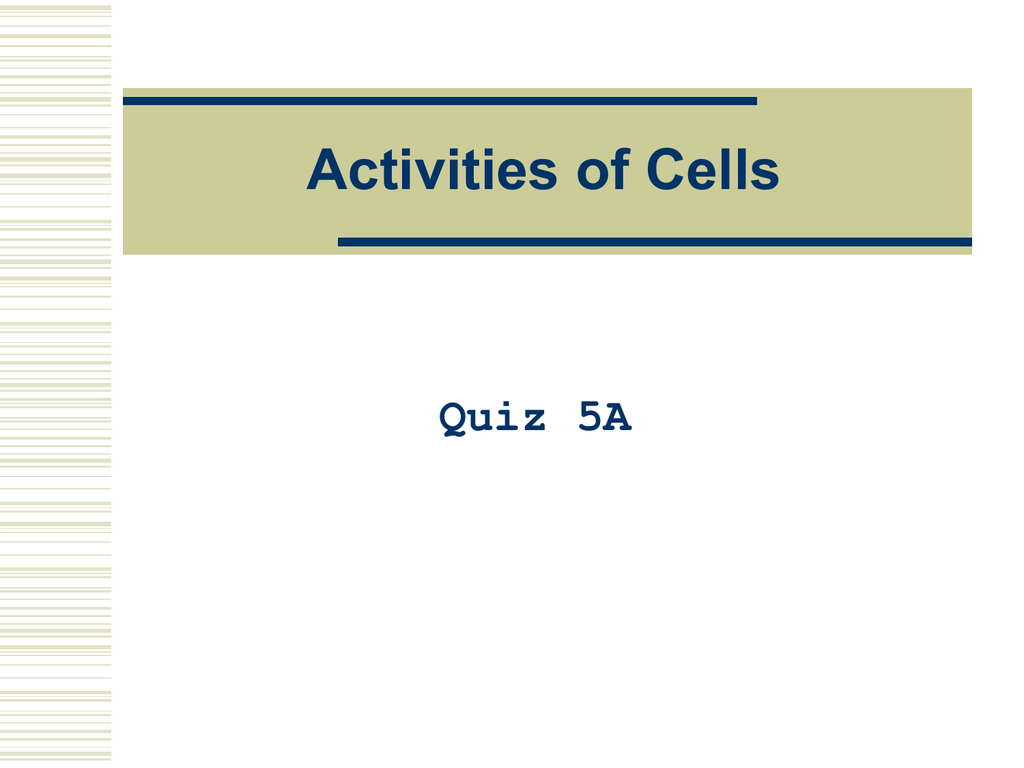 Activities of Cells
Quiz 5A
Order Among Cells
unicellular
multicellular
Unicellular
the cells
survive by
themselves
paramecium
multicellular
Multicellular
organisms divide
the functions they
need to perform
among their many
different cells.
multicellular
colonial
tissue
Tissue
group of cells that
perform a particular
function
multicellular
organ
Organ
groups of different
kinds of tissues that
work together to
accomplish a
particular function
multicellular
system
Order among cells
unicellular
multicellular
colonial
tissue
organ
system
division of labor
the condition in which certain
organs and tissues of
multicellular organisms perform
specialized functions that are
not being performed by other
tissues and organs
turgor pressure
water pressure
inside a plant
cells central
vacuole;
causes the
stiffness of
the plant cell
turgor pressure
Turgor pressure supports most
leaves and flower parts and many
small plants.
turgor pressure
the force
behind the
crispness of
plants
energy
the ability to do work
two forms of energy:
kinetic energy:
potential energy:
energy in motion
energy in
storage
Other forms?
Not all energy is
either kinetic or
potential - example
nuclear energy.
Examples of
kinetic energy






Light
Electricity
Sound
Running
Breathing
Heat
Examples of
potential energy
 Battery
 Ball on top of hill
 Food
2 basic types of organisms,
based on how they
obtain their energy:
 Producer Organisms
 Consumer Organisms
Producer Organisms
an organism that
manufactures its
own food
Also called autotroph
Producer Organisms
 Called producers
 Examples: plants or algae
 Receive energy in the kinetic
form and then store it as
potential energy in sugar
 They do not eat food
 They make their own food
Consumer Organisms
an organism that uses
food manufactured by
other organisms
Also called heterotroph
Consumer Organisms
 called consumers
 Examples: animals, protozoans,
fungi, humans
 Obtain the energy they need
from the food they consume
 can consume producers directly
and indirectly
Two Important Biological
Process of Cells
 Cellular Respiration
 Photosynthesis
Cellular Respiration
Cellular respiration is not
the same thing as breathing.
Respiration sometimes means
breathing (inhaling and
exhaling). Cellular
respiration is a process which
cells use to release energy
from certain molecules.