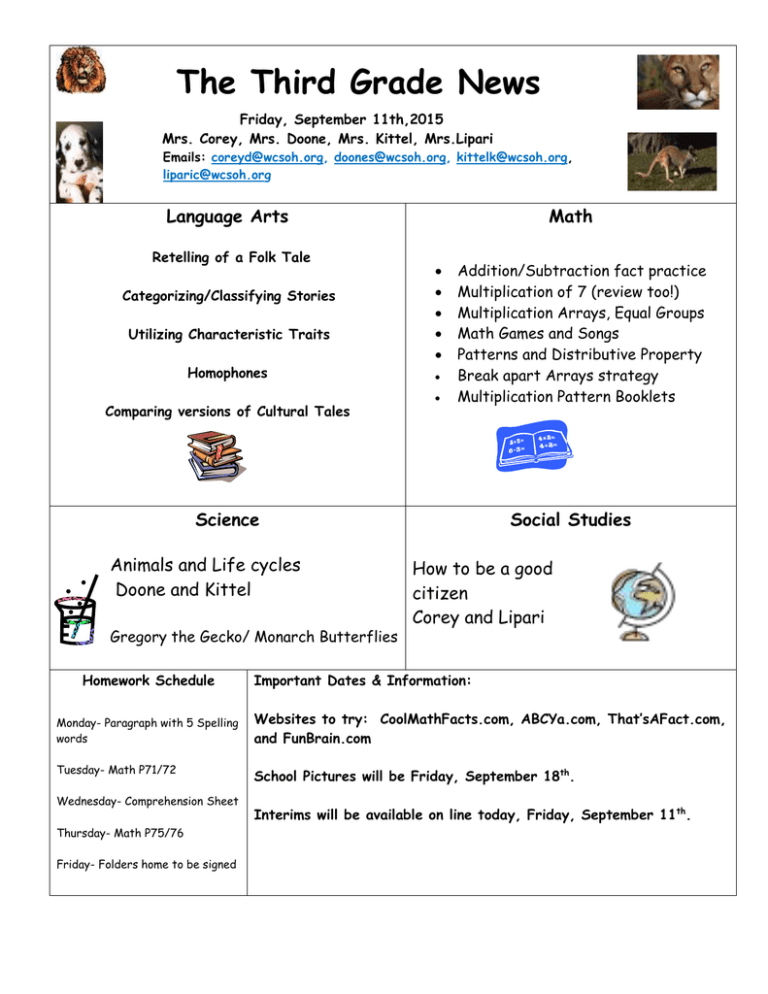 The Third Grade News
Friday, September 11th,2015
Mrs. Corey, Mrs. Doone, Mrs. Kittel, Mrs.Lipari
Emails: coreyd@wcsoh.org, doones@wcsoh.org, kittelk@wcsoh.org,
liparic@wcsoh.org
Language Arts
Retelling of a Folk Tale
Categorizing/Classifying Stories
Utilizing Characteristic Traits
Homophones
Comparing versions of Cultural Tales
Math







Addition/Subtraction fact practice
Multiplication of 7 (review too!)
Multiplication Arrays, Equal Groups
Math Games and Songs
Patterns and Distributive Property
Break apart Arrays strategy
Multiplication Pattern Booklets
Science
Animals and Life cycles
Doone and Kittel
Gregory the Gecko/ Monarch Butterflies
Homework Schedule
Monday- Paragraph with 5 Spelling
words
Tuesday- Math P71/72
Wednesday- Comprehension Sheet
Thursday- Math P75/76
Friday- Folders home to be signed
Social Studies
How to be a good
citizen
Corey and Lipari
Important Dates & Information:
Websites to try: CoolMathFacts.com, ABCYa.com, That'sAFact.com,
and FunBrain.com
School Pictures will be Friday, September 18th.
Interims will be available on line today, Friday, September 11th.