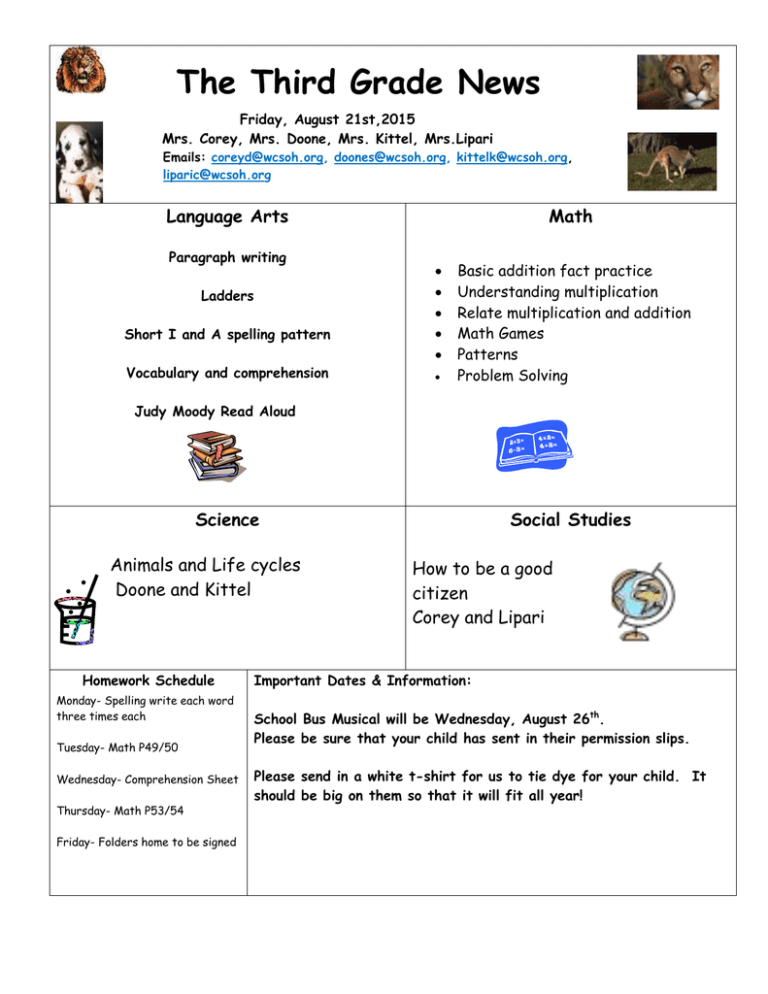 The Third Grade News
Friday, August 21st,2015
Mrs. Corey, Mrs. Doone, Mrs. Kittel, Mrs.Lipari
Emails: coreyd@wcsoh.org, doones@wcsoh.org, kittelk@wcsoh.org,
liparic@wcsoh.org
Language Arts
Paragraph writing
Ladders
Short I and A spelling pattern
Vocabulary and comprehension
Math






Basic addition fact practice
Understanding multiplication
Relate multiplication and addition
Math Games
Patterns
Problem Solving
Judy Moody Read Aloud
Science
Animals and Life cycles
Doone and Kittel
Homework Schedule
Monday- Spelling write each word
three times each
Tuesday- Math P49/50
Wednesday- Comprehension Sheet
Thursday- Math P53/54
Friday- Folders home to be signed
Social Studies
How to be a good
citizen
Corey and Lipari
Important Dates & Information:
School Bus Musical will be Wednesday, August 26th.
Please be sure that your child has sent in their permission slips.
Please send in a white t-shirt for us to tie dye for your child. It
should be big on them so that it will fit all year!