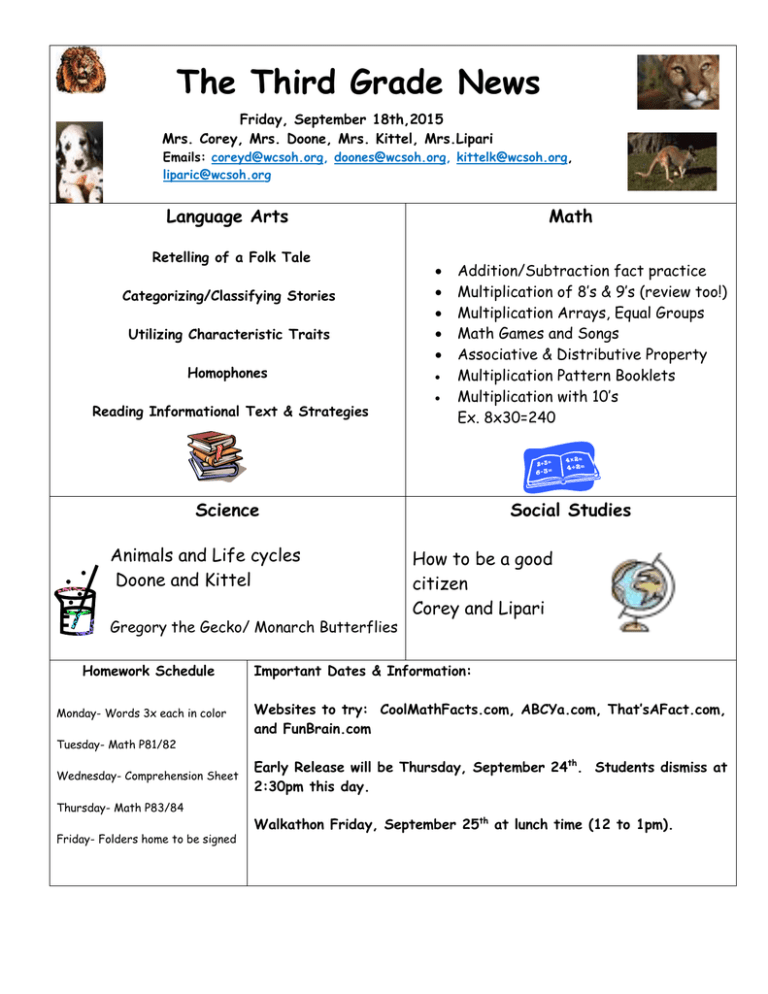 The Third Grade News
Friday, September 18th,2015
Mrs. Corey, Mrs. Doone, Mrs. Kittel, Mrs.Lipari
Emails: coreyd@wcsoh.org, doones@wcsoh.org, kittelk@wcsoh.org,
liparic@wcsoh.org
Language Arts
Retelling of a Folk Tale
Categorizing/Classifying Stories
Utilizing Characteristic Traits
Homophones
Reading Informational Text & Strategies
Math







Addition/Subtraction fact practice
Multiplication of 8's & 9's (review too!)
Multiplication Arrays, Equal Groups
Math Games and Songs
Associative & Distributive Property
Multiplication Pattern Booklets
Multiplication with 10's
Ex. 8x30=240
Science
Animals and Life cycles
Doone and Kittel
Gregory the Gecko/ Monarch Butterflies
Homework Schedule
Monday- Words 3x each in color
Tuesday- Math P81/82
Wednesday- Comprehension Sheet
Thursday- Math P83/84
Friday- Folders home to be signed
Social Studies
How to be a good
citizen
Corey and Lipari
Important Dates & Information:
Websites to try: CoolMathFacts.com, ABCYa.com, That'sAFact.com,
and FunBrain.com
Early Release will be Thursday, September 24th. Students dismiss at
2:30pm this day.
Walkathon Friday, September 25th at lunch time (12 to 1pm).