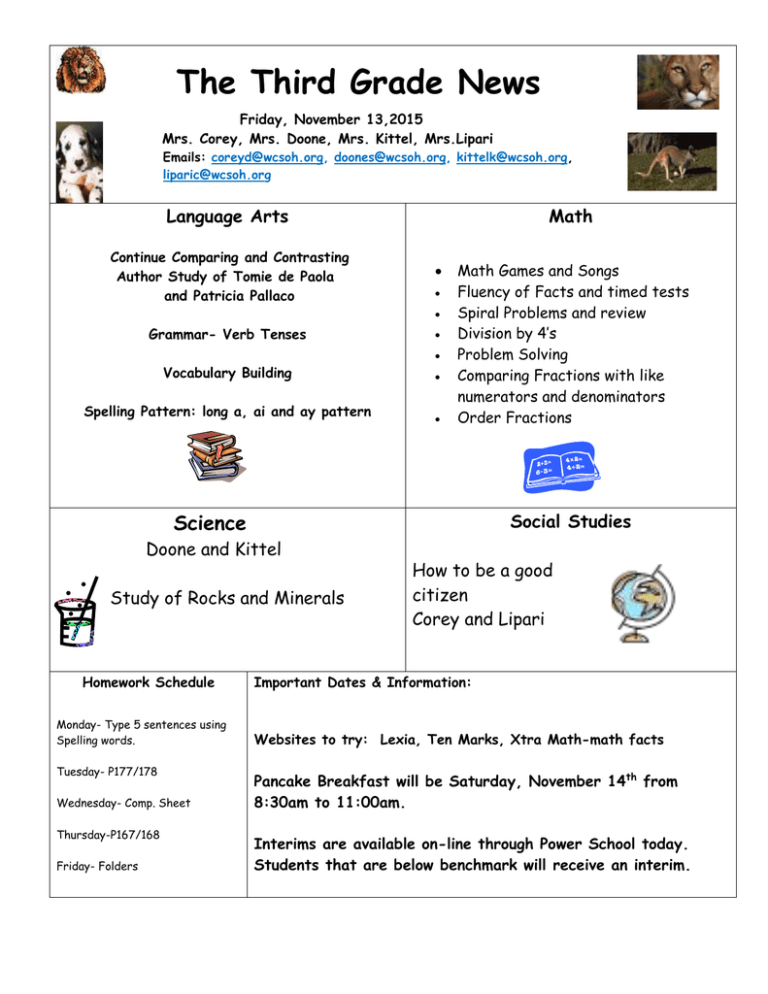 The Third Grade News
Friday, November 13,2015
Mrs. Corey, Mrs. Doone, Mrs. Kittel, Mrs.Lipari
Emails: coreyd@wcsoh.org, doones@wcsoh.org, kittelk@wcsoh.org,
liparic@wcsoh.org
Language Arts
Continue Comparing and Contrasting
Author Study of Tomie de Paola
and Patricia Pallaco
Math



Grammar- Verb Tenses


Vocabulary Building

Spelling Pattern: long a, ai and ay pattern

Math Games and Songs
Fluency of Facts and timed tests
Spiral Problems and review
Division by 4's
Problem Solving
Comparing Fractions with like
numerators and denominators
Order Fractions
Social Studies
Science
Doone and Kittel
Study of Rocks and Minerals
Homework Schedule
Monday- Type 5 sentences using
Spelling words.
Tuesday- P177/178
Wednesday- Comp. Sheet
Thursday-P167/168
Friday- Folders
How to be a good
citizen
Corey and Lipari
Important Dates & Information:
Websites to try: Lexia, Ten Marks, Xtra Math-math facts
Pancake Breakfast will be Saturday, November 14th from
8:30am to 11:00am.
Interims are available on-line through Power School today.
Students that are below benchmark will receive an interim.