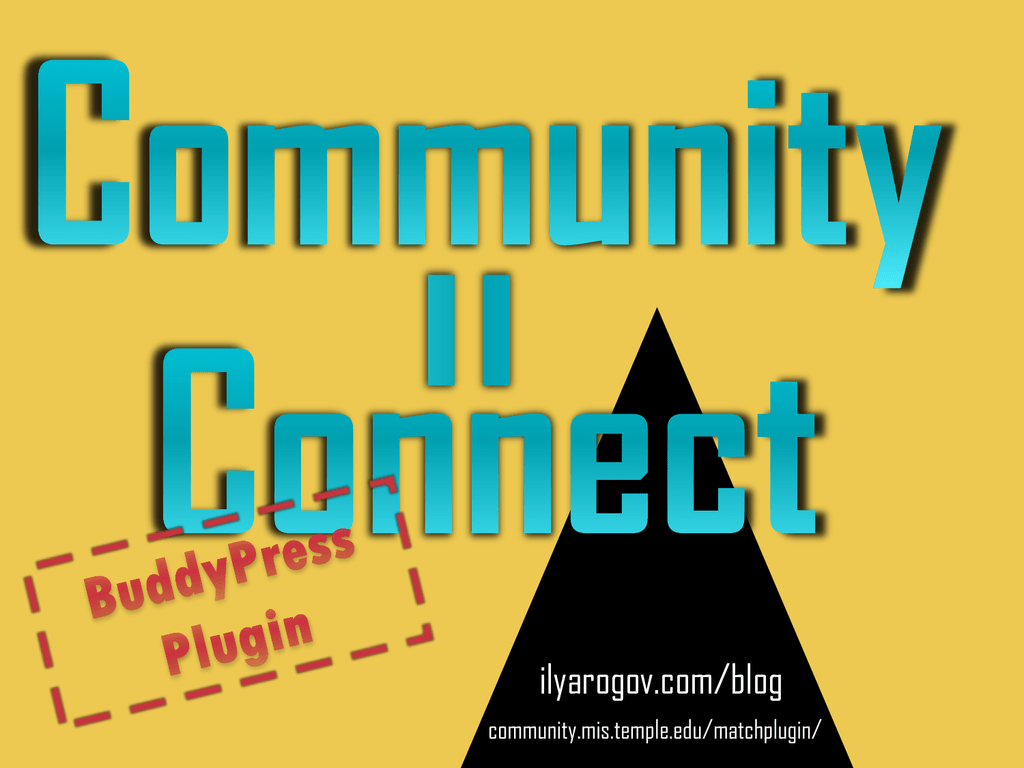 ilyarogov.com/blog
community.mis.temple.edu/matchplugin/
Disengaged……zzzzzz…
Enraged
Generated using Facebook Quotes
My plugin could help..
3
#2
1. Finding team
mates for
Can be useful if projects..
you are having a 2. Creating study
groups..
hard time..
3. Providing
help & getting
feedback..
WordPress
BuddyPress
Community
Connect
#4 Technology:
• Database: MySQL
• Scripting: PHP
• Web Server: Apache
• API: WordPress &
BuddyPress
#4.5 Tools I Use:
• IDE: NetBeans*
• Version Control: Subversion
(Unfuddle)
• Local Test Server: XAMPP*
*Links are to direct downloads of the software
#5 Basic UI Flow
Members fill out
new fields in the profile
Connection Factor
75%
Connection Factor
55%
Year
Alum
Major
MIS
Minor
None
Courses Taken All of them
Interests
Plugins
Connection Factor
55%
Connection Factor
45%
Job Experience Lots. Please hire me ASAP!
Connection Criteria:
You and Munir both…..
Are MIS Majors
Have Job Experience
Why not send him a message
Each profile field has a weighed
value that determines the
"Connection factor"
Questions on…
• #1 or #2 – Why..
• #3 – Where..
• #4 – What..
• #5 – How..