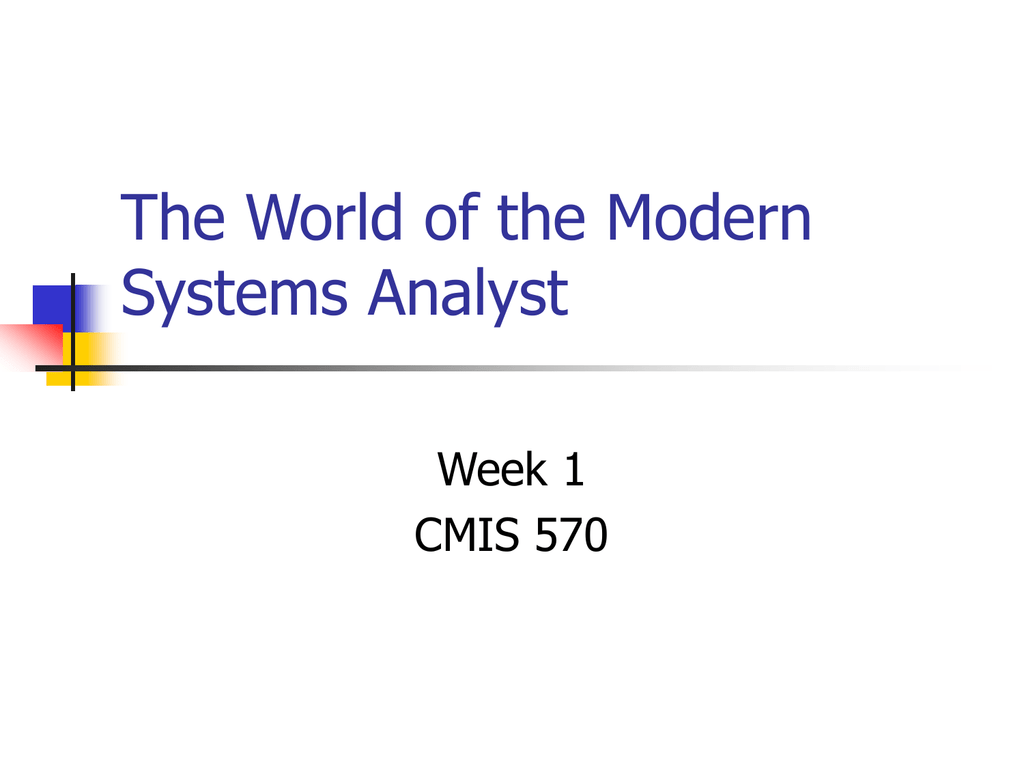 The World of the Modern
Systems Analyst
Week 1
CMIS 570
Tonight





Introductions
Overview of class
Roles and Skills of the SA
Types of systems
Handout Case
First, some definitions

Systems Development


Systems Analysis:


Specifying in detail how the many components of
the information system should be physically
implemented.
Understanding and specifying in detail what the
information system should do.
Systems Design:

Describing the analyzed system independent of
any computer platform. This may include the
design of screen shots, reports, and web sites.
More definitions

Systems Analyst:


The organizational role most responsible
for the analysis and design of information
systems.
Application Software:

Computer software designed to support
organizational functions or processes. The
analysis and design of which we will be
covering in this course.
Bottom line …

What is the job of the systems analyst?
Roles in Systems Analysis &
Design






IS managers
Programmers
End Users
Business Managers
System Liaison
Systems Analysts
5 Skills for Systems Analysts





Analytical Skills / Problem Solver
Technical Skills
Interpersonal Skills
Business Skills
Managerial Skills
Analytical Skills

9 Characteristics of a system
9 characteristics continued

The University as a system
More about Systems


Benefits of System thinking
Applying system thinking to Information
Systems
Technical Skills

General Skills

Tools

Techniques
Technical Skills

How do you get?
People Skills





Working alone and with a team
Communication skills
Interviewing, listening, and
questionnaires
Written and oral presentations
Managing expectations
Business Skills


Systems analysts have broader skills
than computer scientists.
What you need to know about your
organization:
Business Skills

Problem Identification

Problem Analyzing and Solving
Managerial Skills




Resource management
Project management
Risk management
Change management
Types of Systems



Operational Control
Management Planning/Control
Strategic Planning
Transaction Processing
Systems (TPS)




Computer-based versions of manual
organization systems dedicated to handling
the organization's transactions.
Oldest systems, bread & butter of
organizations, started in accounting
Operational level: payroll, compensation,
plant scheduling, order tracking
Outputs: detailed reports, lists, summaries
Management Information
Systems (MIS)



Computer based systems designed to provide
standard reports for managers about
transaction data.
Management level systems: annual
budgeting, capital investment analysis,
relocation analysis, inventory control, sales
region analyses
Outputs: Summary and exception reports
Executive Information Systems
(EIS)



Computer based systems developed to
support the information-intensive but limitedtime decision making of executives.
Strategic level systems: profit planning,
manpower planning, 5-year budget
forecasting, 5-year sales forecasting
Outputs: projections, responses to queries
Decision Support Systems
(DSS)




Computer-based systems designed to
help organization members make
decisions.
Management level-Strategic level:
Systems similar to MIS and ESS
Outputs: special reports, decision
analyses, responses to queries
GDSS: type of DSS to support groups
Expert Systems


Computer based systems designed to
mimic the performance of human
experts.
All levels from operational to strategic
potential.
Others

Geographic Information Systems


Communication support systems


Used to track geographic information
Used to facilitate communication between
employees, customers, suppliers
Office support systems

Used to facilitate sharing of business
documents
With a Master's degree

Your role in strategic planning


Special projects with executives
Business process reengineering
For Next Week:


Read chapter 2 (and chapter 1 if you
haven't already)
Select project/application that you will
work on for remainder of semester.