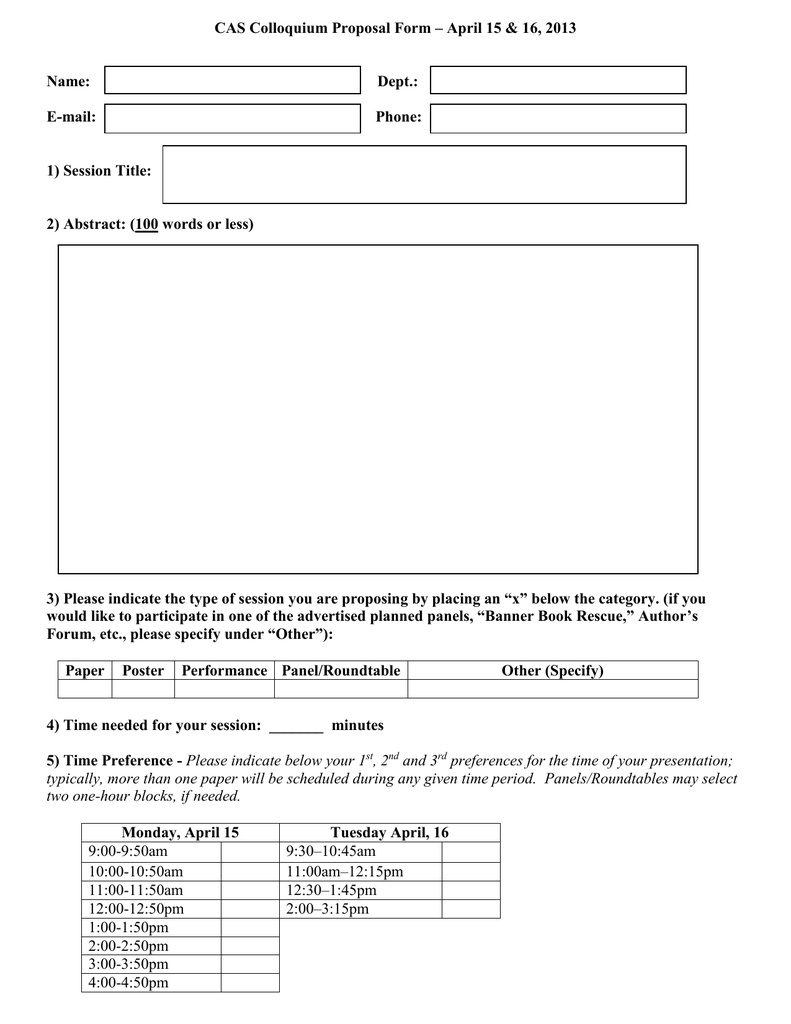 CAS Colloquium Proposal Form – April 15 & 16, 2013
Name:
Dept.:
E-mail:
Phone:
1) Session Title:
2) Abstract: (100 words or less)
3) Please indicate the type of session you are proposing by placing an "x" below the category. (if you
would like to participate in one of the advertised planned panels, "Banner Book Rescue," Author's
Forum, etc., please specify under "Other"):
Paper
Poster
Performance Panel/Roundtable
Other (Specify)
4) Time needed for your session: _______ minutes
5) Time Preference - Please indicate below your 1st, 2nd and 3rd preferences for the time of your presentation;
typically, more than one paper will be scheduled during any given time period. Panels/Roundtables may select
two one-hour blocks, if needed.
Monday, April 15
9:00-9:50am
10:00-10:50am
11:00-11:50am
12:00-12:50pm
1:00-1:50pm
2:00-2:50pm
3:00-3:50pm
4:00-4:50pm
Tuesday April, 16
9:30–10:45am
11:00am–12:15pm
12:30–1:45pm
2:00–3:15pm
6) Do you need any special equipment/technology? (e.g., podium, microphone, computer, data projector,
screen, other):
7) Names of other faculty/students (with departmental affiliations), presenting in the session:
8) Other Comments:
9) Form Submission



All proposals are due by January 31, 2013.
Proposals may be submitted either by email ([email protected]) or by hard copy to the CAS Dean's
Office to the attention of Dee Dee Klein.
Questions regarding the colloquium may be directed to Associate Dean Larry LaFond ([email protected]
or 618-650-5058).