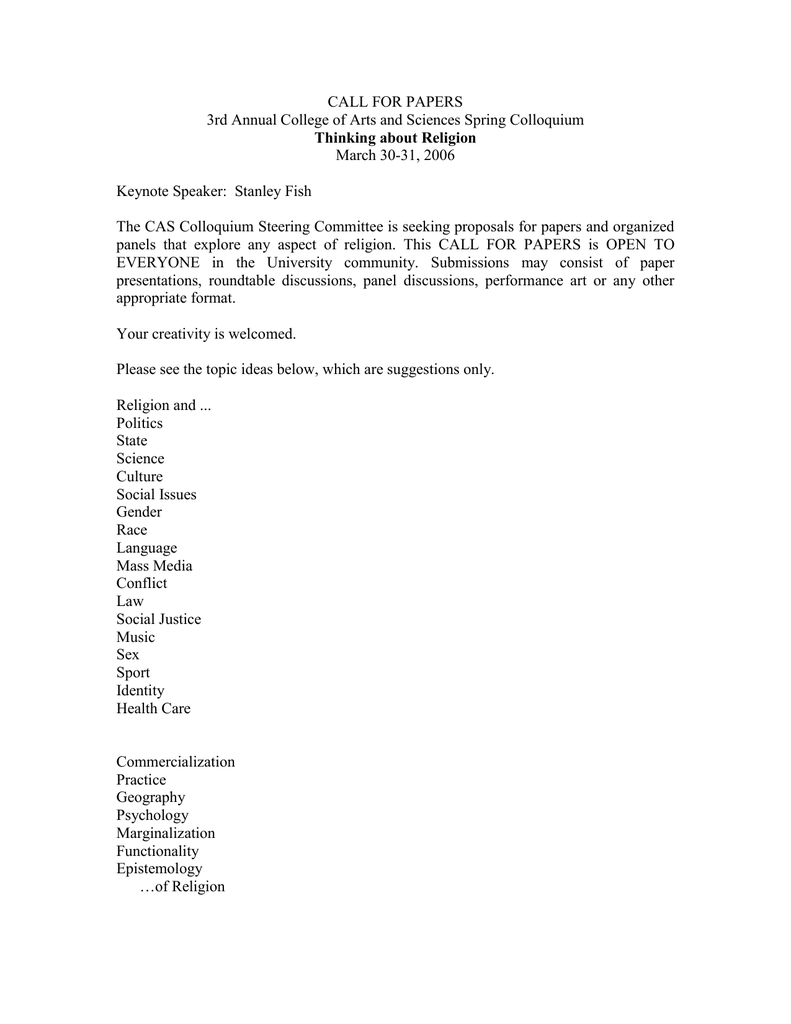 CALL FOR PAPERS
3rd Annual College of Arts and Sciences Spring Colloquium
Thinking about Religion
March 30-31, 2006
Keynote Speaker: Stanley Fish
The CAS Colloquium Steering Committee is seeking proposals for papers and organized
panels that explore any aspect of religion. This CALL FOR PAPERS is OPEN TO
EVERYONE in the University community. Submissions may consist of paper
presentations, roundtable discussions, panel discussions, performance art or any other
appropriate format.
Your creativity is welcomed.
Please see the topic ideas below, which are suggestions only.
Religion and ...
Politics
State
Science
Culture
Social Issues
Gender
Race
Language
Mass Media
Conflict
Law
Social Justice
Music
Sex
Sport
Identity
Health Care
Commercialization
Practice
Geography
Psychology
Marginalization
Functionality
Epistemology
…of Religion
Does God Exist?
Goddess Worship
In the Absence of Religion
Culture as Religion
Redefining Religion
Religion on Campus
Religion in the Classroom
Secularism as Religion
Baseball as Religion
Evolution
Spirituality
Institutionalized Religion
Fundamentalism
Mega Churches
Secular Religion
Altered States of Consciousness
Cults
Religious Hierarchies
Conversion
Atheism
Ecumenism
Ethics and Morality
Religious Language
Intelligent Design
Sacred Texts
Church Scandals
Inter-religious Communication
CAS Spring Colloquium Steering Committee:
Ralph Axtell; Charles Berger; Steve Brown; Belinda Carstens-Wickham; Greg Fields
(co-chair); Abdullatif Hamad; Tim Huffman; Zhi-Qing Lin; Maruice Mangum; Linda
Markowitz; Lynn Maurer, past chair; Wendy Shaw; Carl Springer; Lucian Stone; Steve
Tamari (co-chair); Chad Verbais; Cory Willmott
Please submit a one-paragraph abstract with name(s) of presenter(s) and contact
information electronically to Wendy Shaw, [email protected] by Wednesday, February 1,
2006.
For further information and a downloadable flyer for posting or distributing please visit
the webpage: http://www.siue.edu/CAS/COLLOQUIA/
For questions please contact SteveTamari, [email protected] or 650-3967.