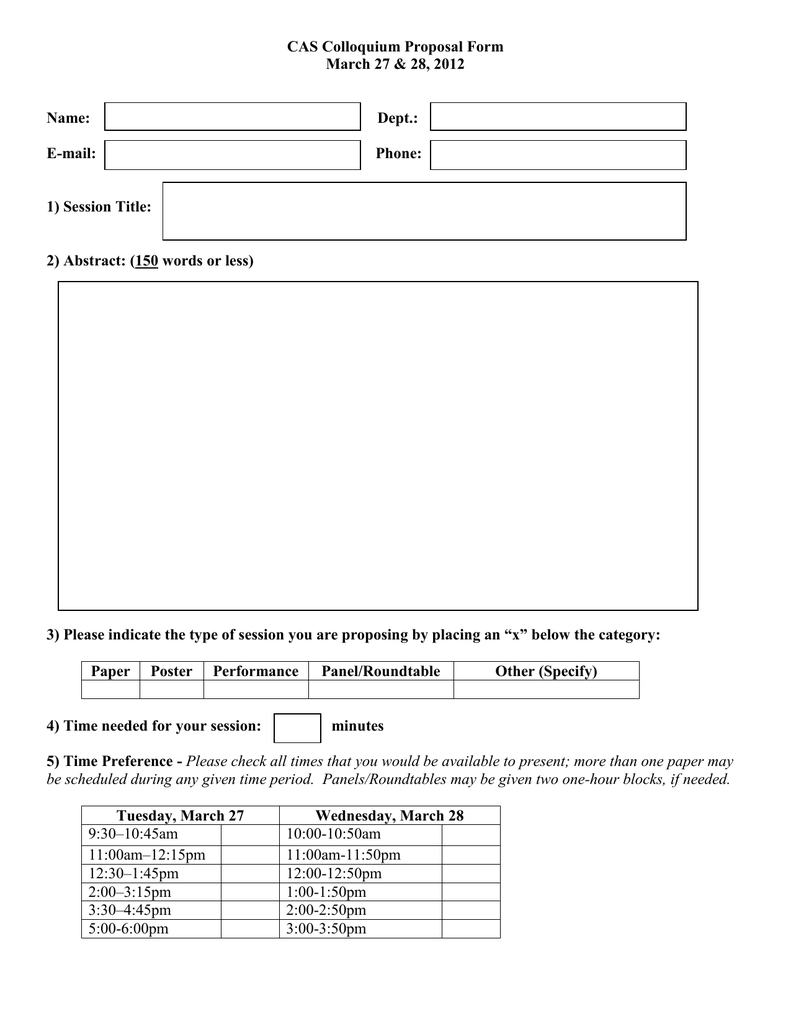 CAS Colloquium Proposal Form
March 27 & 28, 2012
Name:
Dept.:
E-mail:
Phone:
1) Session Title:
2) Abstract: (150 words or less)
3) Please indicate the type of session you are proposing by placing an "x" below the category:
Paper
Poster
Performance
4) Time needed for your session:
Panel/Roundtable
Other (Specify)
minutes
5) Time Preference - Please check all times that you would be available to present; more than one paper may
be scheduled during any given time period. Panels/Roundtables may be given two one-hour blocks, if needed.
Tuesday, March 27
9:30–10:45am
11:00am–12:15pm
12:30–1:45pm
2:00–3:15pm
3:30–4:45pm
5:00-6:00pm
Wednesday, March 28
10:00-10:50am
11:00am-11:50pm
12:00-12:50pm
1:00-1:50pm
2:00-2:50pm
3:00-3:50pm
6) Do you need any special equipment/technology? (e.g., podium, microphone, computer, data projector,
screen, other):
7) Names of other faculty/students (with departmental affiliations), presenting in the session:
8) Other Comments:
9) Form Submission



All proposals are due by January 15, 2012
Proposals may be submitted either by email ([email protected]) or by hard copy to the CAS Dean's
Office to the attention of Dee Dee Klein.
Questions regarding the colloquium may be directed to Associate Dean Larry LaFond,
([email protected] or 618-650-5058).