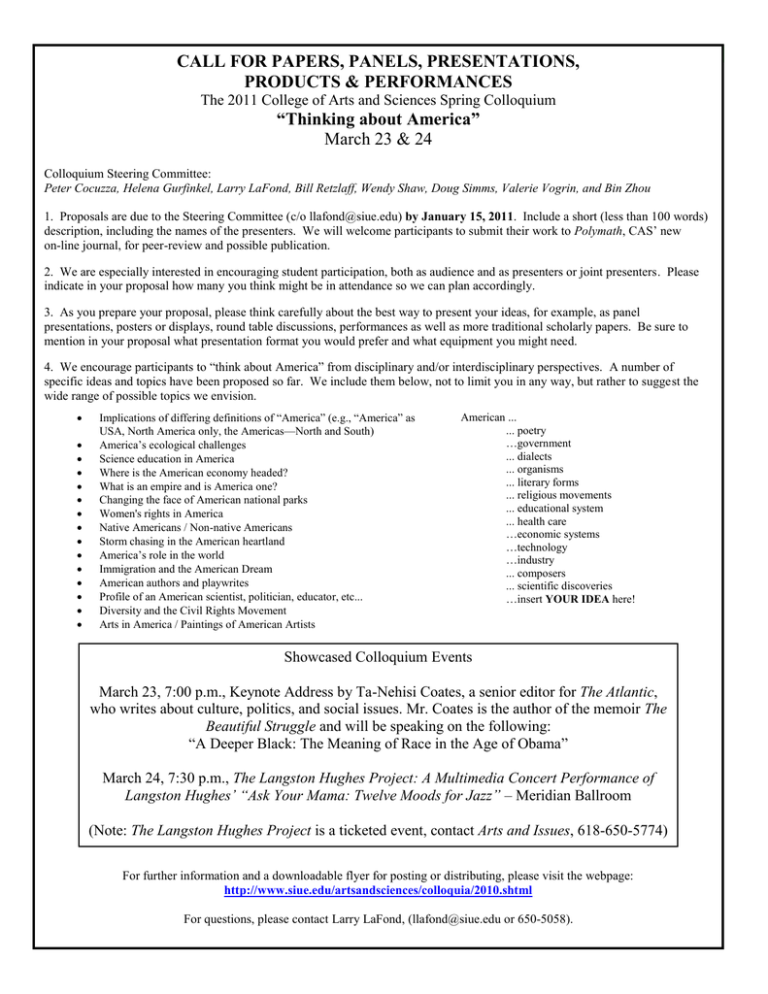 CALL FOR PAPERS, PANELS, PRESENTATIONS,
PRODUCTS & PERFORMANCES
The 2011 College of Arts and Sciences Spring Colloquium
"Thinking about America"
March 23 & 24
Colloquium Steering Committee:
Peter Cocuzza, Helena Gurfinkel, Larry LaFond, Bill Retzlaff, Wendy Shaw, Doug Simms, Valerie Vogrin, and Bin Zhou
1. Proposals are due to the Steering Committee (c/o llafond@siue.edu) by January 15, 2011. Include a short (less than 100 words)
description, including the names of the presenters. We will welcome participants to submit their work to Polymath, CAS' new
on-line journal, for peer-review and possible publication.
2. We are especially interested in encouraging student participation, both as audience and as presenters or joint presenters. Please
indicate in your proposal how many you think might be in attendance so we can plan accordingly.
3. As you prepare your proposal, please think carefully about the best way to present your ideas, for example, as panel
presentations, posters or displays, round table discussions, performances as well as more traditional scholarly papers. Be sure to
mention in your proposal what presentation format you would prefer and what equipment you might need.
4. We encourage participants to "think about America" from disciplinary and/or interdisciplinary perspectives. A number of
specific ideas and topics have been proposed so far. We include them below, not to limit you in any way, but rather to suggest the
wide range of possible topics we envision.















Implications of differing definitions of "America" (e.g., "America" as
USA, North America only, the Americas—North and South)
America's ecological challenges
Science education in America
Where is the American economy headed?
What is an empire and is America one?
Changing the face of American national parks
Women's rights in America
Native Americans / Non-native Americans
Storm chasing in the American heartland
America's role in the world
Immigration and the American Dream
American authors and playwrites
Profile of an American scientist, politician, educator, etc...
Diversity and the Civil Rights Movement
Arts in America / Paintings of American Artists
American ...
... poetry
…government
... dialects
... organisms
... literary forms
... religious movements
... educational system
... health care
…economic systems
…technology
…industry
... composers
... scientific discoveries
…insert YOUR IDEA here!
Showcased Colloquium Events
March 23, 7:00 p.m., Keynote Address by Ta-Nehisi Coates, a senior editor for The Atlantic,
who writes about culture, politics, and social issues. Mr. Coates is the author of the memoir The
Beautiful Struggle and will be speaking on the following:
"A Deeper Black: The Meaning of Race in the Age of Obama"
March 24, 7:30 p.m., The Langston Hughes Project: A Multimedia Concert Performance of
Langston Hughes' "Ask Your Mama: Twelve Moods for Jazz" – Meridian Ballroom
(Note: The Langston Hughes Project is a ticketed event, contact Arts and Issues, 618-650-5774)
For further information and a downloadable flyer for posting or distributing, please visit the webpage:
http://www.siue.edu/artsandsciences/colloquia/2010.shtml
For questions, please contact Larry LaFond, (llafond@siue.edu or 650-5058).