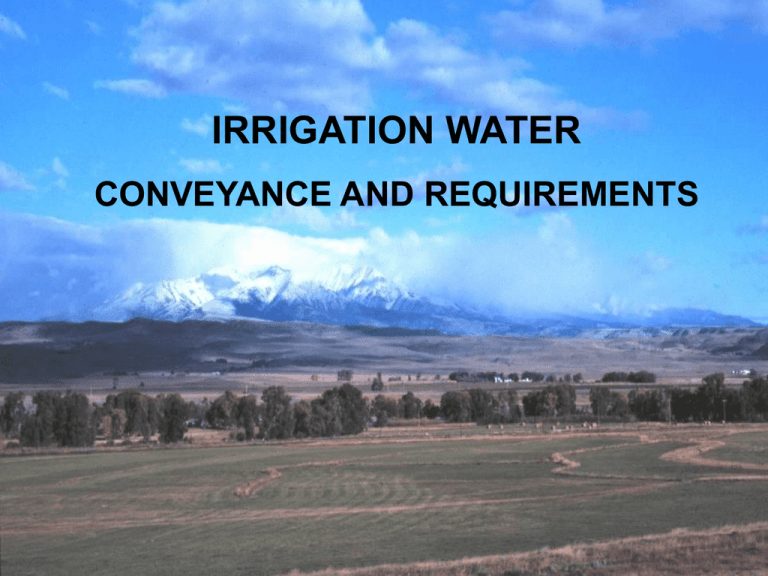 IRRIGATION WATER
CONVEYANCE AND REQUIREMENTS
WHAT HAPPENS AFTER DIVERSION?
?
?
?
?
?
?
?
THE REAL WORLD VIEW
DITCH AND
CANAL LINERS
PIPE FLOW
BY GRAVITY
OR PUMPS
CROP SEED PRODUCTION
Apply water to meet the crop needs
HAY PRODUCTION
EFFECTIVE ROOT ZONE
ROOT DEVELOPMENT AND SOIL LIMITATIONS
MODIFIED ROOT
DEVELOPMENT
50%
33%
17%
0
EFFECTIVE ROOT ZONE
HIGH WATER TABLE
LIMITS ROOT DEVELOPMENT
ONE
SIZE
DOES
NOT
FIT
ALL!!!
WE
OFTEN
USE THE
METHOD
THAT
SEEMS
MOST
FAMILIAR
EVEN
WHEN
THERE
ARE
BETTER
WAYS TO
DO IT.
APPLICATION
METHODS
MANAGEMENT
IS THE
ESSENTIAL
REQUIREMENT
WATER MEASUREMENT
TOO MUCH WATER MAY CAUSE
Inflow
Source
Runoff and
sediment loss
Tail
Ditch
NWISRL
Kimberly, ID
TOO MUCH WATER IN ANY SYSTEM
Poor Design, Soil & Landscape Variability,
Application Rate, etc. Can Create Problems
NWISRL
Kimberly, ID
MAY LEAD TO OTHER PROBLEMS
OVER IRRIGATION AND EROSION
Adequate soil moisture
monitoring
SEASONAL USE AT SOIL DEPTHS
2003
0
centibars
-20
Field Capacity
-40
-60
-80
March
April
May
June
July
August
-100
Sensor 1 - 6 inches
Sensor 2 - 18 inches
September
October
GRASS HAY - POTOMAC – MISSOULA COUNTY
Sprinkler Efficiency Overview
• NRCS NATIONAL IRRIGATION GUIDE
(Table 6-4)
– Periodic move lateral
60-75%
– Traveling sprinkler (big guns) 55-65%
– Center pivot - standard
75-85%
– Linear (lateral) move
80-87%
– LEPA Center pivot or linear
90-95
GROSS Vs NET REQUIREMENTS
The Gross application is that amount applied
over the whole area to get the Net amount in
to the soil where it can be used by the plant.
• To obtain a 1inch NET application with a 50%
efficient system one must apply 2 inches.
• A 75% efficient system would need to apply a
11/3 inch Gross to get the same 1 inch NET.
EFFECT OF LIGHT APPLICATIONS
2003
SHALLOW
APPLICATIONS
0
-10
-20
Field Capacity
centibars
-30
DATA
BREAK
-40
-50
-60
-70
-80
-90
LOWER SOILS NOT IRRIGATED
April
May
June
July
August
September
-100
Sensor 4 - 6 inches
Sensor 5 - 18 inches
Sensor 6 - 30 inches
October
14.8 in.
12.7 in.
SOMETIMES WE MAKE THINGS HARDER THEN NECESSARY
SUMMARY
• Conveyance losses (control limits, evaporation,
leakage, etc.) reduce the amount of H2O taken from
a source that is available for application to the field.
• Application losses come in many forms:
–
–
–
–
Weather – Wind, heat, humidity, evaporation, etc.
Soils – Intake limits, water holding capacity effects
System – Uniformity, leaks, maintenance effects
Management – Flow controls, Time limitations, & lack of
Measurements of Flow rate and Soil Moisture
• The remaining water getting to the root zone is what
is available to the plant for growth.
QUESTIONS??