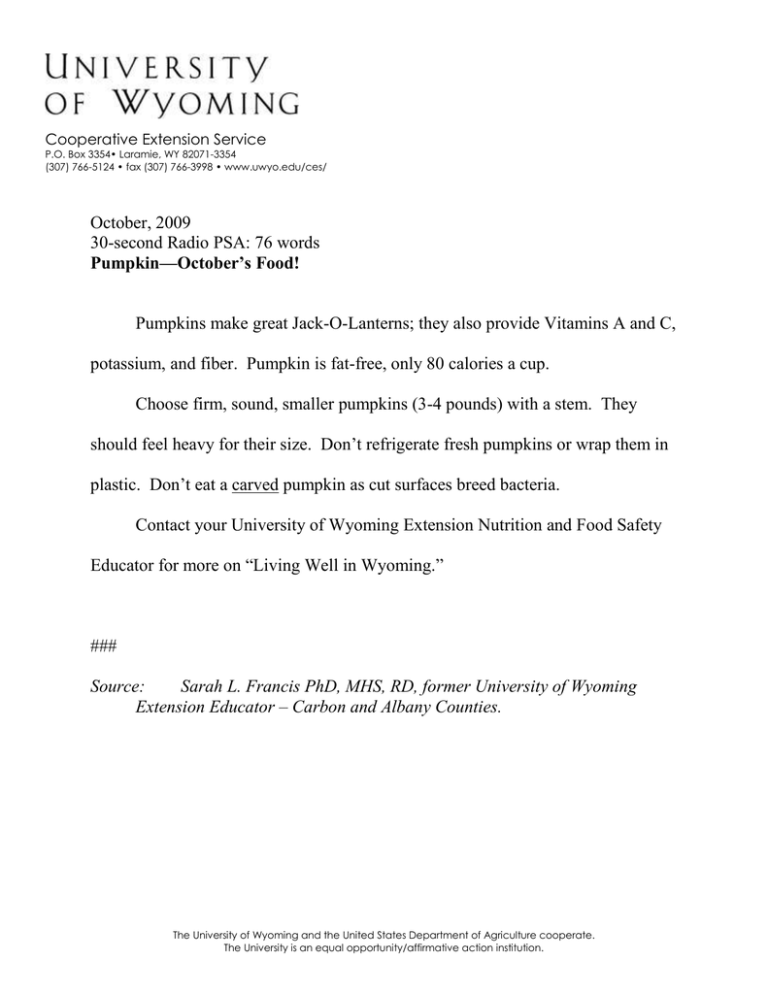 Cooperative Extension Service
P.O. Box 3354• Laramie, WY 82071-3354
(307) 766-5124 • fax (307) 766-3998 • www.uwyo.edu/ces/
October, 2009
30-second Radio PSA: 76 words
Pumpkin—October's Food!
Pumpkins make great Jack-O-Lanterns; they also provide Vitamins A and C,
potassium, and fiber. Pumpkin is fat-free, only 80 calories a cup.
Choose firm, sound, smaller pumpkins (3-4 pounds) with a stem. They
should feel heavy for their size. Don't refrigerate fresh pumpkins or wrap them in
plastic. Don't eat a carved pumpkin as cut surfaces breed bacteria.
Contact your University of Wyoming Extension Nutrition and Food Safety
Educator for more on "Living Well in Wyoming."
###
Source:
Sarah L. Francis PhD, MHS, RD, former University of Wyoming
Extension Educator – Carbon and Albany Counties.
The University of Wyoming and the United States Department of Agriculture cooperate.
The University is an equal opportunity/affirmative action institution.