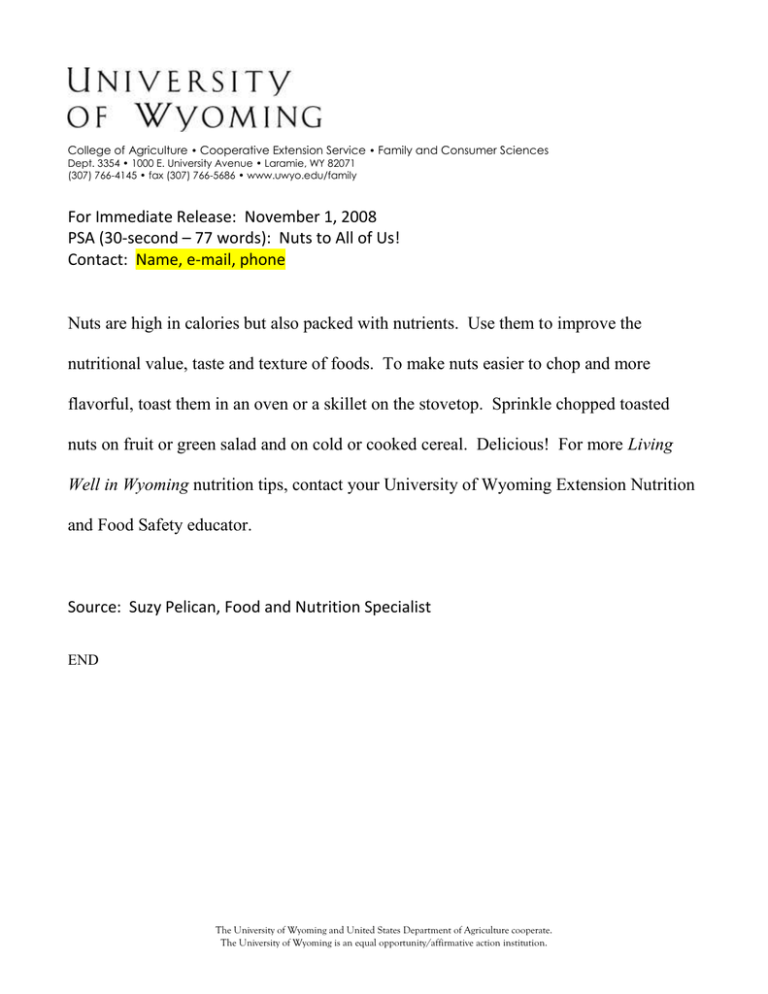 College of Agriculture • Cooperative Extension Service • Family and Consumer Sciences
Dept. 3354 • 1000 E. University Avenue • Laramie, WY 82071
(307) 766-4145 • fax (307) 766-5686 • www.uwyo.edu/family
For Immediate Release: November 1, 2008
PSA (30-second – 77 words): Nuts to All of Us!
Contact: Name, e-mail, phone
Nuts are high in calories but also packed with nutrients. Use them to improve the
nutritional value, taste and texture of foods. To make nuts easier to chop and more
flavorful, toast them in an oven or a skillet on the stovetop. Sprinkle chopped toasted
nuts on fruit or green salad and on cold or cooked cereal. Delicious! For more Living
Well in Wyoming nutrition tips, contact your University of Wyoming Extension Nutrition
and Food Safety educator.
Source: Suzy Pelican, Food and Nutrition Specialist
END
The University of Wyoming and United States Department of Agriculture cooperate.
The University of Wyoming is an equal opportunity/affirmative action institution.