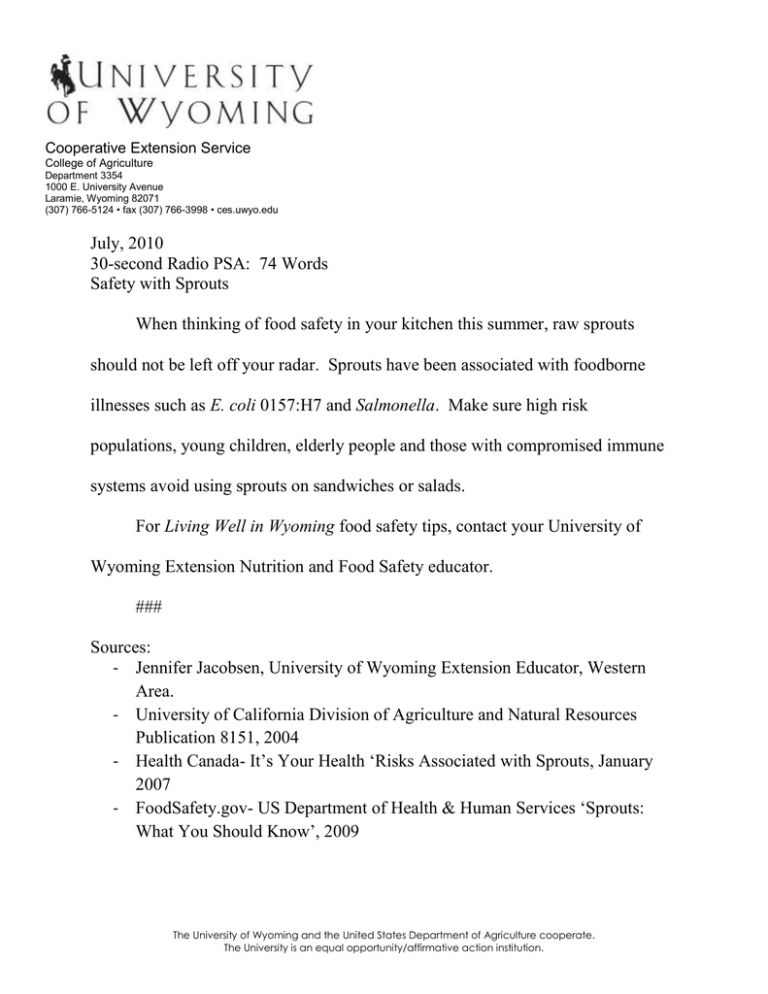 Cooperative Extension Service
College of Agriculture
Department 3354
1000 E. University Avenue
Laramie, Wyoming 82071
(307) 766-5124 • fax (307) 766-3998 • ces.uwyo.edu
July, 2010
30-second Radio PSA: 74 Words
Safety with Sprouts
When thinking of food safety in your kitchen this summer, raw sprouts
should not be left off your radar. Sprouts have been associated with foodborne
illnesses such as E. coli 0157:H7 and Salmonella. Make sure high risk
populations, young children, elderly people and those with compromised immune
systems avoid using sprouts on sandwiches or salads.
For Living Well in Wyoming food safety tips, contact your University of
Wyoming Extension Nutrition and Food Safety educator.
###
Sources:
- Jennifer Jacobsen, University of Wyoming Extension Educator, Western
Area.
- University of California Division of Agriculture and Natural Resources
Publication 8151, 2004
- Health Canada- It's Your Health 'Risks Associated with Sprouts, January
2007
- FoodSafety.gov- US Department of Health & Human Services 'Sprouts:
What You Should Know', 2009
The University of Wyoming and the United States Department of Agriculture cooperate.
The University is an equal opportunity/affirmative action institution.