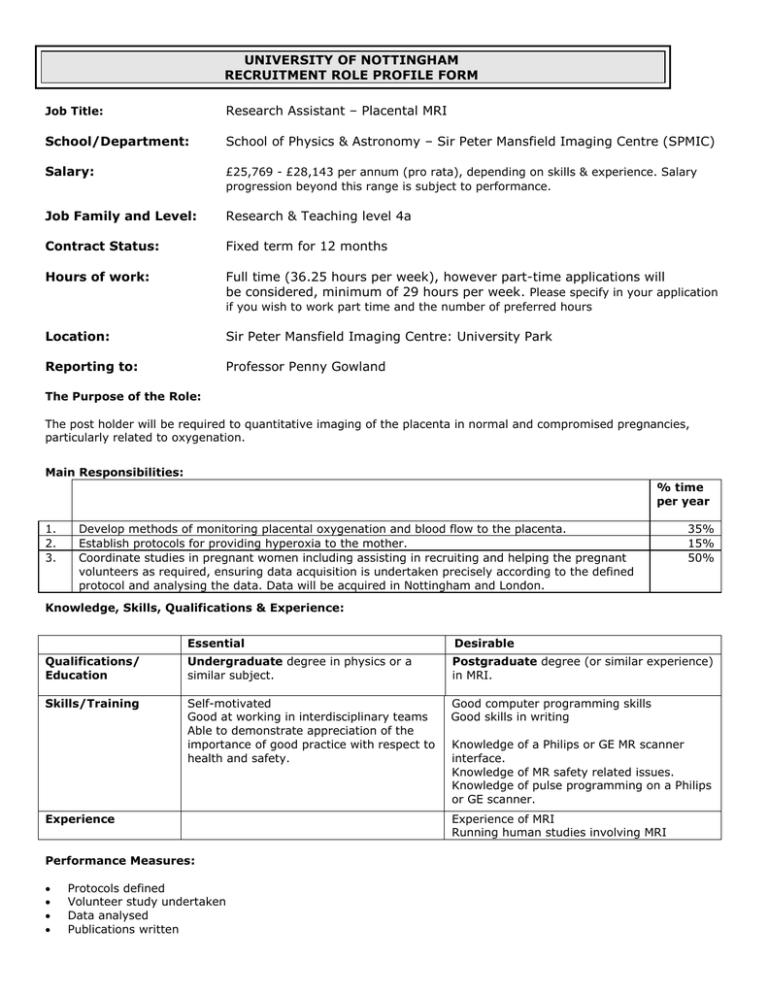 UNIVERSITY OF NOTTINGHAM
RECRUITMENT ROLE PROFILE FORM
Job Title:
Research Assistant – Placental MRI
School/Department:
School of Physics & Astronomy – Sir Peter Mansfield Imaging Centre (SPMIC)
Salary:
£25,769 - £28,143 per annum (pro rata), depending on skills & experience. Salary
progression beyond this range is subject to performance.
Job Family and Level:
Research & Teaching level 4a
Contract Status:
Fixed term for 12 months
Hours of work:
Full time (36.25 hours per week), however part-time applications will
be considered, minimum of 29 hours per week. Please specify in your application
if you wish to work part time and the number of preferred hours
Location:
Sir Peter Mansfield Imaging Centre: University Park
Reporting to:
Professor Penny Gowland
The Purpose of the Role:
The post holder will be required to quantitative imaging of the placenta in normal and compromised pregnancies,
particularly related to oxygenation.
Main Responsibilities:
% time
per year
1.
2.
3.
Develop methods of monitoring placental oxygenation and blood flow to the placenta.
Establish protocols for providing hyperoxia to the mother.
Coordinate studies in pregnant women including assisting in recruiting and helping the pregnant
volunteers as required, ensuring data acquisition is undertaken precisely according to the defined
protocol and analysing the data. Data will be acquired in Nottingham and London.
35%
15%
50%
Knowledge, Skills, Qualifications & Experience:
Essential
Desirable
Qualifications/
Education
Undergraduate degree in physics or a
similar subject.
Postgraduate degree (or similar experience)
in MRI.
Skills/Training
Self-motivated
Good at working in interdisciplinary teams
Able to demonstrate appreciation of the
importance of good practice with respect to
health and safety.
Good computer programming skills
Good skills in writing
Experience
Performance Measures:




Protocols defined
Volunteer study undertaken
Data analysed
Publications written
Knowledge of a Philips or GE MR scanner
interface.
Knowledge of MR safety related issues.
Knowledge of pulse programming on a Philips
or GE scanner.
Experience of MRI
Running human studies involving MRI
Decision Making
i)


taken independently by the role holder;
Details of methods used to measure and flow oxygenation
Details of methods of data analysis
ii) taken in collaboration with others;

Final experimental protocols

Whether or not it is safe to undertake a study
Scope of the Role
There is scope for the post holder to develop partnerships with other University research groups, external
collaborators, NHS-related bodies and specific commercial interests to devise new studies and generate additional
income.
Additional Information
Due to the requirements of the UK Border and Immigration Agency, applicants who are not UK or EEA nationals and
whose immigration status entitles them to work without restriction in the UK will be considered on an equal basis with
UK and EEA nationals. Other non-UK or non-EEA nationals whose employment will require permission to work subject
to a resident labour market test may only be considered if there are no suitable UK or EEA national candidates for the
post. Please visit http://www.ukba.homeoffice.gov.uk/ for more information.
Informal enquiries are welcomed and visits to the facility can be arranged for applicants; in the first all enquiries
should be addressed to Professor Penny Gowland, Sir Peter Mansfield Imaging Centre, tell: 0115 9514754 or email:
penny.gowland@nottingham.ac.uk. Please note that applications sent directly to this Email address will not be
considered.
Please quote ref. SCI/119216.