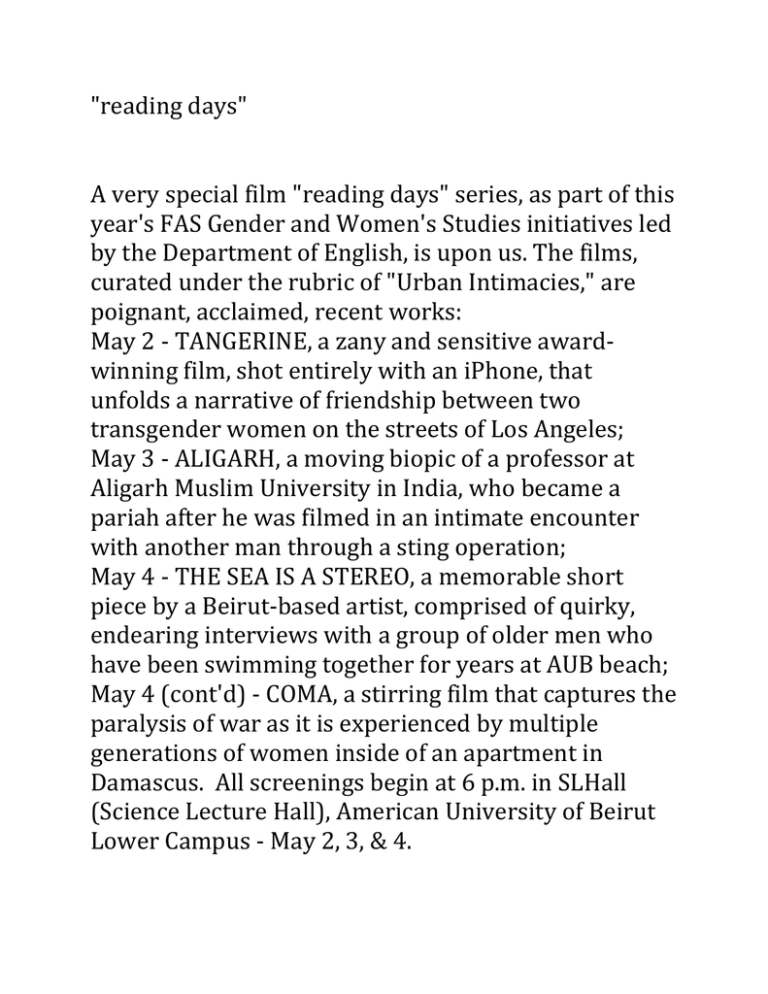 "reading days"
A very special film "reading days" series, as part of this
year's FAS Gender and Women's Studies initiatives led
by the Department of English, is upon us. The films,
curated under the rubric of "Urban Intimacies," are
poignant, acclaimed, recent works:
May 2 - TANGERINE, a zany and sensitive awardwinning film, shot entirely with an iPhone, that
unfolds a narrative of friendship between two
transgender women on the streets of Los Angeles;
May 3 - ALIGARH, a moving biopic of a professor at
Aligarh Muslim University in India, who became a
pariah after he was filmed in an intimate encounter
with another man through a sting operation;
May 4 - THE SEA IS A STEREO, a memorable short
piece by a Beirut-based artist, comprised of quirky,
endearing interviews with a group of older men who
have been swimming together for years at AUB beach;
May 4 (cont'd) - COMA, a stirring film that captures the
paralysis of war as it is experienced by multiple
generations of women inside of an apartment in
Damascus. All screenings begin at 6 p.m. in SLHall
(Science Lecture Hall), American University of Beirut
Lower Campus - May 2, 3, & 4.