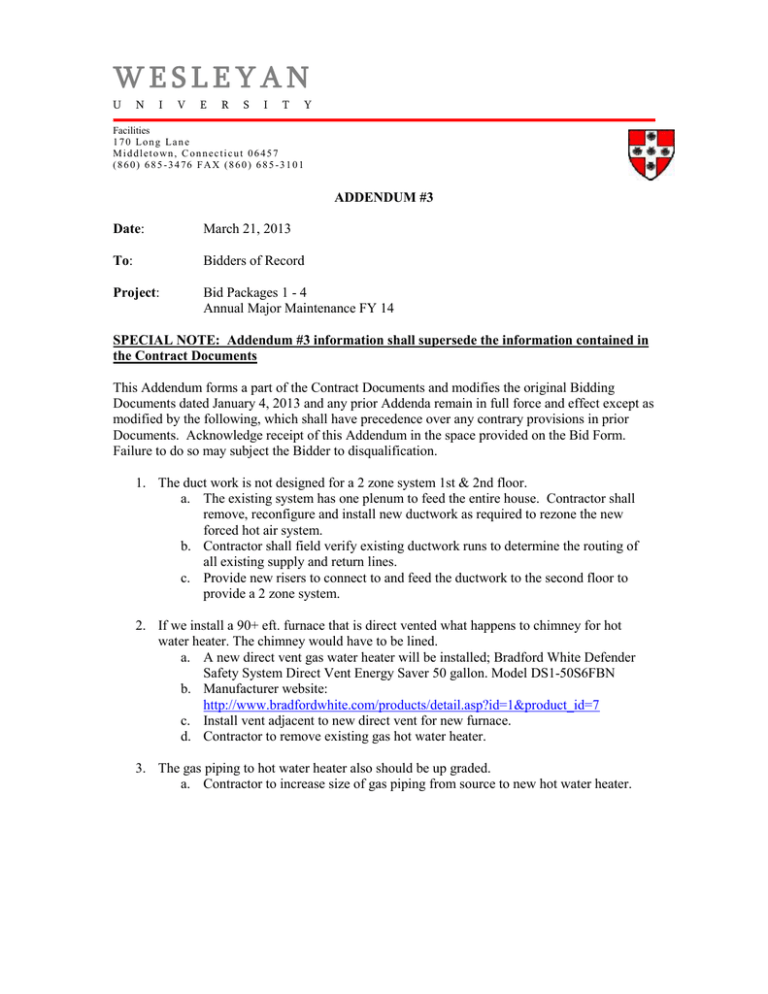 WESLEYAN
\\
U
N
I
V
E
R
S
I
T
Y
Facilities
170 Long Lan e
M i d d l e t o wn , C o n n e c t i c u t 0 6 4 5 7
(860) 685-3476 FAX (860) 685 -3101
ADDENDUM #3
Date:
March 21, 2013
To:
Bidders of Record
Project:
Bid Packages 1 - 4
Annual Major Maintenance FY 14
SPECIAL NOTE: Addendum #3 information shall supersede the information contained in
the Contract Documents
This Addendum forms a part of the Contract Documents and modifies the original Bidding
Documents dated January 4, 2013 and any prior Addenda remain in full force and effect except as
modified by the following, which shall have precedence over any contrary provisions in prior
Documents. Acknowledge receipt of this Addendum in the space provided on the Bid Form.
Failure to do so may subject the Bidder to disqualification.
1. The duct work is not designed for a 2 zone system 1st & 2nd floor.
a. The existing system has one plenum to feed the entire house. Contractor shall
remove, reconfigure and install new ductwork as required to rezone the new
forced hot air system.
b. Contractor shall field verify existing ductwork runs to determine the routing of
all existing supply and return lines.
c. Provide new risers to connect to and feed the ductwork to the second floor to
provide a 2 zone system.
2. If we install a 90+ eft. furnace that is direct vented what happens to chimney for hot
water heater. The chimney would have to be lined.
a. A new direct vent gas water heater will be installed; Bradford White Defender
Safety System Direct Vent Energy Saver 50 gallon. Model DS1-50S6FBN
b. Manufacturer website:
http://www.bradfordwhite.com/products/detail.asp?id=1&product_id=7
c. Install vent adjacent to new direct vent for new furnace.
d. Contractor to remove existing gas hot water heater.
3. The gas piping to hot water heater also should be up graded.
a. Contractor to increase size of gas piping from source to new hot water heater.