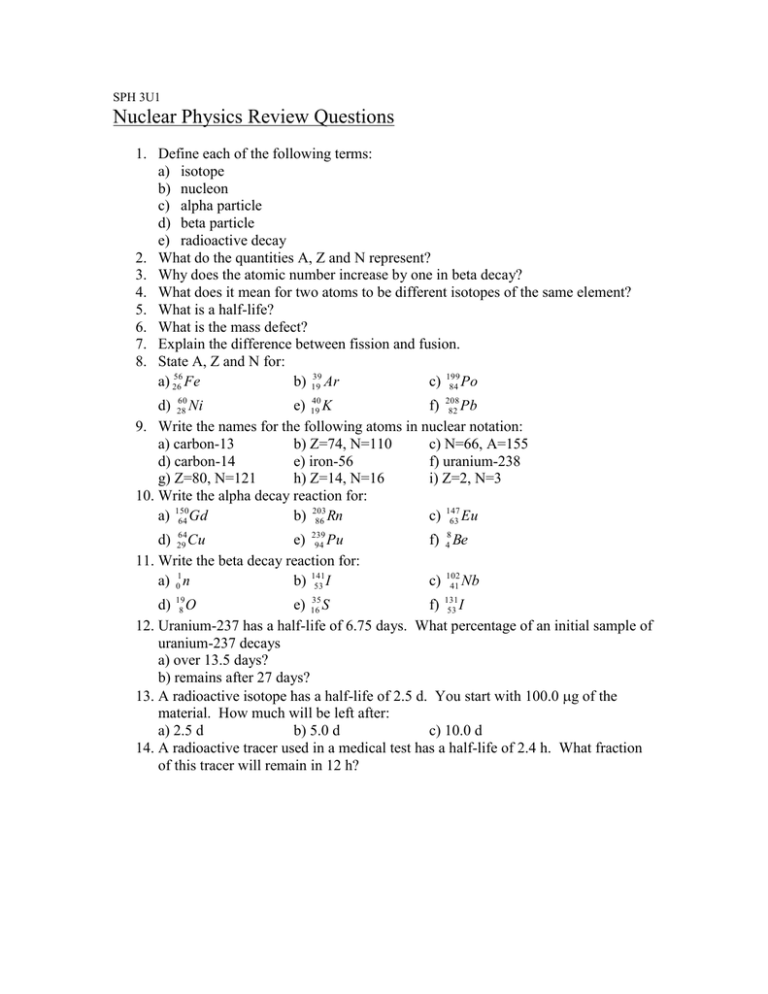 SPH 3U1
Nuclear Physics Review Questions
1. Define each of the following terms:
a) isotope
b) nucleon
c) alpha particle
d) beta particle
e) radioactive decay
2. What do the quantities A, Z and N represent?
3. Why does the atomic number increase by one in beta decay?
4. What does it mean for two atoms to be different isotopes of the same element?
5. What is a half-life?
6. What is the mass defect?
7. Explain the difference between fission and fusion.
8. State A, Z and N for:
56
39
Fe
Ar
a) 26
b) 19
c) 199
84 Po
60
40
Ni
K
d) 28
e) 19
f) 208
82 Pb
9. Write the names for the following atoms in nuclear notation:
a) carbon-13
b) Z=74, N=110
c) N=66, A=155
d) carbon-14
e) iron-56
f) uranium-238
g) Z=80, N=121
h) Z=14, N=16
i) Z=2, N=3
10. Write the alpha decay reaction for:
a) 150
b) 203
c) 147
86 Rn
63 Eu
64 Gd
64
Cu
d) 29
e) 239
94 Pu
11. Write the beta decay reaction for:
a) 01 n
b) 141
53 I
f) 48 Be
c)
102
41
Nb
35
S
d) 198 O
e) 16
f) 131
53 I
12. Uranium-237 has a half-life of 6.75 days. What percentage of an initial sample of
uranium-237 decays
a) over 13.5 days?
b) remains after 27 days?
13. A radioactive isotope has a half-life of 2.5 d. You start with 100.0 g of the
material. How much will be left after:
a) 2.5 d
b) 5.0 d
c) 10.0 d
14. A radioactive tracer used in a medical test has a half-life of 2.4 h. What fraction
of this tracer will remain in 12 h?