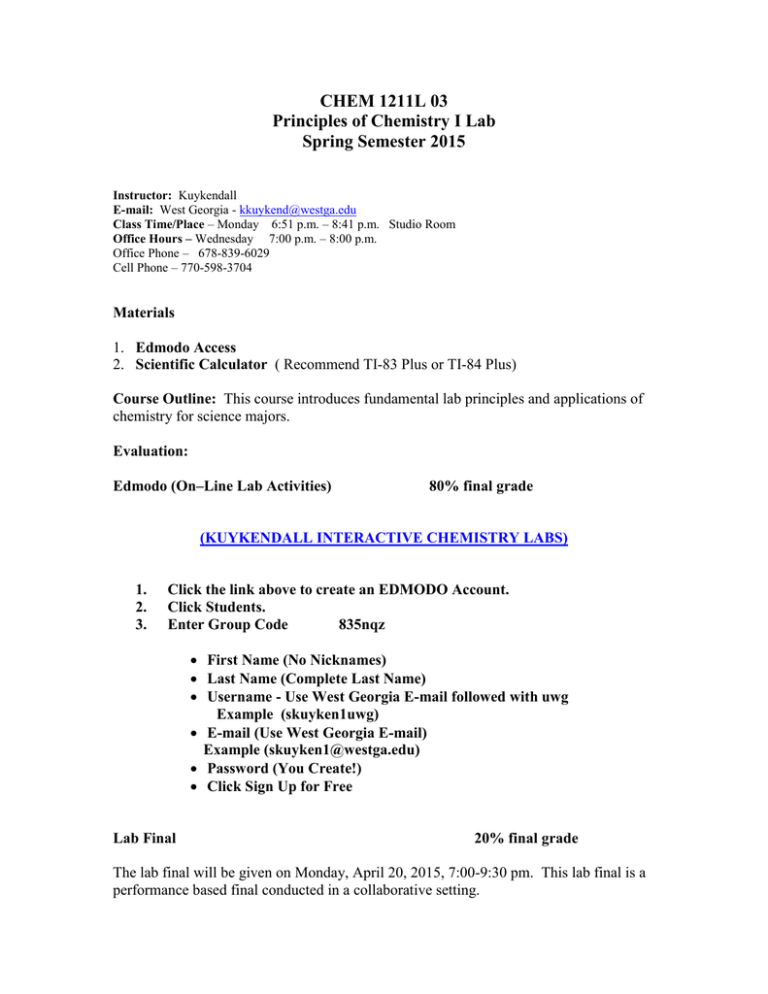 CHEM 1211L 03
Principles of Chemistry I Lab
Spring Semester 2015
Instructor: Kuykendall
E-mail: West Georgia - kkuykend@westga.edu
Class Time/Place – Monday 6:51 p.m. – 8:41 p.m. Studio Room
Office Hours – Wednesday 7:00 p.m. – 8:00 p.m.
Office Phone – 678-839-6029
Cell Phone – 770-598-3704
Materials
1. Edmodo Access
2. Scientific Calculator ( Recommend TI-83 Plus or TI-84 Plus)
Course Outline: This course introduces fundamental lab principles and applications of
chemistry for science majors.
Evaluation:
Edmodo (On–Line Lab Activities)
80% final grade
(KUYKENDALL INTERACTIVE CHEMISTRY LABS)
1.
2.
3.
Click the link above to create an EDMODO Account.
Click Students.
Enter Group Code
835nqz
 First Name (No Nicknames)
 Last Name (Complete Last Name)
 Username - Use West Georgia E-mail followed with uwg
Example (skuyken1uwg)
 E-mail (Use West Georgia E-mail)
Example (skuyken1@westga.edu)
 Password (You Create!)
 Click Sign Up for Free
Lab Final
20% final grade
The lab final will be given on Monday, April 20, 2015, 7:00-9:30 pm. This lab final is a
performance based final conducted in a collaborative setting.