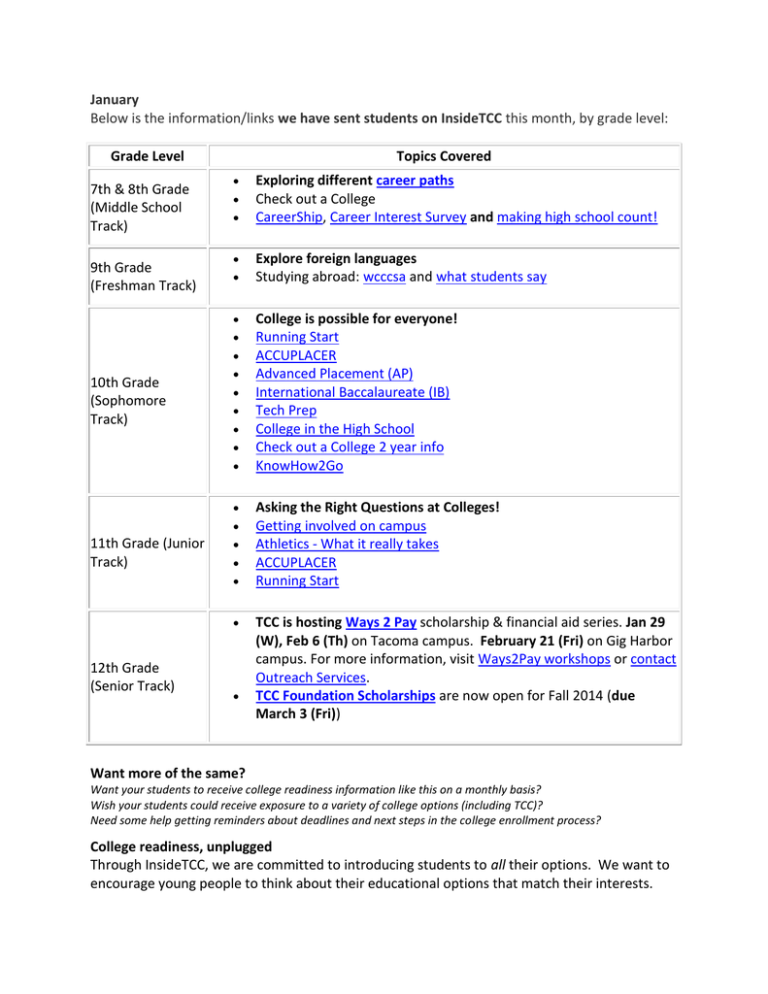 January
Below is the information/links we have sent students on InsideTCC this month, by grade level:
Grade Level
7th & 8th Grade
(Middle School
Track)
9th Grade
(Freshman Track)
10th Grade
(Sophomore
Track)
11th Grade (Junior
Track)
12th Grade
(Senior Track)
Topics Covered



Exploring different career paths
Check out a College
CareerShip, Career Interest Survey and making high school count!


Explore foreign languages
Studying abroad: wcccsa and what students say









College is possible for everyone!
Running Start
ACCUPLACER
Advanced Placement (AP)
International Baccalaureate (IB)
Tech Prep
College in the High School
Check out a College 2 year info
KnowHow2Go





Asking the Right Questions at Colleges!
Getting involved on campus
Athletics - What it really takes
ACCUPLACER
Running Start

TCC is hosting Ways 2 Pay scholarship & financial aid series. Jan 29
(W), Feb 6 (Th) on Tacoma campus. February 21 (Fri) on Gig Harbor
campus. For more information, visit Ways2Pay workshops or contact
Outreach Services.
TCC Foundation Scholarships are now open for Fall 2014 (due
March 3 (Fri))

Want more of the same?
Want your students to receive college readiness information like this on a monthly basis?
Wish your students could receive exposure to a variety of college options (including TCC)?
Need some help getting reminders about deadlines and next steps in the college enrollment process?
College readiness, unplugged
Through InsideTCC, we are committed to introducing students to all their options. We want to
encourage young people to think about their educational options that match their interests.
We also know the delivery, the tone and the content needs to be tailored to the student's
grade level and point on their college & career pathway.
Get your students connected!
Online: To start receiving these monthly college readiness messages, encourage your students
to sign up for InsideTCC online.
Paper sign-up: Or, call us and we'll send you a stack of Info Cards for your students to fill out
(then, when you send them back to us we'll enter them so students start receiving messages).
Contact outreachservices@tacomacc.edu or call 253.566.6042. Just let us know:
1. How many cards you need
2. To whom and which school to send them!