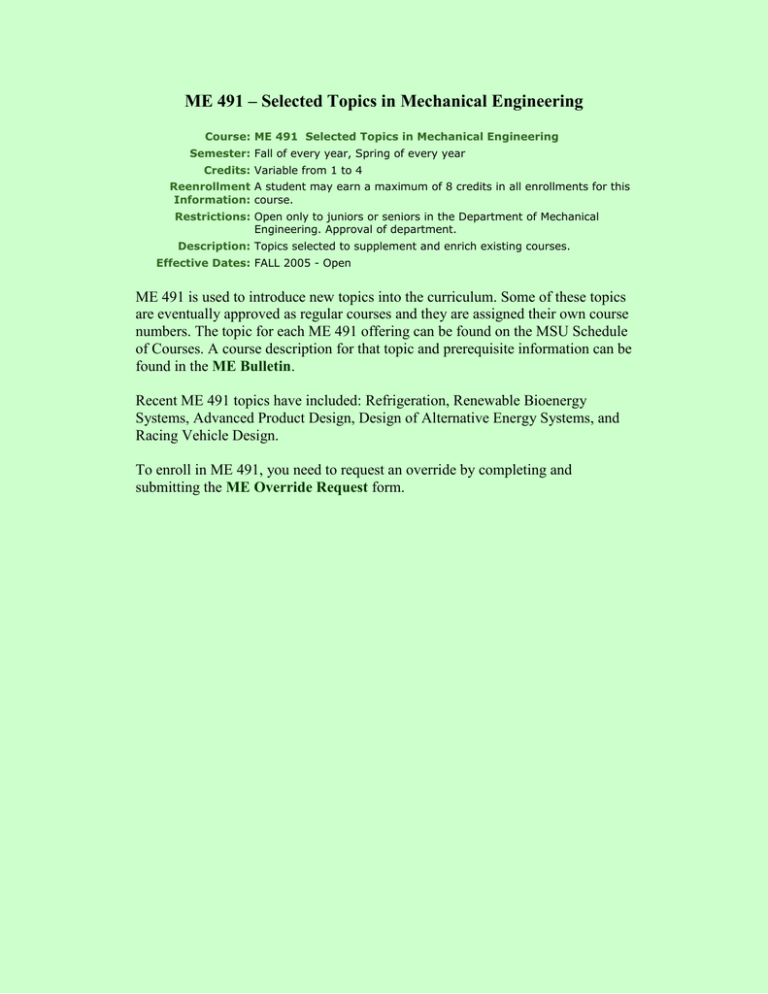 ME 491 – Selected Topics in Mechanical Engineering
Course: ME 491 Selected Topics in Mechanical Engineering
Semester: Fall of every year, Spring of every year
Credits: Variable from 1 to 4
Reenrollment A student may earn a maximum of 8 credits in all enrollments for this
Information: course.
Restrictions: Open only to juniors or seniors in the Department of Mechanical
Engineering. Approval of department.
Description: Topics selected to supplement and enrich existing courses.
Effective Dates: FALL 2005 - Open
ME 491 is used to introduce new topics into the curriculum. Some of these topics
are eventually approved as regular courses and they are assigned their own course
numbers. The topic for each ME 491 offering can be found on the MSU Schedule
of Courses. A course description for that topic and prerequisite information can be
found in the ME Bulletin.
Recent ME 491 topics have included: Refrigeration, Renewable Bioenergy
Systems, Advanced Product Design, Design of Alternative Energy Systems, and
Racing Vehicle Design.
To enroll in ME 491, you need to request an override by completing and
submitting the ME Override Request form.