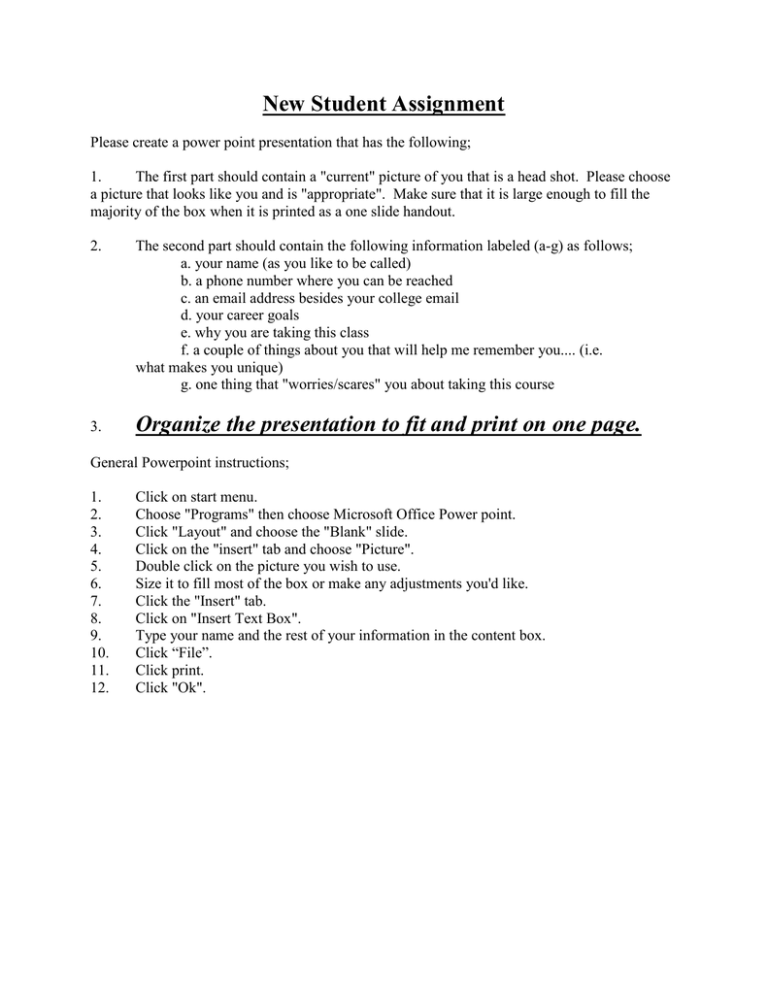 New Student Assignment
Please create a power point presentation that has the following;
1.
The first part should contain a "current" picture of you that is a head shot. Please choose
a picture that looks like you and is "appropriate". Make sure that it is large enough to fill the
majority of the box when it is printed as a one slide handout.
2.
The second part should contain the following information labeled (a-g) as follows;
a. your name (as you like to be called)
b. a phone number where you can be reached
c. an email address besides your college email
d. your career goals
e. why you are taking this class
f. a couple of things about you that will help me remember you.... (i.e.
what makes you unique)
g. one thing that "worries/scares" you about taking this course
3.
Organize the presentation to fit and print on one page.
General Powerpoint instructions;
1.
2.
3.
4.
5.
6.
7.
8.
9.
10.
11.
12.
Click on start menu.
Choose "Programs" then choose Microsoft Office Power point.
Click "Layout" and choose the "Blank" slide.
Click on the "insert" tab and choose "Picture".
Double click on the picture you wish to use.
Size it to fill most of the box or make any adjustments you'd like.
Click the "Insert" tab.
Click on "Insert Text Box".
Type your name and the rest of your information in the content box.
Click "File".
Click print.
Click "Ok".