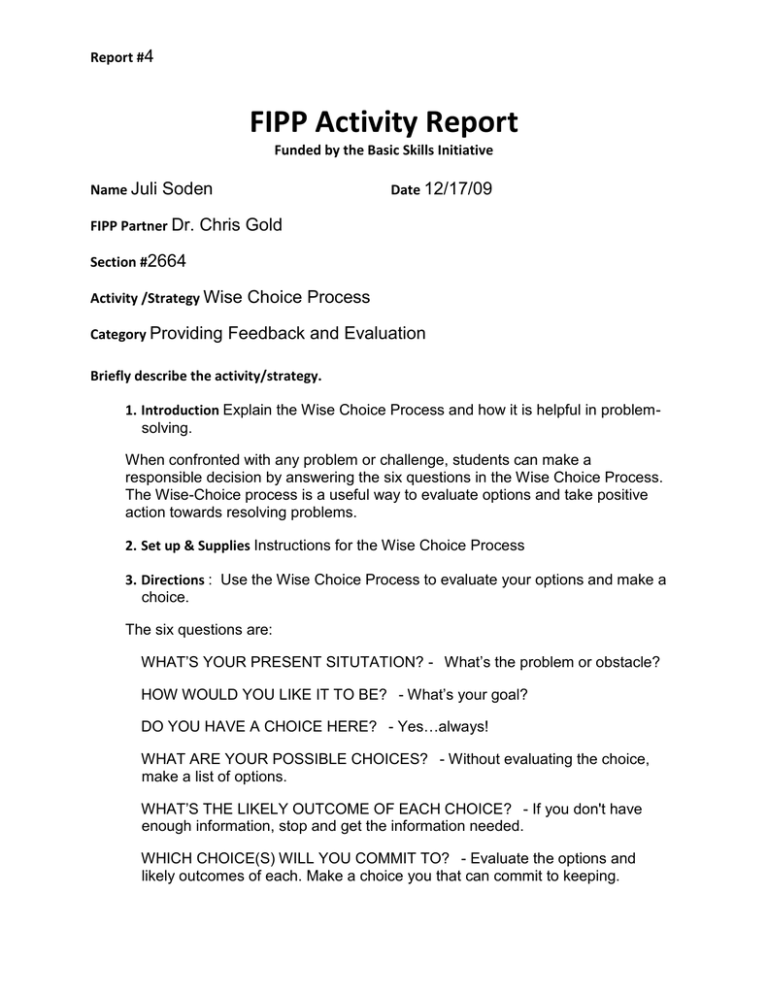 Report #4
FIPP Activity Report
Funded by the Basic Skills Initiative
Name Juli Soden
Date 12/17/09
FIPP Partner Dr. Chris Gold
Section #2664
Activity /Strategy Wise Choice Process
Category Providing Feedback and Evaluation
Briefly describe the activity/strategy.
1. Introduction Explain the Wise Choice Process and how it is helpful in problemsolving.
When confronted with any problem or challenge, students can make a
responsible decision by answering the six questions in the Wise Choice Process.
The Wise-Choice process is a useful way to evaluate options and take positive
action towards resolving problems.
2. Set up & Supplies Instructions for the Wise Choice Process
3. Directions : Use the Wise Choice Process to evaluate your options and make a
choice.
The six questions are:
WHAT'S YOUR PRESENT SITUTATION? -
What's the problem or obstacle?
HOW WOULD YOU LIKE IT TO BE?
- What's your goal?
DO YOU HAVE A CHOICE HERE?
- Yes…always!
WHAT ARE YOUR POSSIBLE CHOICES?
- Without evaluating the choice,
make a list of options.
WHAT'S THE LIKELY OUTCOME OF EACH CHOICE?
- If you don't have
enough information, stop and get the information needed.
WHICH CHOICE(S) WILL YOU COMMIT TO?
- Evaluate the options and
likely outcomes of each. Make a choice you that can commit to keeping.
4. Conclusion Any time remaining in the class can be used for students to report
what they learned about the Wise Choice Process
What worked well? The Wise Choice Process engages students in problem-solving.
Instead of solving students' problems for them or giving them advice, I can use the
Wise-Choice Process. This six-step decision-making process shows students that they
usually know what their best choices may be. It empowers them to actively create the
outcomes they want. It also helps them realize that they determine what they will do
about their problems.
What would you change? Nothing.
Would you use the activity/strategy again? Why or why not? I will use it again. It's a great
way to have students understand personal responsibility for outcomes in their lives. The
process teaches and reinforces the concept of choice and personal responsibility. It also
requires that they use critical thinking to evaluate possible choices and likely outcomes.
Please describe any student learning outcomes/changes that you observed after the
implementation of the activity/strategy. Students reported that the process helped them
see the "forks in the road" where choices lead to different outcomes. They found it a
useful method of evaluating options and giving feedback about the possible outcomes
of different choices.